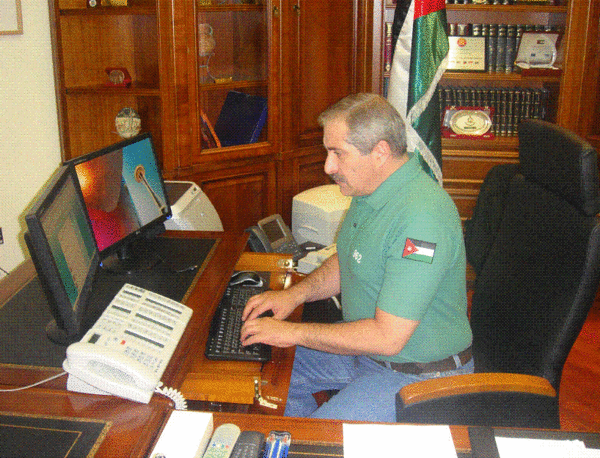 Photo Courtesy of ForeignMinistry
In what was perhaps a first in the Middle East, Jordan's Foreign Minister, Nasser Judeh, took live questions on Twitter last night, using the hashtag #QFMJO (Questions for Foreign Minister of Jordan). Considered one of the first Jordanian officials to join the popular microblogging site, Judeh has frequently engaged fellow Jordanian tweeps online, responding to reports, comments, and criticisms all in the span of 140 characters. But on Twitter, Judeh is not the only Jordanian official. Energy Minister, Khaled Irani, the Mayor of Amman, Omar Maani, Minister of ICT, Marwan Juma and, of course, Her Majesty Queen Rania have been active tweeps and have a large following. Recently, Prime Minister Samir Al-Rifai joined Twitter as has Minister of Higher Education, Walid Maani, Minister of State for Mega Projects, Imad Fakhoury,
Judeh fielded some tough questions on foreign policy issues from Jordanian tweeps. Some of the questions centered on foreign perspectives regarding Jordan's nuclear program, while other questions focused on relations with Turkey, Iraq, and Israel, as well as the foreign ministry's diplomatic agenda. Questions and answers can all be viewed on the Twitter box below. Khaled, who conducted the session, has a full transcript of it as well.
While Twitter's 140 character limit can sometimes hinder dialog, here on 7iber we are hosting a continuation of that conversation and keeping it alive online.
What do you think of the minister's answers? If you missed the event, what questions would you want to pose now? Should more Jordanian officials engage in future Q&A sessions on social media platforms like Twitter?