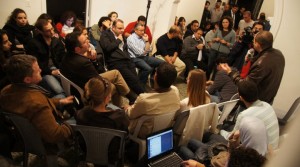 This week's arts and culture agenda is not as packed as last week's, but you have a number of interesting events taking place.
7iber's next Hashtag Debate is taking place on Wednesday, at Makan Art Space, this time discussing Jordan's economic policies since 1989 and the spiralling debt.
Foresight32 Gallery hosts a new exhibition by artist Barbara Gabathuler, titled "Jordan Lights", and al-Qasr hotel hosts an exhibition of Egytian art and crafts.
On Monday Makan presents a screening and discussion of seven short films from contemporary artists living in Canada who explore ideas of biography through personal trajectories, dealing with notions of exile, migration, Diaspora and identity.
Read on for details on these events and more.
Sunday May 22, 2011
Book of the Week, presentation & discussion, at the department of the National Library, 6:00 pm.
Masri: Egyptian Designers and Artisans Exhibition, at QYard/Al-Qasr Hotel – Shmeisani, 11:00 am – 8:00 pm.
Exhibition Opening: Jordan Lights by Barbara Gabathuler, at Foresight32 Art Gallery, 6:30 pm.
Lecture: Effects of Globalization on the Arab World, by professor of political science at Yarmouk University Dr. Walid Abdel Hay, at Shoman Foundation, 6:30 pm.
Accented Video & the Autobiographical, short video program and discussion curated by Aisha Jamal & Sarah Shamash, at Makan Art Space/Jabal Luweibdeh, 7:00 pm.
Tuesday May 24, 2011
Film Screening: "Midwinter Night's Dream" (2004 – Serbia), at the Shoman Foundation, 7:00 pm.
Wednesday May 25, 2011
Hashtag Debates: Jordan's Economic Policies and the Public Debt, Makan Art Space/Jabal Luweibdeh, 7:00 pm.
Concert: Bayt Al-Ruwwad Group led by Sakher Hattar, Al-Hussein Cultural Center/Ras al-Ain, 8:00 pm
Thursday May 26, 2011
Independence Carnival, Royal Cultural Center, 6:00pm – 9:00pm.
Friday May 27, 2011
Souk Jara, Rainbow street, 10 am – 10 pm.
Concert: Emad Alaeddin and Illusions live at Jara Theater, 7:00 pm
Saturday May 28, 2011
MANGA 101, learn Manga-style illustrations at Cafe des Artistes, 3:00 – 4:30 pm. Email [email protected] for an application