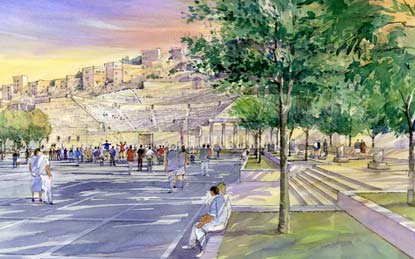 Over the next six years, if things work out as municipal planners hope, the entire way downtown Amman works will change — for the better. Here are some details on the grand plan.

Written by Nicholas Seeley. Provided by JO Magazine.
UNDER THE LEADERSHIP OF HE Mayor Omar Maani, the Greater Amman Municipality has embarked on an ambitious plan for development and revitalization of the city center. The municipality has a vision of a modern, friendly city, with a revitalized downtown as its cultural and touristic core and the new Abdali development as its commercial core — a place where people will be able to easily walk or take public transportation, to enjoy public spaces and explore different neighborhoods. Think Vancouver with an Arab soul.
If this plan is given the attention and follow-through it requires, it could transform both how Amman looks and how it runs. If poorly executed, the targeted area could continue to fall into disrepair and disuse — as it has in the face of past attempts at revitalization, like the stalled development of the Raghadan bus station and Hashemite Plaza.
We at JO have neither the resources nor the precognition to judge how this plan will be carried out, or how well it might achieve its goals. But we sat down for in-depth interviews with the Mayor and other municipal officials to learn as much as possible about what is going on, and how they hope the city will change in the future.
THE CORE OF THE MUNICIPALITY'S downtown strategy is the Wadi Amman Regeneration project, a multi-focused plan to develop different areas of the city center for purposes including transportation, tourism, housing and business development.
"That valley, where modern Amman originated 120 or 130 years ago, has been neglected for a while, and we feel that there are a lot of possibilities for socioeconomic development in that area," Maani said. Phase One of the Wadi Amman project will begin later this year; it's a plan that city officials estimate will take at least six years to realize.
The project extends over a three-kilometer stretch of the city's central valley, and is divided into three sections. The first, Wadi Mahatta, runs along Hashemi Street from the terminal of the old Hijaz railway to the edge of the Raghadan palace grounds.
"What we envisage is that Wadi Mahatta will be primarily a very important internodal public transport station," Maani explained. "You'll have the light rail coming from Zarqa, if we can do it. Then you'll have the Amman light rail [coming] out of it, you'll also have the main station for all Amman for the Bus Rapid Transit [system] that we're doing, and you'll have service and taxis also feeding into it. So it's the main public transport station for all Amman, down there."
The second stretch, Wadi Raghadan, is where the road passes by the palace. This, Maani said, will have mixed-use applications, including a small convention center, restaurants, offices and new developments for middle-income housing.
At the moment, he added, very little commercial or economic activity happens along these stretches of the wadi — much of it is simply empty land. For the entire Wadi Amman project, the municipality has expropriated some 380 dunums for development. A few organizations will be affected, and planners are currently looking for a new location for Tkiyet Um Ali, which is in the expropriated area, as well as for a couple of businesses.
"What we plan to do is bring back a lot of vitality and a lot of attention to those neglected areas," Maani said.
The third part of the Wadi Amman project, called Wadi Philadelphia, continues up to the downtown historical area, and will include the disused Raghadan bus station and Hashemite Plaza. This section, Maani said, will also include facilities and public gathering spaces, but is primarily being developed for its "touristic possibilities and potential."
The old bus station will be converted into a number of public buildings, including a new public library and an international visitors' center run by the Ministry of Tourism. Other parts of the complex will become spaces for higher-end shops and restaurants. The old municipality building that sits adjacent to the bus station will be made into a three- or four-star boutique hotel.
"We plan to purposely call it the Philadelphia Hotel, because there was once a Philadelphia Hotel which was demolished" to build the plaza, Maani said. "The municipality was very wrong in demolishing that, and we plan to bring it back."
Hashemite Plaza itself will be redesigned, to transform it into an inviting urban park with green areas, cafés and shops for local craftsmen. "The green open space right adjacent to the [Roman] theater will provide for a nice outing, for people to come from all around Amman," Maani said.
The municipality was vague about costs, but said that the developments themselves would generally be done in partnership with the private sector, though based on guidelines created by the municipality.
None of this ambitious rehabilitation will be possible without substantial changes in civil infrastructure, Maani and other officials said. Chief among those will be transportation. One element will be creating pedestrian paths throughout the Wadi Amman area, as well as in the old downtown, toward the Husseini mosque and Prince Faisal Street.
Creating more pedestrian areas, and re-directing traffic toward Mahatta, will also help to ease the terrible traffic congestion that now plagues downtown, according to officials from the planning department. A separate municipal project will focus on upgrading infrastructure on and around Faisal Street, and investing in some of the historic buildings there, like the Duke's diwan and the Poets' House.
What the planners hope to do is reverse the slow decay that has for years been decreasing the quality of services and the level of economic activity in Amman's downtown.
IN THE FIRST PART of the 20th century, downtown was truly the center of Ammani life. Faisal Square, in front of what is now the Arab Bank, was the commercial capital of the area, explained Rami Daher, an expert on heritage conservation and urban regeneration who has studied the city's growth.
"Faisal Square was the public space in the city par excellence … with all the fancy shops, the jewelry market, all the different cafés and so forth. That was literally the heart of Amman," he said. By the 1950s, it had become the city's main transportation hub: taxis traveled from there to Amman, Beirut and Damascus, and the area was a destination in its own right, home to hotels and coffee shops, and alive with travelers.
But over the next half century, serious decay set in. Residents have suggested many reasons for the decline; a prime one, Daher said, was the development of competing commercial areas in the 1960s and 1970s, in places like Jabal Hussein and Shmeisani.
Many, including Daher, also cite neglect by previous city authorities.
"Downtown never received proper attention, either from the municipality or from private investors, and it has been left to decay," Daher said. "The fact is that this is a very old part of town. Without proper, regular maintenance, the old building fabric will decay." Behind the commercial signs that dot the area today, many buildings are "disasters waiting to happen," he said.
Some observers also pointed to failed municipal projects that have ultimately driven businesses out of the area.
"Shop owners have been affected by moving the Raghadan complex and then by bringing it back," said Said Irksussi, who runs a print shop on Jabal Qalaa, just up the hill from Raghadan. "Midtown Amman has died. … If this [current development plan] happens, the whole area will be revived," he added.
Once spaces like Hashemite Plaza are marginalized, Daher said, they become venues for crime, prostitution and other antisocial behavior, which depresses business even further.
Today, the situation is fairly dire.
"We want to move [toward development] because, commercially, we're [being] killed. There is no business," said one source, who owns property across from Hashemite Plaza. He spoke on condition of anonymity because he is trying to get local property owners involved in a development project, which he does not want to endanger.
He blamed the death of downtown on the growth of suburbs, which have drawn people and money out of the area. Inner-city decay is a phenomenon that has occurred in cities around the world, he said — and he believes it will require serious intervention, either by the government or local businesses, to revive it.
Daher said something similar: "I am actually very supportive of what the municipality is doing, because the municipality is literally rethinking the downtown area, and it should have been done a long time ago."
Municipal planners said they believed the situation was actually even worse than people imagined, and that without swift action, the decay might be irreversible.
Still, there are caveats — aptly demonstrated by some of those previous attempts to revive the area. For development plans to work, they must be inclusive and bring benefits to residents, warned Raghda Butros, one of the founders of Hamzet Wasel, a community-oriented social activist group.
"The other thing about jobs and economic opportunities is: that will happen only if the development happens in partnership with the community. Because the minute development or investment happens by outside elements, then the community gets further marginalized, and that doesn't really provide opportunities for people," she said.
BEYOND WADI AMMAN, planners emphasized a second level of their strategy, one that was still in the early stages of being realized. Over the coming years, the developments downtown will have significant impacts on the surrounding areas, and planners are already thinking about how to guide that development.
One likely action, they said, will be changing the zoning in parts of the neighboring hills, to give people more rights to modify their buildings and to open businesses — as long as new constructions don't negatively impact the local heritage of the area (for example, by destroying heritage buildings, or putting up structures not in keeping with the area's skyline or existing architecture).
Another strategy will be to create ways to connect downtown to the surrounding hills — whether that means repairing stairways and pedestrian corridors, or building new transport modes, like the proposed funicular, or "hill railroad," that may link the Roman theater and the Citadel. For municipal planners, these links are particularly important, because they are steps toward the goal of creating a city where people can walk, wander and enjoy different neighborhoods.
When interviewed, Maani was enthusiastic about the funicular project. It will be relatively simple to build, he said, and because a funicular uses the weight of a descending car to counterbalance the weight of an ascending one, it's also a low-energy, environmentally-friendly transportation solution.
"Now, the challenge here is finding the right route," he said. "And even that, we're going to discuss it with the people, because obviously, when you run this kind of funicular, or this kind of mobility, in a neighborhood, obviously it has implications." The municipality's planners said many routes were still being considered, and that no decision had yet been made.
Jabal Qalaa has been one of the first communities to be looked at by the municipality, in part because of the presence of the Citadel. Planners said they were currently working on figuring out routes there that could be developed as pedestrian "trails," where relaxed zoning would allow local investors and residents to open cafés, restaurants and shops. Their hope is that people, particularly tourists, will take the funicular up the hill from downtown and then walk back, or at least spend more time exploring the neighborhood.
This is especially important, they noted, since currently most tourists travel to archaeological sites in huge buses, which completely distance them from the city and its communities. Tourism, planners said, should not just concentrate on monuments: the entire city should be an attraction for visitors.
"If you go to the neighborhoods in Jabal Qalaa … because of their proximity to this landmark, you would expect that they would benefit from tourism," Maani said. But currently, "you do not see restaurants, you don't see nice shops, you don't see everything that comes with tourism. So what we want to do is really encourage them to [start new enterprises]."
This kind of development is something that quite a few residents of the Jabal would appear to welcome.
"My father was born here, and we have never seen a foreigner walking around the Jabal," said local mukhtar Firas Zawany.
"This is the original Amman," said another resident, as he sat outside a shop on a street below the Citadel. He did not want to give his name. "Tourists come, they don't find anywhere to walk. [The municipality] should care."
Talal Hattab, who owns a café and restaurant near the archaeological site, told reporters that his business is slow because the buses tourists come in are too big to navigate his street. And many of the tourists who make it down to his café are not there to eat or drink, he said; they're just looking for a bathroom. He too would like to see more people walking on the Jabal.
But some said that getting businesses to open in Jabal Qalaa would take more than just paths for tourists.
"Yasser," another resident who has lived in the area for years, said that some people who have tried to develop in the past have gotten mixed messages from the municipality and the Department of Antiquities about what they can build. With little government assistance, they have given up.
Na'el Bilbeisi, a former resident of the area, who still owns property there, believes that municipal assistance will be necessary to get the community to participate in its own development. In the past, he says, development has been halted because there is little free space, and most of the existing buildings would require heavy renovation before they could be re-purposed.
"Jabal Qalaa is a residential area, so in order to turn it into a commercial area you have to pay a lot of money," he said. "Everything is old, and everything needs a lot of work, and if you want to do something, then the municipality will make you pay for [additions] like parking lots, and that also costs a lot of money. So really there were no incentives for people to develop."
According to Zawany, the municipality has recently promised community representatives that it would lower the barriers to starting a business, including steps like waiving the requirements for parking areas.
While municipal officials said they were keen on private development in the area, they were very clear that there will not be zoning for tall buildings or big hotels in Jabal Qalaa, or areas like it — particularly since a major part of the municipality's plan is to preserve the city's skyline.
JABAL QALAA IS HOME to one of Amman's most important tourist sites, which has been given particular attention by the municipality — evidenced by their participation in a joint effort with the Department of Antiquities, the Ministry of Tourism and the USAID tourism development project, Siyaha, to upgrade the Amman Citadel archaeological site itself.
It is this element of the recent development efforts that has drawn down the most controversy.
Today, visitors to the Citadel come face to face with a blank wall of freshly-laid stone dividing the site from the road. Except for a sign saying that a visitors' center is being built "to make your visit better," there is nothing to indicate what the final project is supposed to look like. There are no explanatory notices or artists' renderings like those that long adorned the wall around the Abdali development, or that currently hang over Hashemite Plaza.
Perhaps this blankness helps explain some of the negative reactions the project has garnered. The new exterior wall is actually a series of discontinuous stone barriers of varying heights, meant to hide the new bus parking lot and the visitors' center. It was designed by a local architectural firm, and overseen from the municipal side by renowned Jordanian architect Rassam Badran, but criticism of its appearance and its intrusion on Qalaa's beautiful views has been intense. It has even been compared to the separation wall in the occupied Palestinian Territories.
When an official from the Greater Amman Municipality asked some independent architects to assess the structure, their advice was, roughly: "Get rid of it." That was deemed too radical a solution, but portions of the wall were lowered to restore some of the area's remarkable panoramic views of the city.
The aesthetic critique of this architectural feature seems to have been the lighting rod for all sorts of wider criticism. Beyond the wall, though, there is a comprehensive plan for the Citadel, which makes a serious effort to address problems that tourists and local authorities have complained about for years.
The site contains impressively restored monuments from three major historical periods — Roman, Byzantine and Umayyad — as well as a wealth of less visible history. For many years, the Citadel was a little-visited site, and was for a long time a military zone.
A small archaeological museum was built there in the 1950s, but most of its development as a tourist site occurred in the 1990s, when the Spanish Archaeological Mission reconstructed the Umayyad palace and its environs, and the American Center for Oriental Research undertook a restoration of the Roman Temple of Hercules.
According to figures from the Ministry of Tourism's statistical department, the Citadel received 187,000 visitors in 2008; 166,000 of them were foreign tourists. Centrally located in Amman, experts say it is one of the first places many visitors see before embarking on trips to other parts of the country.
However, there is near-universal agreement among officials and archaeologists that the site has not been well developed or maintained over the years.
There were no paths to guide visitors around the site, and no proper lighting or guardrails. Signs explaining what the monuments are were unclear or nonexistent. There was no visitors' center to offer explanation of the site — not to mention the lack of places for visitors to rest, or buy water or food. The toilets were inadequate, overcrowded and frequently broken. Existing facilities, like the museum, have been poorly kept up, and the site was littered with outdated infrastructure, including temporary offices and trailers.
"It's been allowed to get so shabby that when people go there, they're a little shocked," said Barbara Porter, director of the American Center for Oriental Research in Amman. An archaeologist who has herself led tours of the site, Porter said it was often difficult get tourists to understand what they were looking at, in a site that presented so many different periods, but had so few signs. The sentiment was seconded by Department of Antiquities Director General HE Fawwaz Khraysheh.
"In all countries which are respecting their history and their archeology, [they know that] people who are entering a site need information. As simple as that," he said. "You have to reflect the image of your country, the image of your history: to put it in a very nice way for people who are leaving their countries [and] flying thousands of miles. … They have to see that this is a modern country, not [a place where] you are doing adventure tourism."
The current work being done is a response to these needs. The new 100-square-meter visitors' center will include expanded toilet facilities, a seating area, a gift shop and a stand for refreshments, and a small space for information and interpretation next to the ticketing area.
Still, it's not much space to provide information about a site as large and complex as the Citadel — most of those involved in the project said the visitors' center was really more of a convenience area than a place for site interpretation. However, the need for more visitor information will hopefully be completed by the refurbishment of the Citadel museum, which is slated to be turned into an archaeological museum for the Amman region, with funding from the Spanish Agency for International Cooperation and Development. That project has not yet begun, but the basic agreements have been made and both parties hope the details will be finalized soon.
Porter said that the new visitors' center looks like it will still have enough room for some informative activities, and she hopes to see video presentations or 3-D virtual "reconstructions" of the monuments — an idea that some employees on the project have said is under consideration.
In addition, a new system of pathways is being installed around the site. The municipality has already put new viewpoints and safety railings on some of the steep drops, and will be installing a new lighting system sponsored by the American company Musco. Siyaha, meanwhile, is paying for new signs to explain the monuments and their reconstruction. The old streetlights are being removed, along with the trailers that have long dotted the site. The old plumbing and electrical systems that underlie the area — some dating back to the 1960s — will be replaced and consolidated.
The museum garden, now fenced off and completely overgrown, will be landscaped, and is expected to be turned into a part of the museum itself, housing some of the large, durable objects from the collection. Finally, an events plaza is being constructed at the eastern end of the site's lower terrace.
For years, social and cultural events have been held in the Citadel — a practice that many archaeologists frown on, but which does serve a useful purpose, according to Khraysheh.
"In all of the Departments of Antiquities all over the world, there is a part which we call … public awareness," he said. "How can you encourage the people to understand the site, and understand archeology? There are different ways. One of them is to give the local community around the site the opportunity to have parties and festivals, in a corner which it is not going to harm the site."
Still, events at the Citadel have a checkered history. Ignacio Arce, an expert in conservation who worked on reconstructing the Umayyad palace, said that the parties didn't seem like a problem at the beginning, but things "went out of control at a certain moment."
When he started working on the site in 1995, events at the Citadel were simple affairs — but they grew. It's one thing to have a chamber orchestra, or some seats and people listening to a piano, Arce said, but quite another to be holding raves and wild parties, and building supports for stages and speakers.
Shan Tissi, an engineer working for the Antiquities Department, who is currently overseeing the site, agreed that people were not always respectful of the monuments when holding events.
Top officials felt similarly, and Khraysheh and Maani said they had agreed to take the events out of the upper terrace of the site, and construct a space for them away from the monuments themselves.
The project as a whole is a collaboration between the municipality, which is paying for all the construction, Siyaha, which funded the creation of a site management plan, the Department of Antiquities, which manages and oversees the process, and private sector companies, which are carrying out the projects and may have a role in managing visitors' services.
All in all, the work on the Citadel will cost more than JD1.1 million, according to the tenders posted on a municipal website. Officials of the municipality and the Department of Antiquities are reluctant to set a firm date, but are optimistic the project will be completed by the end of the year.
HOW LONG IT WILL take for these development projects to show benefits is anyone's guess. In the case of the Citadel, officials are hoping they will soon see changes in how many visitors come to the site, and how long they stay. Planners admit, however, that it may take years for those benefits to spill over to the local community.
The Wadi Amman project is one whose success will likely be measured in decades. But all the projects discussed here are at least intended to serve one common goal — changing the way people move around in Amman and revitalizing its public spaces.
The Work at the Amman Citadel:
Visitors' Gateway: JD440,705.500
Contractor: Qamook
Bus Parking and Exterior Wall: JD266,904.300
Contractor: Ardal
Performance/Events Area: JD93,140
Contractor: Ardal
Safety Railings: JD50,264
Contractor: Awad Daoud Tarawneh & Co.
Paths and Viewing Platforms: JD233,075
Contractor: Aryaf for Construction and Contracting
Signage
Paid for by USAID-Siyaha
Landscaping of Museum Garden: ???
Tender not yet awarded
———————————————————————–
Total Cost: JD1,093,368.800 +
Mariam Abu Adas and Laith Abou-Ragheb contributed reporting and translation to this story.