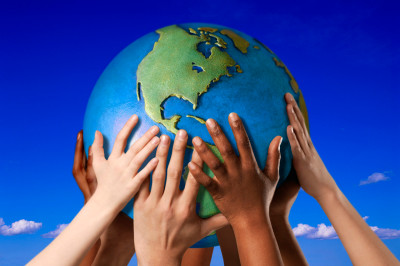 Written by Shalabieh.
I love taxi rides and taxi drivers. Every time I get into a taxi it is an opportunity to learn more, interact more and get a pulse for what people are thinking, or even how they are thinking (some may argue it's the other way round). But the thing I notice the most when in cabs, and this is symptomatic of a the majority of our society, is how we are always willing to shift responsibility and of course blame on the anonymous and magnanimous OTHER. The other can be the system, the government, women, men, youth and children, drivers, families, society…etc. The other depends on the topic of the conversation, and who we can blame for it. I will give you examples:
Littering: its bad, its dirty, "They should clean up the streets!", as a tissue paper, cigarette butt, can, bag of junk food is being thrown out of the window of a car, even as we walk down the street.
Traffic: A sign that says do not turn, one way street, a place in which turning would be dangerous, etc… "Well they do it all the time!"
Price hikes: "They should do something about it"
Rainbow Street: "They ruined the street, they should complain and get it changed."
Taxi driver status, benefits, needs: "They should give us health insurance/social security/protect us…etc."
The list goes on and on, what is common in all of them though is that there is never a language of "us".
My response to most of these gripes is to ask "who are they?" or "where are you in the equation? Where is your voice?" or "Why don't you do anything about it?". When I look back at my mother's generation or the one after it there seems to have been a more vocal youth and a more vibrant society, but something (well many things) happened along the way which killed that voice, quelled that energy and just muted us. I don't want to go into all those things right now because in a way it is irrelevant. We have inherited a muzzle. It's up to us now how we choose to use that muzzle. How we give ourselves the excuses and convince ourselves of our impotence or NOT.

Each one of us is responsible for our lives, our community, our society and there is power in one as much as there is power in many. If we continue to toss the task on the infamous other, and expect things to be bright, and perfect then we deserve what we get. If I throw garbage out of my window, I shouldn't expect a clean street or complain about it. Extrapolate that to a larger bigger scale and even think government. If I don't participate in elections, and then don't hold my elected official accountable, why should I then expect this system to work for me?
I think it's time we owned up to responsibilities as citizens since clearly leaving it to the other hasn't worked for us. If we are unhappy at how we collectively behave towards something, about an attitude, about our street's cleanliness then do something about it. There are many many many initiatives, programs, organization and even individuals out there doing this work. If you cant find them then start something yourself. I truly  believe that we have the power and the keys to  instigate positive change that starts at a small and local and scale. And slowly, it takes hold, it becomes the norm, and a few years later you turn around and something has changed. I am not saying its easy, I am saying is doable! If you are wondering what I am talking about then take a look a these initiatives and programs: Zikra, Ruwwad, Hamzet Wasel, Action Committee, Palestinian Action Network (PAN), Jabal Amman Residents' Association (JARA), Gender Equality Movement, Urdun Mubdi3… and the list goes on. They all started as ideas and they have all become catalysts for change and voices for the communities and peoples they represent.  They are all very diverse in their ideas, approaches and goals, but they all share something, someone took responsibility and carried that frustration to the next level!
We continuously complain about issues, policies from government, and I want to flip that back at us, the people. There is a system, it may be defunct, but that is because we have made it so. When we elected our parliamentarians, there was a frenzy of slogans, rallies, and mustaches on the street what's happened after that? We see the occasionally media frenzy, the storm in the tea cup, yet what do we do about it? Well, since we elected these MPs and we gave them the power to be our representatives, we also have the power to hold them accountable. Some of you are probably snickering at me right now, which I understand. However, let me ask you to do two things at this point: 1- Read this report (http://www.alqudscenter.org/uploads/JPM.firstreport.pdf) that was issued by Al Quds Research Center (http://www.alqudscenter.org), to understand how our current parliament works and what makes them tick. 2-Use their monitoring website Jordan Parliament Monitor (www.jpm.jo) that not only tells you who the MPs are and what committees they are on, but their voting track record even. From there you can get your representative to take on the issues you find important and need attention. If they don't listen- well they don't get your vote next time round, its that simple and that complicated at the same time.  When we use these tools, we become active participants in the debate, not just some frustrated ranting taxi drivers, and therein lies the difference.
I was at an Earth day festival in Washington DC this April, and there was a group, Zendik (www.zendik.org) That were selling T-shirts with a slogan that I immediately fell in love with and adopted "Stop bitching start a revolution". Pick up your trash, lobby your taxi driver friends or our parliamentarians, follow safety rules and start your revolutions, what are you waiting for?