Where Technology, Media and Culture Meet: everybody gets riled up about Orange's terrible Internet service, but one magazine wonders if your online life is really something you should even miss.
Words by Ramsey Tesdell, Laith Abou-Ragheb and Nicholas Seeley. Content by JO Magazine. Powered by 7iber.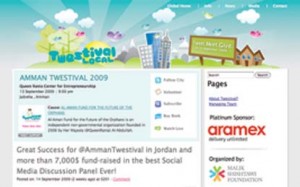 Twitter Takes Amman by Festival
With the recent news that Twitter and Zain were in discussions about providing mobile phone support for Twitter in Jordan, there seemed to be a new surge of Jordanians joining the Twittersphere. (The first wave signed up after HM Queen Rania joined and began providing insights into the life of the royal family.)
A recent event provided some substance to all the claims that Twitter will change the world. The second Twestival (@AmmanTwestival) was held at the Queen Rania Center for Entrepreneurship on September 13, and included a panel on entrepreneurship and digital social media.
Event organizer Malik Shishtawi (@maliksoft) hoped that this year's festival would bring more attention and raise money for the Al Aman fund for orphans. Local sponsors joined the cause, including Aramex, which donated JD5,000 to the fund.

The Revolution Will Be Webcast
This time, Greenpeace wasn't simply armed with cameras and banners: they brought mobile phones and broadcast their activities live to the world.
The environmental activist group is known for pulling highly public stunts—often involving things like putting up a huge banner somewhere really remote, say atop a high tower, or in the middle of the Antarctic. But they're also at the forefront of technological innovation, and one of the earliest adopters of new technologies that allow them to spread their message further and faster.
Their latest stunt centers on the tar sands of Canada. Proponents of extracting oil from the tar sands claim that the vast reserves there could prevent a price crisis due to dwindling oil supplies. Greenpeace, and other opponents of exploiting the sands, point out that just getting to that oil is incredibly carbon intensive, requiring strip mining and using up huge amounts of energy in its own right.
"Areas of wilderness the size of small countries are chewed up and replaced by a landscape of toxic lakes, open pit mines, refineries, and pipe lines," says the Greenpeace website. "The tar sands are what unrestrained fossil fuel use and unchecked greenhouse gas emissions look like."
And now you can see it firsthand: during its latest action, the group provided a live broadcast from the area via their mobile phones and Twitter. The 3G network allowed grainy, but watchable, video from "hell on earth."

Bitter Oranges
Every few months the blogopshere in Jordan gets all riled up about some issue—and often enough, that issue will be the lack of high-quality, reliable and fast Internet. Despite Jordan being described as the "fertile crescent for technology startups," it's often hard to even check your email, let alone run an Internet company.
This time, though, the anger turned into more than just outbursts on a few blogs: this was a call to man the barricades and revolt against slow Internet. Orange took most of the heat during this call to arms against ISPs. Moski, who works with several Internet companies in Jordan, including Ikbis, created a video that was part satire and part desperation. (Ironically, his angry rant was too big for some Orange subscribers to load.)
The Black Iris helped stoke the flames by offering a letter to the executives at Orange about the stated speed, the cost of the service and the actual service provided.
"All in all, I feel bamboozled. Swindled. Cheated. Robbed. And to a large extent, those adjectives are not far from the truth," he wrote. He then detailed how to leave comments for Orange executives. Musa left a comment describing how to lodge a complaint with the Telecommunications Regulatory Commission.
As Nadine Toukan wondered on her blog: "What does it take for a fantastic global brand to deliver outstanding service to 6 million people who hang around 92,300 square km? How can you not get it right?"
Naseem Tarawnah:
black-iris.com/2009/09/07/an-open-letter-to-orange-jordan-all-jordanian-service-providers
Ali:
confessionsofachubby.blogspot.com/2009/09/against-internet-limitation-in-jordan.html
Farah:
jordanian-observations.blogspot.com/2009/09/dear-orange-you-suck.html
Mab3oos:
mab3oos.com/2009/09/dsl-in-us-vs-in-jordan-re-orange-jordan.html
Moabite:
amanfrommoab.wordpress.com/2009/09/11/open-letter-to-orange-telecom-jordan-on-their-terrible-service
Moski's video:
ikbis.com/channels/Bugga%20team/186136
Sharkooseh:
sharkooseh.net/?p=324
Tim:
culturerage.com/?p=157

Tulip:
travelingtulips.blogspot.com/2009/09/orange.html
Kinzi:
kinziblogs.wordpress.com/2009/09/10/dear-orange
Bander's Blog:
isharethepoint.com/?p=660
All Hail the Virtual World
As more and more of our lives go online, some people are arguing that this push toward living virtually isn't a healthy and positive development—despite all the calls to join the revolution.
Adbusters magazine, famous for their culture-jamming stunts such as Buy Nothing Day and the Corporate America Flag, has become the highbrow medium for those who reject consumerism and modern advertising techniques that make us feel like we need to buy something in order to survive.
The magazine's upcoming issue will be a must-read for regular commuters on the superhighway, as it discusses digital life—though not necessarily in a flattering manner:
"How's your online life? Are you happily learning, creating, interconnecting…or is your digital existence growing flatter, duller and ever more predictable?"
Adbusters promises to explore the consequences of our effort to abandon "our evolutionary home (it's too damn hot, messy and boring anyway)" and retreat to lives that consist of leaving comments on pictures, "liking" someone's status and buying virtual real estate.
End of An Era
The dreary news market appears to have claimed another victim. Menassat, the popular Beirut-based regional news website known for its hard-hitting reports, is being shut down due to financial problems.
The site had been supported by Free Voice, a media advocacy group backed by the Dutch government. However, Free Voice announced on September 3 that it had stopped funding the site because Menassat had not lived up to its original commitment to become financially self-sufficient. After re-injecting funds several times, the organization said, they decided to terminate their support.
"We're all really disappointed with what happened, as we put a lot of work and effort into the project," said former Menassat office manager Lina Sahab, who was one of nine editorial and administrative staff to lose their jobs following the closure. "We had started to get some very positive and reassuring responses from our readers," she said, adding that some of the original staff hoped to form their own similar news website in the near future.
Sahab said the site was shut down on September 4, though content was sporadically posted throughout September. Menassat, which is Arabic for "platforms," was set up in November 2007 and reportedly recorded more than 3,000 hits a day. It's another demonstration of how online news sites may be popular, but have yet to figure out ways to support themselves.
The bilingual website was also no stranger to controversy. After one of its writers recently criticized a United Nations Development Report for being biased toward Israel, angry Israeli journalists accused the Dutch government of funding propaganda. Free Voice emphasized in its press release that the withdrawal of funding was not related to the site's content or editorial decisions.