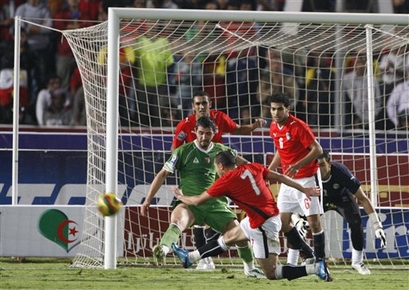 (AP Photo/Nasser Nasser)
Written by Khalid Jabaly
This month we witnessed a milestone in the history of Middle Eastern sport as Egypt and Algeria locked sides for their last chance at qualifying for the 2010 World Cup, resulting in the birth of one of the most heated rivalries in the history of football in the Middle East. A lot of blood, sweat and tears was shed only to see Algeria qualify to the grand stage and Egypt fall back to where they struggled from. The build up to this match was one of the most heated and anticipated build ups in the history of Middle Eastern football, an indicator that the sport is moving forward within the region, as the beauty of football is reflected through the colors, the cultures and the philosophies behind both nations' social aspects, additionally, the violence that took place prior to the match was a serious indicator of how the game is being appreciated and a reflection of the public's passion towards their teams, something rare to see in the Middle East, and whether you agree or not, violence is a part of what makes this game so beautiful to watch.
Let's take a look at Football's most notable rivalries, starting off with the Classico; a rivalry that revolved around principles and spirit where the Catalans stood up to the Fascist regime of Franco, as the likes of Kubala and Di Stephano defended their principles alongside their partners to rise on top of their conflict, backed up by the support of their fans who never failed to cheer and jeer. Lets also take a look at the War that takes place in Rome between Lazio, the elite of the society, and Roma, the working class team that fought for their rights and expressed their philosophies through football, let's also take a look at the most recent rivalry in Manchester, where a team stood united for so many years achieving endless achievements and the other struggled with its citizens until money was injected from the UAE, where the question of integrity and history came into place, as money can't buy trophies. Lets even take a closer look at what we have in the Middle East where Al Ahli and Al Zamalek have been fighting for so many years to prove who is to be the most valuable and the most dominant, same with Jordan, however, politics took the rivalry into another direction where both teams represented neighboring nations; one represented by their people and the other represented by their refugees. A lot of rivalries in football have taken place, and they are all justified with reason and backed up with violence when provoked; unlike this rivalry between Algeria and Egypt where violence was provoked over the lack of sportsmanship and the lack of respect and over something the game guarantees: winning and losing.
There is no doubt that during the past four years, players from both nations gained international recognition from football fans and from world class teams, as many of those players were recruited for their services; sadly enough they never maintained consistency. Let's take a few examples; Not so long ago, Amr Zaki was the most talked about striker in the Premier league, scoring 10 goals in the first two to three weeks of the season, and rumors started spreading around that Real Madrid were considering a move for him and all this hype was flushed down the toilet the minute his head became too big to carry and decided not to go to trainings and fight with his manager along fellow unprofessional act, Mido, by the end of the season they were both labeled as 'the most unprofessional players to ever deal with' by Steve Bruce. If we even go a few years back, specifically to 2006, Mido pulled off his infamous rant and refused to get off the pitch when he was subbed by his manager Hassan Shehata during the Semi final bout against Ivory Coast in the African Cup, nevertheless, he never failed to impress with his unprofessionalism furthermore, as he went off form the following season after having millions invested in him. Later he joined Birmingham city only to claim that he was bigger than the club and failed to turn to training several times resulting in his shipment to Middlesborough, and later to Wigan where alongside Zaki pulled off great unprofessional gigs. Another player, who held a lot of potential, was Hussam Ghali; a person who won Al Ahli's game against a full throttle Real Madrid during their galacticos era, managed to act amazingly unprofessional when he disrespectfully threw the Tottenham shirt to the floor on his way to the bench after playing 20 minutes of horrible football. The story doesn't end here, as most recently, Hadary, the best goalkeeper in the history of the Middle East, managed to find it in his heart to turn his back to the fans and to his team mates at al Ahli when he decided to play for a Swiss side without any notice. These are the most notable stories from the most notable Arab football stars.

Let's take a look at Algerians playing abroad, I can't find any names who committed severe acts of unprofessionalism, maybe this is due to the notable Algerian figures who came across the world of football, such as Rabah Madjer, who participated in two world cup qualifiers in addition to playing a major role in winning the European cup for Porto. Later, a man with an Algerian decent was labeled as the greatest player to have ever dribbled the ball, Zidane, who must have been a great role model for Algerians all over the world on so many levels, especially after winning so many individual and team titles and being recognized as one of France's most notable figures. Put aside his infamous head butt in the 2006 world cup final, the guy always impressed whenever he was on and off the pitch where he gave hope to many individuals and was a reason behind a lot of great talent to evolve after him such as Karim Benzema, Samir Nasri and Frank RIbery, who are impressing in the same way he did back in the days.
Maybe such role models gave them discipline in their profession, but only to a certain extent, as we Arabs are more attracted to controversy and we love inheriting corrupt genes and thoughts as the Algerian team forgot all about Zidane and his great contributions and decided to travel back twenty years in time and decided to live up to the reputation of their most capped player, Lakhdar Belloumi, who rallied a rumble against Egyptian supporters leaving an Egyptian doctor seriously injured. Later he became subject to an international arrest warrant which was only lifted in April 2009 after interference from President Bouteflika, only a few months later a huge divergence erupted as we are witnessing it now.
As predicted, violence exploded after the game; a completely normal reaction to any passionate football fan who cheered for his country; however, unpredictable events have been taking place.
Who would have ever thought that Algerian authorities would take a national decision of banning Egyptian media in their country, or that members of the Egyptian media would call for the death of Algerian fans, however, the ultimate unpredictable factor of all is the speech President Mubarak carried issuing indirect threats to Algeria …. One can only wonder how much further the envelope could be pushed.
Let's take a look at the issue from a fan's perspective.
After months of anticipation, you only think that you are finally guaranteed an answer to the question of who will be travelling to South Africa, only to see Egypt equalizing points and goals and taking the game to Sudan following a series of dramatic action where the Algerian team was attacked by Egyptian supporters, taking revenge to what Belloumi and co did to them 20 years ago. Later that week and after a devastating loss, Algeria managed to secure their place at South Africa, during a match that was full of drama. As Egyptian fans were crying for their loss, an Army of Sudanese soldiers filled the pitch to prevent any acts of violence, meanwhile, Algerian goalkeeper decided to copy Hadary's signature celebration by waving his hands to the spectators while sitting on top of the goal posts, which must have provoked the Egyptian fans straight away resulting in friction that would later provoke the Algerians and start somewhat of a war in Sudan, and the rest is history.
Personally and as a huge football fan, I understand the frustrations and the acts of both sets of fans, as one had so much hope for their team who won the last two African cups and produced world class football at the confederations cup in preparation to this one match and the other side who were unwanted by the majority of the Arab fans but still made it and secured tickets to South Africa and are simply repaying the bias attitude most Arab fans held against them by releasing all the frustration towards the team and the nation favored by the region. ..
…However, violence in football is one thing, and being unable to handle the consequences is another thing.
Let's take another look at history and what it tells us, in 1989, 96 Liverpool and Nottingham forest fans died and many disgraceful things took place during this event as Liverpool fans were spotted urinating on the dead bodies of Nottingham forest fans. Furthermore, in 2000, English fans rallied in violence in the streets if Brussels only for losing their spot at the tournament. Moreover, fans of Barcelona acted furiously after years of waiting for Figo's return to the Camp Nou when they threw anything they got their hands on, including a head of a piglet. All those events were taken care of from the football officials, where the English team was banned for so many tournaments and the Camp Nou was closed for a certain period of time … There are officials that are supposed to take action and threaten the well being of the sport for certain fan groups, but never, a President went to carry on a speech that would threaten the relationship between two countries, last time this happened a war between El Salvadore and Handoras blew up and this is the last thing we need as a region, another internal conflict over something that we are supposed to support each other for, and if we are not able to deal with the consequences football holds, then we simply do not deserve it.
Read More:
http://news.bbc.co.uk/2/hi/programmes/from_our_own_correspondent/8382726.stm
http://www.guardian.co.uk/commentisfree/2009/nov/07/algeria-egypt-world-cup-football
http://thelede.blogs.nytimes.com/2009/11/13/egypt-and-algeria-brace-for-match-of-hate-sequel/
http://globalvoicesonline.org/2009/11/12/algeria-egypt-online-feud-over-football-match/
http://www.fifa.com/worldcup/news/newsid=1133115.html#egypt+algeria+media+statement
http://www.motherjones.com/politics/2004/08/how-soccer-explains-world
http://bikyamasr.com/?p=5777
http://www.almasry-alyoum.com/article2.aspx?ArticleID=233594