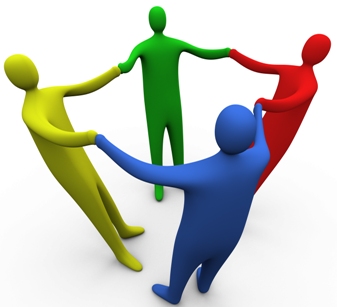 Written By Ramsey Tesdell
Humans, by their very nature are social beings. From tribes, to families, to business; we interact with tens of people, possibly hundreds, each day. Throughout history human interactions were restricted to a strictly physical encounter; as technology has developed our interactions aren't limited within a physical proximity, and now the internet provides near real-time updates on locations and statuses.
It only makes sense that businesses and organizations will run after the latest, newest, hippest trend in decades. Social media or new media is the latest craze for business in the region, and for democracy-pushing Western-funded NGO's. What is sexier than having 'social media' spread your message and elevate your brand? Apparently not much.
Chasing the Bandwagon
As business popup that claim to "do" social media, I've wondered what the impact has been, and if social media has been beneficial to the people. We've watched the Social Media Revolution video, posted below, and get overly-hyped (mostly from the pounding music) watching the biggest revolution since the industrial revolution play out on our very own LCD screens.
Lots of companies offer social media services. In some ways, the company/website 7iber, does the very same thing. We don't do commercial work, but much of our work comes from the same NGOs asking for social media, without fully understanding what, why, and how. Most of our work is training so that others can understand and implement their own strategies.
Instances such as the Jordan Times and Orange "using" social media to make increase their organizations' exposure not to become more social.
These cases have exposed an important point: using social media doesn't, by default make your organization more social and democratic. Companies that are top-down, who communicate one way – from company to consumer – will communicate the same way even after they open a Facebook group and a Twitter account. They still won't listen or respond, much less jump into action.
Nothing changes. A very unsocial message is being distributed on a social medium. For example, why have a Facebook group and Twitter account for the Jordan Times, and not allow people to comment on articles. What's the point if the consumer doesn't have the opportunity to offer her opinion?
Listen up companies and officials. Don't send your press release on twitter or Facebook. We want the chance to respond, and we want someone to listen. We escaped traditional media because of your mundane press releases, don't follow us on to social platforms. You have to change the message because the medium and the interaction changed.
To have effective social media, you need to be a social organization. You need to be open to receiving comments, positive or negative, and respond to them. If they require action, act on them.
Social My Media
There are positive examples from Jordan, however, starting from the very top.
His Majesty and Her Majesty both have adopted new and social media avenues to open direct communication with the citizens of the Kingdom. We even get to claim the Queen of Social Media, with our very own HM Queen Rania winning youtube awards, engaging hundreds of thousands on Youtube and millions of followers on Twitter.
The Minister of Foreign Affairs, Naser Judeh regularly responds and engages his constituency through Twitter. Sometimes, I wonder how he finds the time to respond, even to me, about various issues the country and the region are facing as he helps formulate Jordan's foreign policy.
Sometimes it feels like everyone has their own anecdote of when Her Majesty responded to a tweet, or HE Naser Judeh wrote back, or His Majesty commented on a blog. In the online political world, these stories have become folklore, just our parents and grandparents told stories of meeting HM King Hussein at a traffic light, or how everyone owned land in Abdoun/Aqaba, but doesn't anymore.
Several media organizations including Play 99.6, Ammon News, Radio Al Balad, and JO magazine have used social media to become just that. More Social.
JO Magazine responds to tweets, publish comments from their website in the magazine, and are active on Facebook – publishing AND, more importantly, responding. Play is an active online community member, engaging listeners online and on the air. Ammoun requested to follow me on Twitter. Not sure why, but at least they get the point of it.
Aramex, including Fadi Ghandour personally responding to criticism of their service and trying to make things right.
Be Social, Be Effective
For social media to succeed, we need to look at how our organizations work; how they communicate internally, externally, the audiences they address, and the messages they send. Sending a mundane press release will get the same reaction on Facebook as it will in a newspaper: a blank stare.
To be social, open your organization to criticism, hire someone to respond and be able to get the message to someone who can change the situation.
To truly adopt social media, a dramatic shift in organizational thinking will need to take place. Some organizations are on their way, but far too many have jumped on the social media bandwagon without understanding it.
For more, read this.