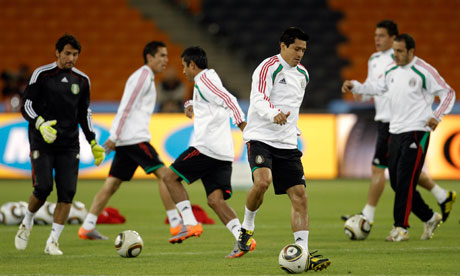 Mexico prepare themselves for the World Cup opener against South Africa at Soccer City in Johannesburg. Photograph: Themba Hadebe/AP
Written by Ramsey Tesdell
It's been a year coming. One year ago I sat in front of my glowing LCD laptop, choose cities, matches, and dates indiscriminately. We didn't even know the teams yet, but I was sure I was going. And it didn't matter which teams.
A year later, I've begun a trip that will last roughly three more weeks. I left Amman for Cairo three days ago, and tonight the destination is Johannesburg.  With many details left to figure out, such as housing and transport, this may prove to be an adventure of a lifetime.
South Africa has had more than its fair share of attention, from evictions of local populations, to accusations of unpreparedness, to local acts trying to reclaim the African continent's first Soccer World Cup's identity. While Shakira is a star musician, maybe it would have been more appropriate for Africa's world cup to have an African artist? Who am I to say?
Aside from the politics of such a large event, of course there will be disagreements, but rarely are the rights of the poor and the minority protected. Many injustice and inhumane actions are done in the name of providing a good image to the millions of  first time visitors to the country.
Just as with the Olympics in Canada this last year, and every major event before it, the image is more important than the rights of the people living there.
And now on tto the real reason all these controversies popped up; the beautiful game of football/soccer/futbol/etc.A game of skill, power, technique, intelligence, and a lot of pure luck.
I've been asked about 50 thousand times who I support. And well, I've always liked to support the underdog. Sweet, poetic justice is served when the former colonial power get knocked on the head by the former colonial subjects.
So this year, I'll stick to my guns and support a team, no longer the underdog, that I've support since I first became interested in soccer: Spain. The current European champions and quite possibly the most powerful and skilled side at the tournament, have the best odds of winning.
But the World Cup is always about odds and skill. Emotion and luck plays a large part of it. And that is why I pick El Trio to be a surprise champion this year. One of the best sides they've put together in years, the young guns of Mexico are ready to show off their exciting and dangerous style in the opening match.
After rightly ditching Sven-Goran Eriksson midway through qualifying, Javier Aquirre resurrected the campaign and brought new life into the squad. He's put together an ensemble worthy of a some hardware.
It will be an interesting Cup this year, not least for the location. But it seems many squads this year are coming to the peak performance at the right time. Argentina, England, Portugal, Ivory Coast, Holland, and others have brought talented and dangerous squads.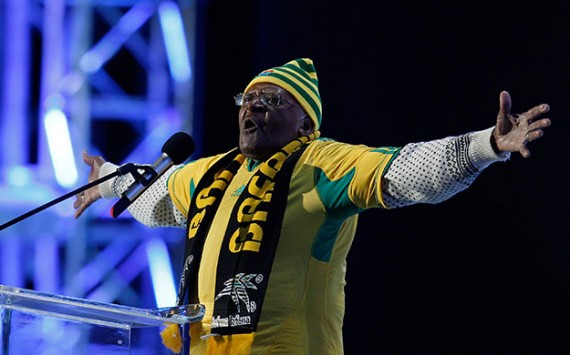 Retired Anglican Archbishop Desmond Tutu makes a speech
Photograph: Hassan Ammar/AP
For more info and up-to-the-minute coverage check out this sources:
Watch for free
The Guardian (some of the best commentary and coverage around)
Also, vote for the man of the match here:
http://www.fifa.com/worldcup/awards/manofthematch/index.html