Interviewed by John Lillywhite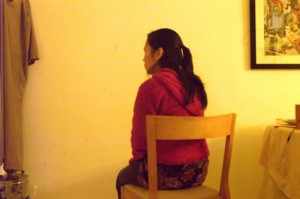 The following account is that of a Filipina house-maid in Amman who asked to be known as "Jodi." The interview took place on 27th February 2010, four months after she ran away, in the living room of a mutual friend and university lecturer (the 'professor'). Only recently has Jodi felt comfortable with her story being told.  For her own safety many of the circumstances she describes could not be corroborated.  Readers can decide for themselves the extent to which they find her experiences plausible.
"I arrived in Jordan one year and five months ago.  I was twenty four years old.  It was my first time in another country.  I was meant to be paid 200 dollars a month.  I didn't receive anything for the first two months. There was an Indonesian maid there when I arrived who trained me to be her replacement.  She told me 'they are good they are good.'  But the family were always quarrelling, always shouting.  The kids were at first very rude, but they became better, and we became friends.  There was one baby boy – who I could not touch until after a year – and two girls. For the first six months I was not allowed to leave the house.  My madam – the wife of the husband – was very moody.  I tried to please her but she always wanted more and more.  I wanted to prove to my family I could make it.  On the seventh month they let me go to the supermarket, maybe twice a week.  Then it stopped after the husband said something, and I could only go when things were urgently needed.  When the family visited friends I would sometimes go to look after the children.  Other times I would be asked to wait in the car. When I did go to the supermarket I would try to speak to maids, like me.  They told me that most of them get one day off, and that Friday was a legal holiday, unless the family had visitors.  They said I should have one day off a week to go to Church, but I never did.  The family said I could go on Christmas day but the weather was too bad and the grandma was sick.  On my birthday they forgot.  For the first year the professor was my only friend.  He came to teach the kids and was my only outlet. In November madam started to go to work.  She accepted a management job.  For the past year she had spent all her time in the house because of the baby boy. I was always with her.  She used to say she would take me to buy clothes, but she never did.  She would leave at 10am in the morning, and return at 2pm for lunch, so she could check everything. At 5pm she would leave again, and return to the house at 7pm. Her mother, the grandma,  was still there to help with the little boy.  She was always asleep in the living room.  The husband began to stay in the house, and to treat me not good when his wife was not around.  He was a business man and could do his work over the phone.  I used to make him think I would give him what he wanted when his mother-in-law returned to Iraq, because when his wife was nagging he would do favors for me. Sometimes when she woke me in the middle of the night he would do what she had asked me to do.  He was kind to me, but when he came near I would go to the bathroom and spend hours cleaning it, even though it was already clean. The baba had two wives.  The first family were on the first floor, the second floor was vacant, and we were on the third floor.  He would sleep one night at the first family, and one night at the second family.  If an associate came to visit they would stay on the second floor.  There was another maid, like me, in the other family.  We were never allowed to talk, but would whisper with each other when we could.  She told me that the husband abused her.  The wife downstairs had no children to look after.  The youngest was in grade 10, so when she went away the maid was left alone, and he could do whatever he wanted. The family had lots of visitors, and one day one some of them brought another Filipina.  Her employer was a friend of my madam.  She wanted to run away, so I said if you run I will come with you.  Her name was 'Rose'.  We talked about meeting someone who could help us. I began to SMS a Filipina I had met in the supermarket.  She had been here for eight years.  I asked her what life was like on the outside. She said I could stay at her house. At first I told Rose to go there, because she wanted to, and after a week she had found a job for me.  The month after Ramadan I never received my salary, so I had to wait until October.  I planned it well – the day after I ran away I started the new job, in housekeeping. It was good.  We worked until 7am in the morning until 6am at night.  We received 165JD a month, which works out at 5JD a day.  The taxi was 3JD a day, which meant there was nothing left for us.  But we learnt there were many surviving in Amman without papers.  Sometimes we worked in events at hotels and received 10-12JD per party, and they paid the taxi. The problem was the baba still had my passport, and although he wanted to return it the madam wanted me to finish my work with them.  I kept calling the husband to give me my passport.  Before I left the maid in the other family had completed two years work, and wanted to return to the Philippines. She was given 540JD to pay her overstay for the year, because she had no papers, for the exit fee. But she was cheated by the doorman, the guard of the house, who instead of paying it for her kept the money.  She arrived at the airport with three months of pay which she was owed.  She thought the exit fee had already been paid, but it hadn't.  She rang me in tears, because she no longer had enough money to reach her home once she arrived in Manila.  My family picked her up at the airport and she is staying with them right now.
I have to be very careful, especially around second circle, where there are lots of Filipinas.  The police can do whatever they want
.  I met some girls caught by the police without papers.  They were forced into a patrol car and were waiting to see jail, but instead they saw desert… and the police did what they wanted… the agency told me I have a police report, that the madam reported me, but when I did get stopped my name was checked and nothing happened.  They were trying to scare me so I would return to them. I have an ID from the company where I worked, so when I got stopped I told them that my passport is kept there.  They don't speak English well, so I say 'what, what', and they sent me to the red cap, who talks okay, but just let me go.  My madam used to say I am clever.  I hear stories. Some Filipina are beaten, or don't get to eat.  I said 'you can't do that to me, I have human rights too', and that made them careful, because they know I know the law. I don't want to go back with nothing, I have a little sister and brother who need something.  I have no regrets, because somehow it has made me a new person.  I have the courage to face life whatever it takes. With the help of friends I am coping".
Epilogue
A month and a half after this interview Jodi became seriously ill, and was forced to stop working.  She had no medical insurance and no passport.  It soon became clear she was pregnant.  The father remains unknown.  According to Jodi she was told by medical staff that her life was in danger. She held on for a number of weeks until the situation became serious.  With nowhere else to turn she contacted the professor to ask for help in paying her medical costs.  Although she couldn't provide receipts or a number for a doctor, he eventually agreed, and also helped to secure her passport from the Madam. At present Jodi works as a waitress in a restaurant.  She cleans the professor's house every Saturday by way of thanks.  A short time ago she became engaged to a Jordanian man.  She now hopes to build a family, and a future, in Jordan.