UPDATE: Meeting point for volunteers will be at the Modern Montessori School at 12pm, Saturday 9th. Buses will be departing at 12:15pm. You can find a map here.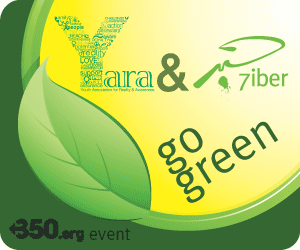 The Youth Association for Reality & Awareness (YARA.org) and the citizen media platform 7iber.com are teaming up to collaborate for a memorable 350.org event on 09/10/10 between 3pm and 5:30pm.
350.org – an international campaign that aims to build a movement of uniting the world around solutions to climate change – will be collaborating with many organizations and individuals around the globe to hold over 5,000 activities in over 174 countries on October 10th, 2010.
Here in Jordan, YARA and 7iber are looking to bring together people from various backgrounds to combat and raise awareness on climate change. The goal is to rally at least 350 volunteers to plant 1,500 olive trees on a plot of land in Mafraq on Saturday, October 9th – a day before the global 350.org event. Not only will we be planting trees to help fight climate change and CO2 emissions, but we will be planting the trees on the lands of less fortunate farmers in the Mafraq area; a win-win situation for both the environment and poverty. The more trees donated, the more we'll be able to plant on a larger plot of land!
So what can you do?
1) Donate! Donations for trees are currently needed. Each tree costs 4.5JDs (the cost includes tree, drip irrigation system, fence for the land, and plowing the land).
2) Participate and volunteer to do some planting!
3) Help document the event with 7iber! We're looking for stories, photos and videos.
4) Spread the word!
The deadline for donations and participation will be October 5th, 2010.
Stay tuned, as more information will be provided regarding the event's logistics, including a map and directions.
Join us on Facebook: http://is.gd/fGvuo
Stay Updated on Twitter by following YARA and 7iber
Find out more about 350.org by checking their website.
CONTACT INFO
YARA:
email: [email protected]
mobile: +962-79-777-9272
7IBER:
email: [email protected]
mobile: 0777467733