Do yourself a favor and catch one of the two remaining performances of Igor Moiseyev group
By: Special reporter for emotional over-excitement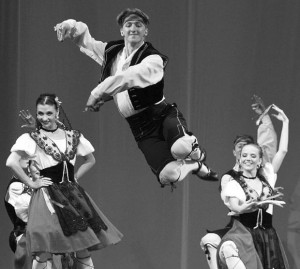 It does not matter if you are a fan of perfectly synchronized and brilliantly choreographed dancing or not, there is absolutely no reason to miss the "Academic Ensemble of Popular Dance" (Wednesday and Thursday (May 23rd and 24th) at Amman's Culture Palace (Sports City)). It does not matter if you are the kind of person who prefers to get the entertainment fix from drama, superb athletic feats or even humor, all these elements (and more) are delivered by the performance featuring dances from around the globe. The only excuses to miss this world-class event would be that you are either lazy or simply do not enjoy life as a concept (without exaggeration).
Now, just to clear out some potentially-deterring confusion that arises from the name of the group (Igor Moiseyev Ballet), there is no sleep-inducing classical music (great) and there are no French tutus (not so great). However, all the elements of precision, grace, flow and awe that characterize what was once referred to as "one of the greatest art forms known to humanity" (someone important must have said that at some point) are on full display.
It only takes you a few minutes into the opening dance (no details= no spoilers) to realize that you are looking at a performance at the highest professional level. By the end of the first dance, my first thought was "I am coming to this show again tomorrow" (the following dance was not as exciting, and it challenged that decision momentarily), while the second thought was running down all the friends and loved ones who must be immediately notified not to miss it.
Without getting into many details (this is not a review, but more like a public service announcement), there you had an audience of various ages and from various backgrounds with the same sheepish naïve smile and eyes wide open for a whole hour and a half, with a few "oh"s and "wow"s scattered around for good measure. (The performance is in two parts: part one is 42.50 minutes, part two is 46.20 minutes (yup, this is exactly how it is listed in the program) separated by a 15-minute break).
Groups of up to 80 dancers move in unison and/or perfect harmony, in a composition of colors, sounds, and flows that create a sedating dynamic portrait (even if you attend the show totally sober). Internationally-acclaimed dancers (some of them carry the honor of being named "People's Artist of Russia") give thrilling performances in movements that defy the natural range of motion of the human joints, coupled with the creative employment of wardrobe and shoes to compliment the music. For some of the audience members (ahem), the idea that a man on stage by himself, performing basic movements to the beat of a single drum, is capable of being practically the most popular act of the show was enough to make attending more than just entertainment but probably a learning (alternative-perspective) experience. All of that is culminated with deep appreciation as one wonders how much talent, effort and dedication it took the performers to materialize the vision the choreographer drew in his mind.
To sum up (in terms other than those of repeatedly used by a self-help "specialist"), this is simply one of the rare events that take place in Amman that are so good, not even the obligatory crying baby sitting in front of you or the play-by-play stand-up comic behind you could ruin. You know you have just attended something special when the whole crowd shifts spontaneously from rapid clapping to a slow-paced rhythmic clap at the end of the show so that they can go on clapping for another five minutes.
The first line in Igor Moiseyev's Wikipedia page calls him "the greatest 20th century choreographer of character dance. The cost for attending a similar performance in Russia would cost you anywhere from $750 to $225 (of course it would be at a top notch Soviet-style opera house, but remember that the $225 there will get you a nose bleed seat offering a level of clarity and closeness comparable to that of a low-rez YouTube video). The group is in Jordan with the full sponsorship of Manaseer Group, and the (20,10,5 JDs) you pay will go to support King Hussein Cancer Foundation.
It is a shame that the theatre was half-empty during the opening performance.
Tickets  are available at Virgin Mega Store, Citi Mall
(Phone: 06-550-27-87)
Tickets were also available at the door on Wednesday.
(Take the risk show up at 7.15pm. Show starts at 8.00pm)
For more information call King Hussein Foundation (line usually busy)
(06-569-02-92)