Architects and urbanists are in for a treat this week, as renowned Lebanese architest Bernard Khoury is in Amman giving a talk at the Columbia Research Center along with Fredric Levant, professor of architecture at Columbia University's Graduate School of Architecture, Planning and Preservation (GSAPP). (Monday, 6:30 pm).
This is part of X-week.5, part of Frederic Levrat's Advanced Architectural Design Studio "Knowledge City: Information Infrastructure", taught in collaboration with Philip Anzalone (Director of the Laboratory for Applied Building Science, GSAPP). The week concludes with the opening of "Knowledge City" (Friday, 6:30 pm), a public intervention at the Amman North Terminal, featuring an audio-visual installation by GSAPP, 7iber and House B Studio.
Another prominent speaker hosted by the Columbia Research Center this week is Glenn Lowry, director of the Museum of Modern Art (MOMA) in New York City. He's delivering a lecture titled "Mapping the Modern: A Conversation about the Museum of Modern Art and the 20th Century" (Tuesday, 6:30 pm). In addition to being on the advisory council of the Department of Art HIstory and Archaeology at Columbia University, Lowry has spearheaded the MoMA's renovation, expansion and endowment, and has written extensively on contemporary art and museums.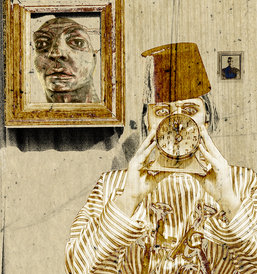 In other cultural activities, Eman Haram's second solo exhibition "Iconographies" opens at Nabad Art Gallery (Monday, 6:00 pm), featuring 40 works by the Montreal-based artist, who draws upon familiar iconography and narratives characteristic of historic Palestine, while reaching a new vision of what it means to be denied of a homeland, beyond the temporal.
Al Hussein Cultural Centre will be screening the Italian comedy film, Tre Mogli, by Marco Risi (Monday, 7:00 pm). The film is about three Italian women who go on a road trip from Italy to Argentina looking for their husbands, during which they learn new things about themselves and each other.
Rainbow Cinema hosts the UK Film Week, screening four films based on novels: Emile Bronte's Wuthering Heights, Charlotte Bronte's Jane Eyre, Charles Dickens' Great Expectations, and My Week with Marilyn, based on two books by Colin Clark's "The Prince, The Showgirl and Me" and "My Week with Marilyn" (Monday – Thursday, 7:00 pm)
Wednesday Jazz nights with the Yacoub Abu Ghosh Quartet continue to attract a big crowd at Books@ Cafe, with Yacoub Abu Ghosh on bass guitar, Shadi Khashram on classic guitar, Tareq Abu Kwaik on drums, and Yarub Smeirat on violin. (Wednesday, 9:00 pm)
For details on these events and more, check out 7iber's calendar.