This article and two others in a package of articles about the difficulties transportation can pose for Arab university students was a cooperative effort between 7iber and Al-Fanar Media. The other articles are "In Damascus, a New Student Craze: Bicycles" and "In Jordan, Poor Transportation is a Drag on Education".
By Tarek Abdel Elgalil, Rim Hayat, Tasneem Mohamed and Ibtissem Jamel
With the start of the new academic year in many Arab countries, the struggle of millions of students with transportation begins.
Most public universities in the region do not offer transportation for students, who are left to cope with inadequate public transportation. Some private universities overcharge students for transportation that the universities provide. In any case, students are often late for lectures or spend a large portion of their small budgets getting to campus, leaving them prone to dropping out.
In Egypt, the academic year is often dotted with tragic accidents. Last year, near Sohag University, a new institution 470 kilometers south of Cairo, 12 students were killed and five were injured when a minibus crashed into a cargo truck and fell into a canal.  The bus's maximum capacity was 14 students: At the time of the accident, it was carrying was carrying 17.
"The University council decided to suspend education after students' demonstrated, calling for the resignation of the university president and the governor," said Nada Salah, a commerce student at Sohag University. The road to the university was built 15 years ago at a cost exceeding one billion Egyptian pounds ($150 million), but it is still unpaved. "Our objections and claims to secure the simplest safety measures were in vain," she said.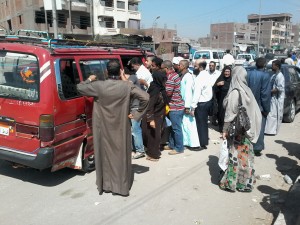 In rural Upper Egypt, students also suffer from rough roads and, sometimes, the lack of any transportation at all. Amr Taha, a law student at Assiut University, stayed at the dormitories during his first year because he lives 45 kilometers away. But he had to leave the dorms in the second year because his grades were not good enough to keep his place. Now, he says, "I have to travel daily by trains, which are often late in addition to crashing frequently." He is trying to earn his way back into the dorms with better grades.
Heba Bakr, a Cairo University student, no longer wants to attend classes  because of the difficult public transportation. "There are very few public buses and they rarely stop at our university gates," she said. The situation is even harder at night. She finishes her lectures at 7 p.m. but doesn't get home until 10 p.m. "I am thinking seriously of leaving university," she says.
In Sudan, the situation is no better. Abdul Aziz Mohamed, a science student who lives in south Khartoum, goes daily to his university, 25 kilometers   from his home, at a cost of about 325 pounds monthly ($55). "It takes me an hour and a half to get there. I can take cheaper buses but they would take longer," he said.
The buses he takes do not run frequently. "You can hardly find any buses in the evening," he said.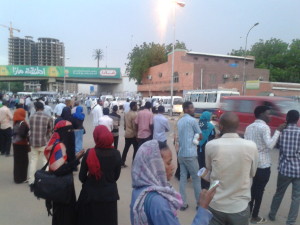 Professors have the same problems, although their salaries sometimes help them to afford taxis or better buses. Marwa Bashier, a professor at the Khartoum University faculty of applied sciences, takes four methods of transportation to get to work.
"I have to leave home two hours before delivering my morning lectures at 10 a.m.," she said. "Half of my students say they are late because of the traffic," she added.
Students in Tunisia face similar transportation barriers. Wedad Al-Naily,  a student at Borj Cedria University, spends about two hours daily to get to her university. She takes the train and then the subway. "On my exam day, I was shocked by the workers' strike, and I could not take a cab, because it costs about $15. So I missed my exam."
The Tunisian Ministry of Transportation provides 113 buses for students during the academic year, using the same public buses with different routes and says it only charges 10 percent of the actual cost. But Tunisian students still complain of the poor service. "Transportation is an everlasting problem for students," said Ahmed Al-Zawady, a university student and a member of the Tunisian student union. "A student spends up to three hours in transportation daily. . . Private buses are very limited and they are not available all day long."
Both official and spontaneous strikes add to students' problems. "In many cases students have to walk for hours during a transportation strike," Ahmed said.
According to a study recently conducted by the Tunisian statistics institute, 49.6 percent of students and university personnel walk to work, 5.8 percent use bicycles or motorbikes, and 16.3 percent use public transportation including buses, metro, and trains.
Hussein Bojra, a general secretary of the General Federation of Higher Education and Scientific Research, has a car, but he is fully aware of the difficulties that his colleagues face in getting to work."Some professors spend around $400 monthly on transportation, and that is the reason why many of them refuse teaching jobs at universities," he said.
Habib Taria, a sociologist, believes that the transportation problems hurt students' learning. "Definitely, difficult transportation conditions affect students' ability to comprehend and assimilate information," he said, adding that the number of hours that students spend in buses and other public transportation, "decreases their studying time and is reflected negatively in their grades."  
In Algeria, university transportation is a service provided by the University Services Directorate along with grants, food, and accommodation. "All the concerned parties meet at the beginning of each semester to set a new route with new bus stops, so that all students can benefit from the service," said Bou Kliekha Farouk, Director of Telmesan University Services.
Still, students say the service is unreliable. "I usually cannot find a bus to take me back home after 4 p.m." said Abdullah, a master's degree student at the faculty of life and natural sciences. Professors say that they are asked to avoid evening lectures.
Bouzar Habiba, a professor of plastic arts, said public transportation is disorganized and doesn't coordinate with university schedules. "University administration has to inform bus drivers about students' schedules, especially on exam days," she said.
Female students find public transportation unsafe. An Algerian student, who asked not to be named, said "Although some public transportation is supposed to be set aside for female students only, anyone can use it. I face a lot of problems and harassment on public transportation."
Public transportation problems are unlikely to be solved in the near future. fixing the  problem would require more coordination between governments, private transportation companies, and universities. A first step would be acknowledging the degree to which poor transportation impairs education. "We have the abilities, but we lack the will and the means of sound management," said Ramadan Ahmed, professor of Arabic at University of Abou Bekr Belkaïd in Tlemcen.