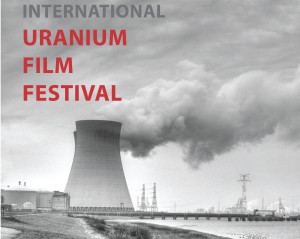 One year before the Fukushima reactor exploded, the International Uranium Film Festival (IUFF) was founded in 2010 in Santa Teresa, the famous artist quarter in the heart of Rio de Janeiro.
It is the first festival of its kind that addresses all nuclear and radioactive issues. The aim is to inform about nuclear power, uranium mining, nuclear weapons and the risks of radioactivity.
Independent documentaries and movies are the best tool to bring that information to a diverse international public.
Uranium mining, nuclear accidents, atomic bomb factories, nuclear waste, and depleted uranium weapons: No matter if you are in favour or against the use of nuclear power or uranium: all people should be informed about the risks. The International Uranium Film Festivals creates a neutral space to throw light on all nuclear issues.
After premiering in Rio, the International Uranium Film Festival traveled to other cities and countries. In the past years it has been in São Paulo, Lisbon, Berlin, and Munich, among others, as well as in ten major cities in India including New Delhi and Hyderabad. In 2014 the festival travelled from Rio de Janeiro to Washington DC, New York City, and Berlin. Now it is in Amman.
The Heinrich-Böll-Stiftung's Palestine & Jordan office, in cooperation with the Royal Film Commission – Jordan and the Goethe Institut Jordan, is inviting for the International Uranium Film Festival's premiere in Amman, Jordan. The three day event is backed by a number of Jordanian environmental organizations, namely the Jordanian Friends of the Environment, the Society for Energy Conservation and Sustainable Environment (E-Case), and Greenpeace Jordan.
The International Uranium Film Festival is a partner of the Brazilian Film Commission of Rio de Janeiro and, through the Institute for Science and Technology, a partner of FAETEC, the Ministry for Science and Education of the state of Rio de Janeiro.
WELCOME THE LAST FLOWER
Iran, 2013, 6 min, Director: Sima Baghery, Fiction, Animation, no dialog.
An atomic world war had been destroyed the entire civilization. Everybody is wondering around lost, neglecting each other. Until one day a young girl finds the last flower on earth. She runs to people to tell them about the flower, but people do not care. At last a young man shows interest to the story… Meanwhile the war machine factories appear and the story of war begin again. Special Achievement Award Uranium Film Festival 2013.
War Dust – Uranium Beirut Polveri di guerra. Uranio a Beirut.
Italy, 2007, 23 min, Directors: Flaviano Masella, Angelo Saso, and Maurizio Torrealta, Documentary, English.
Enriched uranium has been found in the fuel filter of an ambulance in Beirut. Uranium has been found also in one of the analysed urine samples. UNEP too found uranium in all the sites that were examined but they considered that it was natural uranium. Both in their most radioactive form and in their depleted form uranium powders are highly toxic.
FALLUJAH: A LOST GENERATION? Les enfants sacrifiés de Falluja
Irak/France, 2011, 48 min, Director: Feurat Alani, Documentary, English.
In 2004, Fallujah in Iraq became the theater of a major showdown between american army and iraq insurgents. But what the american used in this war is secret. What kind of weapons did they drop? For now and since 2005, deformed babies are born. What really happened in Fallujah? Is uranium the cause of the health problem?
Feurat Alani's documentary about Fallujah received the Award for the best journalistic investigation and the Award of Douai's detention house on Scoop Grand Lille and the Award for Human Rights and Public Freedoms on Al-Jazeera's festival in Qatar.
FOLLOWED BY A RECEPTION