All proceeds will go towards building playgrounds for children in Gaza. Learn more about AL Bayyara Project on our events wall.
Welfare Association for Youth – WAY مؤسسة التعاون للشباب is happy to announce the WAY Palestine Film Festival Screening of:
Ismael – A short film set in Palestine in 1949 and inspired by a day in the life of Palestinian painter Ismail Shammout.
28Min Short Film by Nora AlSharif
Ismail Short – Official Trailer (2013) from Ismail Film on Vimeo.
Maqloubeh – Five young students from different backgrounds share an apartment in Ramallah. They are stuck in their apartment, due to a curfew and skirmishes outside. Their confinement leads them to prepare a maqloubeh, a traditional Palestinian dish whose ingredients vary from town to town.
10Min Short Film by Nicolas Damuni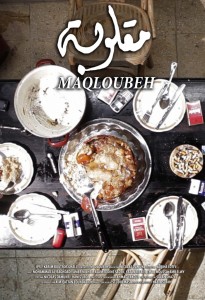 Give a Man a Fish – Corsican fisherman Michel and Gaza filmmaker Iyad discuss freedom, solidarity, and fishing as they travel the Mediterranean with the poetry of Mahmoud Darwish evoking the bond between their two ancient shores.
23Min Documentary by Iyad Alasttal
Though I know the River is Dry – He has returned to Palestine. Caught between his brother's past and his child's future, one man's choice triggers catastrophe for his family.
19Min Short Film by Omar Robert Hamilton
About Ismael: https://www.facebook.com/IsmailFilm/timeline
About Though I know the River is Dry: http://www.riverdryfilm.com/
About WAY: http://www.wa-youth.org/
About The Welfare Association: http://www.en.welfareassociation.org/