Translated by Orion Wilcox
On Thursday night, Jordanian authorities proceeded to forcibly deport 800 Sudanese refugees after their transport to a storage facility near the airport, executing a prior decision to return them to their country.
Speaking to 7iber by telephone from onboard an airplane at Queen Alia International Airport, Sudanese refugees said authorities had handcuffed them before forcibly transporting them to the airport in preparation for their deportation to Sudan.
Multiple international organizations called on the Jordanian government to halt the refugees' deportation to what one of them called "certain death."
Clashes broke out at a storage facility near the airport late Thursday evening between security forces and detained Sudanese refugees who refused to hand over their passports to the police and representatives of the Sudanese Embassy in Amman.
Sudanese refugees could be heard chanting "Geneva! Geneva!" in reference to the 1951 Geneva Convention relating to the status of refugees.
Jordanian security forces used tear gas to halt the refugees' protests, according to a number of refugees.
(Video taken by Sudanese refugee Al-Amin Adam from the storage facility where they were held prior to being forcibly taken to the plane.)
Aurab, a Sudanese refugee, spoke to 7iber from onboard a plane at the airport, saying that all of the men were handcuffed from behind. She added that she is a registered refugee with UNHCR and refuses to return to Sudan.
Aurab's husband, speaking to 7iber with the help of his wife given that his hands were tied behind his back, criticized the Sudanese Embassy for assisting Jordanian authorities complete the refugees' deportation procedures.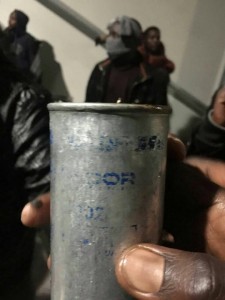 Police cut the power to the hall where refugees were being detained before assaulting them with "sticks and batons," confiscating their smart phones and transporting them, handcuffed, to the airplane, refugee al-Amin Adam told 7iber by phone.
The refugees' deportation comes after Jordanian security forces raided and dismantled a protest camp in front of the headquarters of the United Nations High Commissioner for Refugees in Amman at dawn of Wednesday morning.
The Sudanese refugees, who had camped in front of the UNHCR building in the Khalda area for over a month demanding that they be considered for resettlement to third countries, were transported to the airport in preparation for their deportation to Sudan.
UNHCR representatives have stated that they are attempting to dissuade the Jordanian government from executing its decision to deport the refugees back to Sudan. "UNHCR denounces the return of these Sudanese refugees to Sudan given that they have previously fled from that country. Nevertheless, the final decision rests with the Jordanian government which has authority," Nida Yassin, External Relations Associate at UNHCR Amman told 7iber.
Human Rights Watch has also criticized Jordan's decision to deport nearly 800 Sudanese refugees, saying in a press release that "deporting refugees violates the customary international law principle of nonrefoulement, which forbids governments from returning people to places where they risk being persecuted, tortured, or exposed to inhuman or degrading treatment or punishment."
Joe Stork, deputy Middle East Director at Human Rights Watch also criticized the decision. "There is no excuse for Jordan to deport vulnerable asylum seekers back to Sudan, regardless of how they entered the country. Jordan should not punish these Sudanese merely because they protested for better conditions and for resettlement consideration."
A number of Sudanese refugees were able to escape the holding area near the airport and return to Amman.
On Thursday several refugees reported that the government had backtracked on its decision to deport them. However, later that evening security forces transported the refugees to a storage facility near the airport prior to beginning the procedures for their deportation early Friday morning.
UNHCR representatives did not reply to requests for comment on new developments.
—
Feature image by Hussam Da'na