On Friday afternoon, March 15th, hundreds were about to perform Friday Prayer at Al-Noor Mosque in Christchurch, New Zealand. It was perhaps one of the first Friday prayers in the world on that day, in that remote eastern city, which precedes Amman's time zone by eleven hours.
The worshippers were a mix of New Zealander Muslims and other residents or refugees, many of whom have connections and family in the Arab region.  
Among them were four Jordanian nationals: Kamel Darwish, Abd Al-Fataah Qasim, Atta Elayyan, and Ali Al-Madani. There were two Syrian refugees as well: Khaled and Hamza Al-Hajj Mustafa, a father and son, who had taken refuge, along with their families, in Jordan prior to emigrating to New Zealand.
These six were among the fifty victims pronounced dead after an armed anti-muslim, anti-immigrant extremist entered the Al-Noor Mosque and opened fire on worshippers, while streaming the attack via Facebook Live. He then moved to the nearby Linwood mosque and completed his assault there.
The details of the attack and its repercussions are still unravelling, as the situation of the wounded, whose number has reached 40, continues to develop and as the trial proceeds with the perpetrator, Australian national Brenton Tarrant.
Most of the victims' bodies have not yet been handed over to the families for burial. In parallel, New Zealand authorities are preparing to set up the official ceremony for burial this week.
Here are the stories of those six victims who have lived themselves, or their families, in Jordan during different stages before finally settling in New Zealand in the hopes of building new lives there.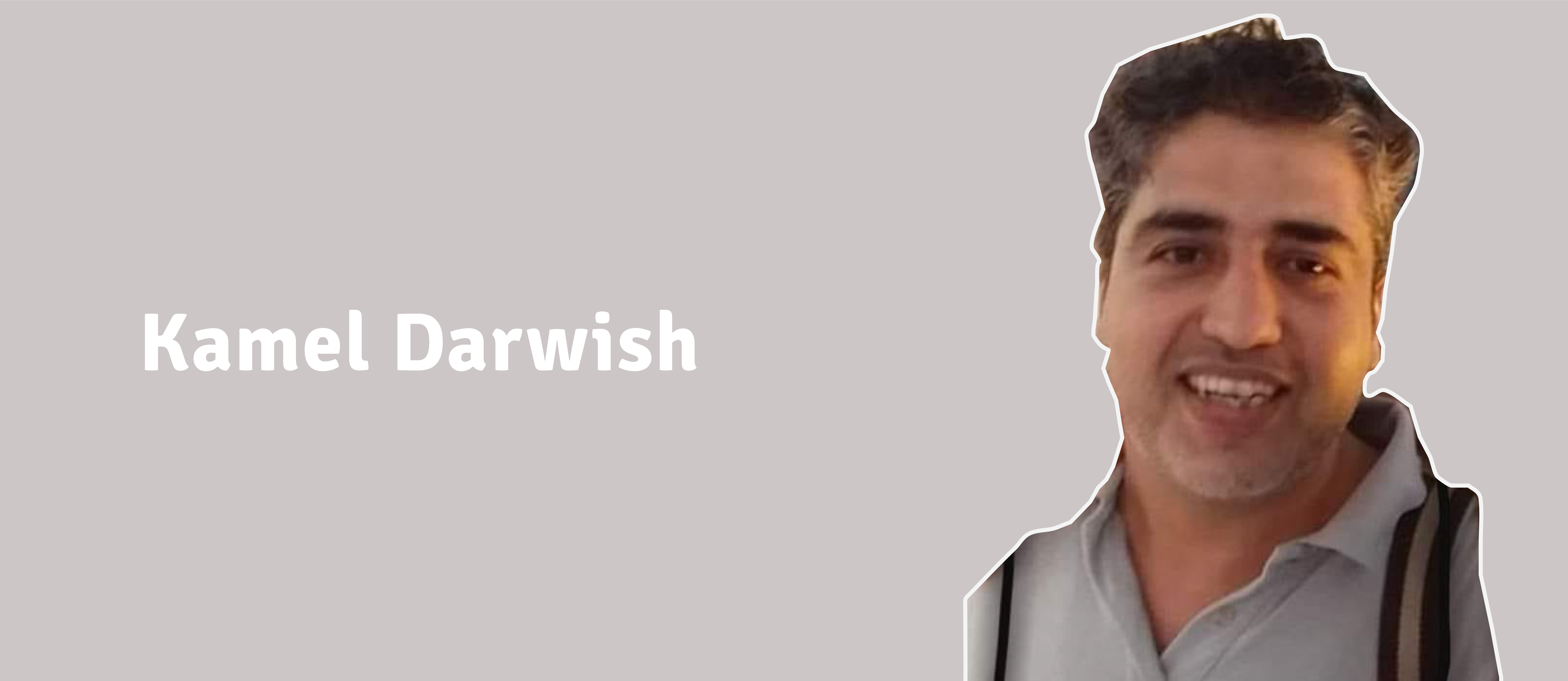 Reem Almasri and Omar Faris
Kamel Darwish was waiting for his biweekly vacation to visit his brother Zahir in Christchurch, which is two hours away from the farm that he had worked on for five months.  
Given that there are no mosques in the village where Kamel resided, he was eager to take advantage of the presence of mosques in Christchurch to attend Friday Prayer during his vacation.
His last prayer took place at Al-Noor Mosque where he was martyred last Friday.  
Kamel (38 years old) had been living in Saudi Arabia for years when he requested a visa to visit New Zealand, which he obtained easily.
He moved there six months ago. During the first month since his arrival, he found work on a cattle farm, and sought a work permit so that he could undertake proceedings to bring his wife, Rana, and his three children, Mohammed (8 years old), Lin (6 years old) and Ahmad (5 years old), to New Zealand, "but death preempted [him]," according to Rana.
"Overall, life is comfortable and the salary is good. We live without having to take on debts." This is how Kamel described his life in New Zealand to Rana, and which he had wished to share with his family.  
"His goal was to secure a good life in the future for the children if they got citizenship," says Rana.
At three in the morning on Friday, Kamel called his wife Rana. Rana says: "We said 'hello, hello,' but there was no sound."
That was the call during which Kamel took his final breaths. But his family in Jordan and his brother in New Zealand did not receive the news of his death until 12pm on Saturday, Jordan time.
This is because, on the one hand, the New Zealand government did not publish the official lists of those who had perished in the mosque. It was also forbidden for the families to enter the hospitals in Christchurch, according to a televised interview with Kamel's brother, Zahire.
On the other hand, the Jordanian Ministry of Foreign Affairs was not able to ascertain Kamel's name because all the information about the wounded was provided via social media platforms, according to Rana.
None of Kamel's relatives ever imagined that an attack like this could happen in a country as calm as New Zealand.
"He wants it just for white people. He doesn't want Muslims or Arabs to enter [the country]," comments one of Kamel's relatives, referring to the perpetrator of the massacre. She adds: "Aren't you also an outsider — where are you from?," referring to the perpetrator's European origin, which does not place him among the natives of Australia.   
Kamel obtained a bachelor's degree in physical education from Baghdad University. But due to the American invasion of Iraq, he was forced to return to Jordan before obtaining his Master's degree, of which he had completed two years.
He worked as a P.E. teacher in a public school for five years, during which he decided to enroll in a diploma program for architectural drawing. This enabled him to increase his monthly income when he found an extra night job in an engineering office between 2007 and 2013.
"He was hard-working. He wanted to save and get married," says Taysir Hammad, the director of the engineering office Kamel worked in.
"I would go home and often he stayed late. I relied on him to work without anyone supervising [his work]."
Kamel moved to Saudi Arabia to work with his architectural drawing degree a year after he married Rana. The company that had hired him went bankrupt and dismissed its employees after five years.
Rana says that, at the time, everyone encouraged Kamel to emigrate.
"His friends returned two or three years before him, and remained unemployed. That was when he realized that there were no more opportunities."
"Kamel was a really great person. Everybody loved him," says his aunt (his uncle's wife). "He would even call his mother while in New Zealand to tell her : 'if you want me to come back, I'll come back. Tell me to come back and I will."
According to Rana, Kamel will be buried in New Zealand, seeing as the procedures to return his body to Jordan could take up to twenty days. This is according to what the family was told by official sources in New Zealand.  
Meanwhile, Rana and her mother-in-law are still seeking a visa to travel to New Zealand.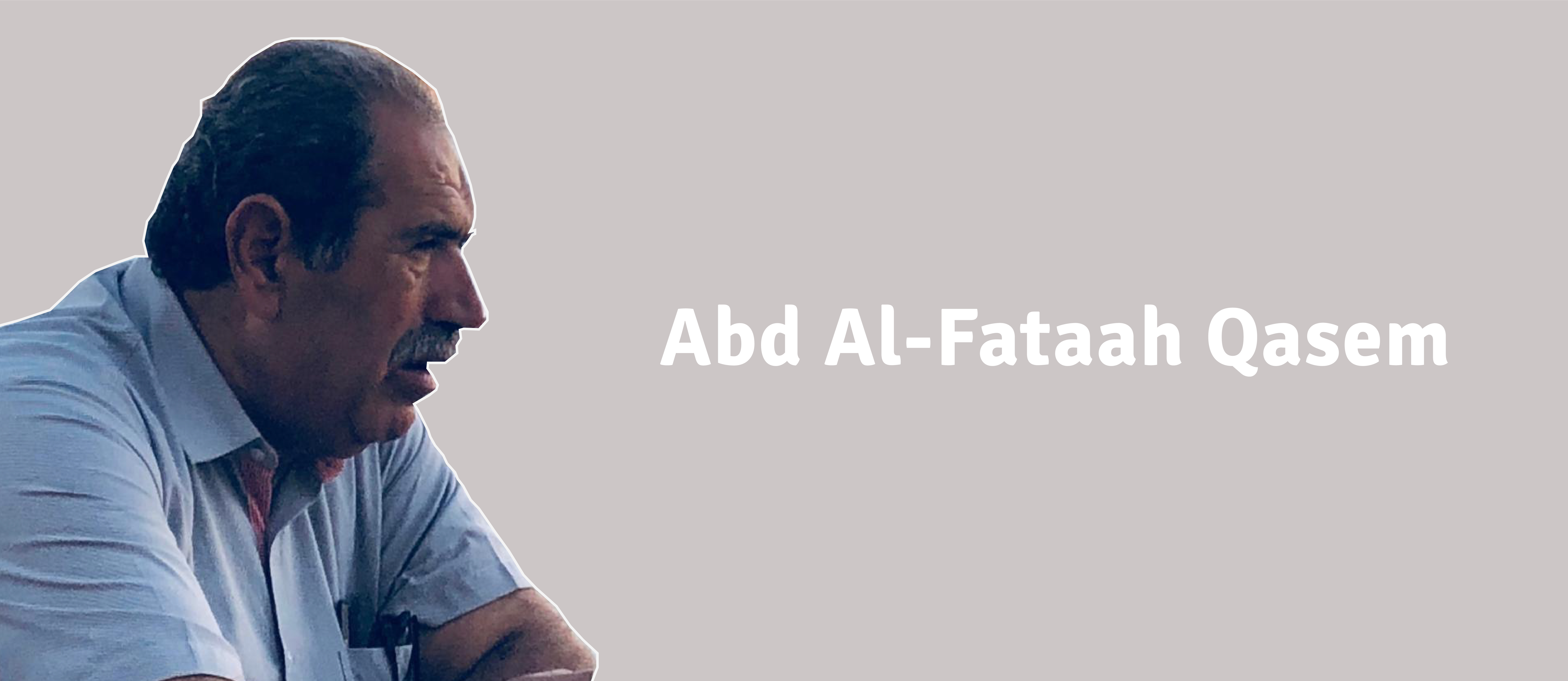 Dana Gibreel
In 1999, nine siblings gathered with their mother in Amman at the wedding of their eldest brother's son, Atta.
This was the first gathering after long years of exile that had dispersed the siblings. They were born and studied in 'Arraba in Janin, before they dispersed between Jordan, the UAE, Saudi Arabia, and the West Bank. That was the last time they gathered together in one place.  
During that gathering, Abd Al-Fataah Qasim suggested that his siblings take a group picture with their mother.  
Rab'a, Abd Al-Fataah's sister, recounts that this was the last time in which Abd Al-Fataah had been with his mother before her death in 2013. At the time of her death, her son was in New Zealand, where, six years later, he would be killed during the Al-Noor attack in Christchurch.  
Abd Al-Fataah Qasim, Dana's father, finished his secondary education in the village of 'Arraba. He moved to Jordan in 1977, and then went to Canada to study computer engineering. He then returned to Jordan and then moved to Kuwait and then Saudi Arabia, until he settled in New Zealand in 2005 after obtaining his immigration papers along with his wife, Seham, and their three children.
There, Abd Al-Fataah worked as an interpreter while Seham worked in teaching. They started getting to know the expatriate Arab and Muslim communities there during their visits and activities. And so, they became acquainted with the family of Mohammed Elayyan, whose son, Atta, was killed during the attack as well. Abd Al-Fataah deepened his relationship with members of the expatriate community until he became the secretary of the Islamic Association of New Zealand for several years.  
Abd Al-Fataah and Mohammed Elayyan continued praying on Friday for years at Al-Noor Mosque. That mosque, which was founded by the Elayyan family after gathering donations, is one of two in Christchurch, and was the first built in the city.  
In 2009, Ruba, Abd Al-Fataah's niece, married Firas Elayyan. After their marriage, they discovered that their uncles, Abd Al-Fataah and Mohammed Elayyan, had been friends for years in New Zealand. Hence, the meetings and connections between the two families in Jordan grew.
Abd Al-Fataah and his wife visited their families in Jordan a few times since they settled in New Zealand. This was the period during which his nephews and nieces grew up, and the connections and relationships strengthened between them and their youngest uncle. They often turned to him in order to free them from the problems they faced, or to ask for advice or help. Ruba describes his personality as cheerful and "humorous," as well as being affectionate and sensitive.
"His eyes would always be full of tears," says Ruba, his older sister.
On Friday morning, Abd Al-Fataah's brother, Atta, saw the news of the New Zealand attack on a TV station and hurriedly tried to contact the rest of his family members to ask about his brother.
Ruba says that she identified her uncle from the video the perpetrator had posted to Facebook, in which she saw her uncle and heard his voice. But she and her brother Mohammed did not say anything to their family members about Abd Al-Fataah's appearance in the video.
On Saturday night, the Jordanian Foreign Affairs Ministry confirmed the news of Abd Al-Fataah's death to his family in Jordan before Abd Al-Fataah's wife and his daughters were able to confirm the news. They were still looking for him then, but were not permitted to identify the dead victims at the hospital.
Ruba conveys, from her uncle's wife, that the hospital was full of people and that the families, who did not know the fate of their relatives, were neither given information about the identities of the dead nor allowed to see the bodies whose identity remained unknown.
Ruba saw a clip in which the imam of Al-Noor Mosque said that he saw "Abu Dana" (Dana's father) in the mosque among the dead. The imam kept referring to Abd Al-Fataah as Abu Dana without knowing his name. After two days, the imam identified the dead in the hospital and announced their names.  
Ruba and Mohammed criticized the New Zealand authorities for the way in which they handled the incident — both during the attack and after. Ruba says that the police's response was slow. She also notes that the victims' families were not able to find out about the fates of their relatives for a long time.  
Mohammed attributes this to the authorities' surprise at an attack of this scale in New Zealand. As Mohammed says, it is a country "so calm that policemen do not walk around armed."
Ruba says that she had often heard about Muslims in western countries facing Islamophobic attacks, but "one is not affected by a story until it happens to them. This kind of story stays in a person's heart throughout their entire lives, until they die."
Three years before his murder, Abd Al-Fataah bought a large farm of approximately 45 dunums (4.5 hectares) in Christchurch.  
He grew olive and peach trees, among others. He also raised sheep and cows and other animals on the farm, which he doted on.
When Abd Al-Fataah made his last visit to Jordan, he bought some fruits that do not grow in New Zealand and brought them with him, as he had decided to spend the rest of his life there.  
Therefore, Abd Al-Fataah's wife and his daughters decided to bury him in New Zealand so that he would remain close to his beloved farm. "He lived in it very happily, and he never tired [of it]," says Rab'a.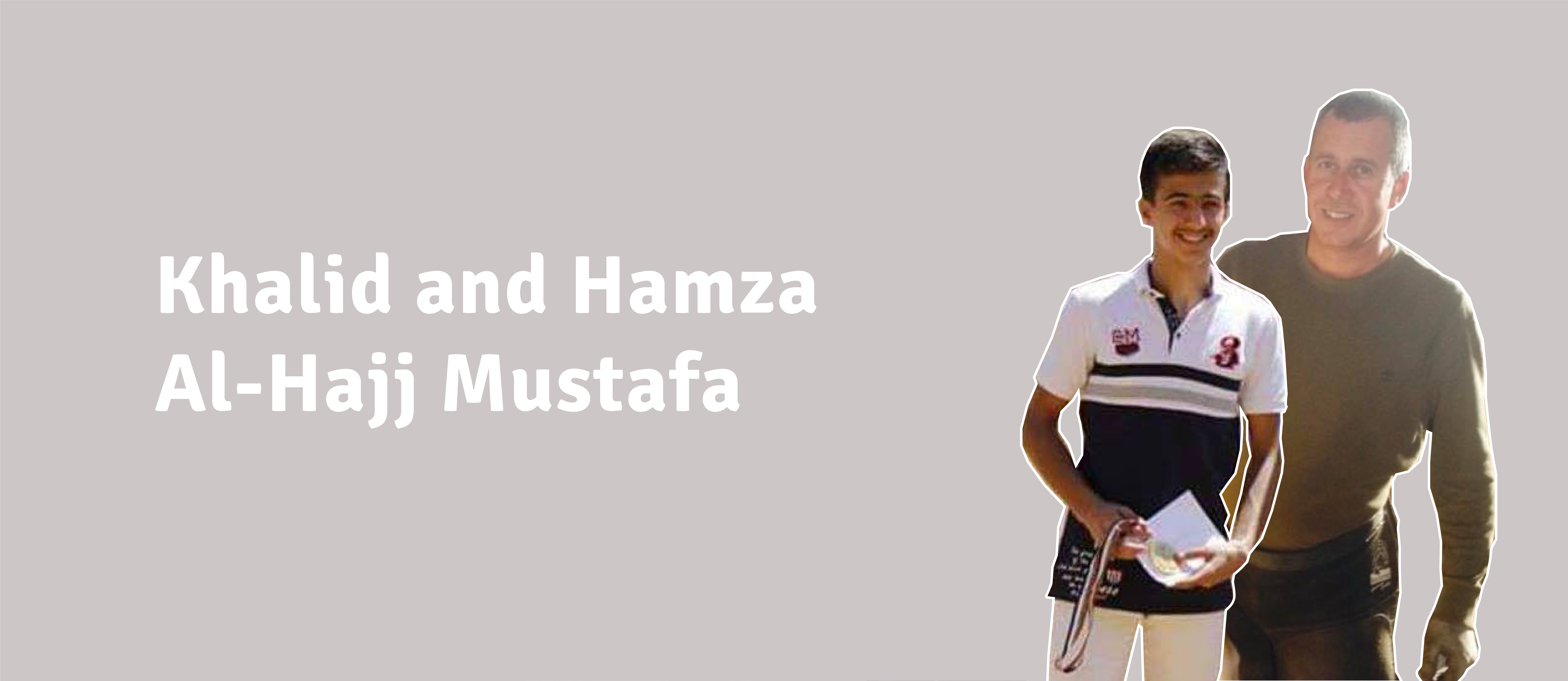 Dana Gibreel
Khalid Al-Hajj Mustafa (42 years old) often tried to convince his brothers to join him in his emigration to New Zealand. However, they refused, each for a different reason.
Khalid, along with his brothers, Ali and 'Amer, and their father, left Syria for Jordan as refugees in 2012. Meanwhile, their three sisters remained in their hometown of Al-Kiswa, in the countryside of Damascus. Their brother 'Amer also remained in Syria, and he was visiting his brothers in Jordan when the news reached them that Khalid and his son Hamza (16 years old) had been murdered during the attack on Al-Noor mosque.
Khalid, who was the eldest of four brothers and three sisters, came with his father to Jordan in 2012 as a refugee and lived in Bayader Wadi Al-Seer in Amman. Their arrival was followed by that of the other siblings, and following them, their mother.  
The Al-Hajj Mustafa family, of Circassian origins, used to work in training, raising, and treating horses in Syria. They continued working in the same field in Jordan after seeking asylum.
After the death of Khalid's father in 2014, his mother returned to Syria to live with her daughters in 2016. At the time, Ali, 'Amer, and Khalid were expanding their work raising horses and treating them in equestrian clubs in Jordan.
A year ago, Khalid received a call from a party concerned with immigration matters, which cooperates with the United Nations High Commissioner for Refugees. This party informed him that he had a chance to emigrate to New Zealand. So, he presented his documents and gained entry. He left for New Zealand eight months ago, along with his wife Salwa and his three children: Hamza, Zeid, and Zeina.
"[You are free to] come and go wherever you please," Ali says, explaining the reasons for his brother's emigration. Emigration, in Khalid's view, was a gate to travel and to move to anywhere in the world.  
In five years, he would have attained New Zealand citizenship, which would have allowed him to move anywhere.
Khalid continued working in training and breeding horses in Christchurch. During his phone calls with his family, he would say that he was happy there, and that he was living a calm and comfortable life.  
The brothers spoke for the last time last Thursday at 11:00 pm Amman time. 'Amer, Ali and Ahmad were getting ready for bed, and Khalid was getting ready to go out with his sons Hamza and Zeid to perform Friday prayer at Al-Noor mosque. It was Friday, 11:00 am, Christchurch time. A few hours later, the three brothers woke to calls informing them of the attack.
"Mama, they're firing at us in the mosque," said Hamza in a call to his mother, Salwa, during the gunfire. Then the mother could not hear anything but the sound of breathing, and then Zeid's voice as he was calling for his brother.
Seconds later, a stranger picked up the phone and spoke to the mother, telling her to consider her son a martyr.
The news of Khalid's death reached the family during the first few hours after the attack because he was carrying identity papers.  
His wife was notified, as well as his brothers, who in turn notified their mother living in Syria.
Salwa was notified that Zeid was struck by two bullets in his foot and a third bullet in his stomach. However, she was not officially informed of anything about Hamza — with the exception of what she heard during his phone call.
Ali says that Salwa had no knowledge about Hamza for a day and a half after the incident.  
"Imagine, her husband was in the morgue, Zeid was injured, and she was wandering the streets, clutching a picture of Hamza, looking for him," says Ali. The family had no relatives there to help. They only had acquaintances they came to know after their arrival in New Zealand eight months ago.  
On Friday, the Jordanian Ministry of Foreign Affairs summoned the family. However, after ministry employees discovered that the family was Syrian and held refugee papers, they apologized to them because they did not have the legal authority to announce or follow up with the matter.
"They were very kind, but legally they can't do anything," says Omar, Khalid's nephew, who accompanied his cousins to the Foreign Affairs Ministry.  
The family did not receive any contact from the United Nations High Commission for Refugees, or from any other official parties since the incident until now. But they learned of Hamza's death on Saturday night, when, in Al-Noor Mosque in New Zealand, the imam read a list of names of those martyred during the attack. The video was exchanged across social media. Hamza's name was the last name on the list.  
Thus, family in Syria and Jordan learned of his death, and notified his mother. She was in the hospital by Zeid's side after one of the bullets was extracted from his foot. The second bullet was left inside the foot, as the doctors had informed her that extracting it could permanently damage it.
"Let's try," said Khalid to his brothers upon emigrating to New Zealand. "We told him, trust in God, and see what happens with you," says Ali.
After eight months in New Zealand, what remains of Khalid's family is his wife, injured Zeid, and his daughter, Zeina. They do not know what their next step will be.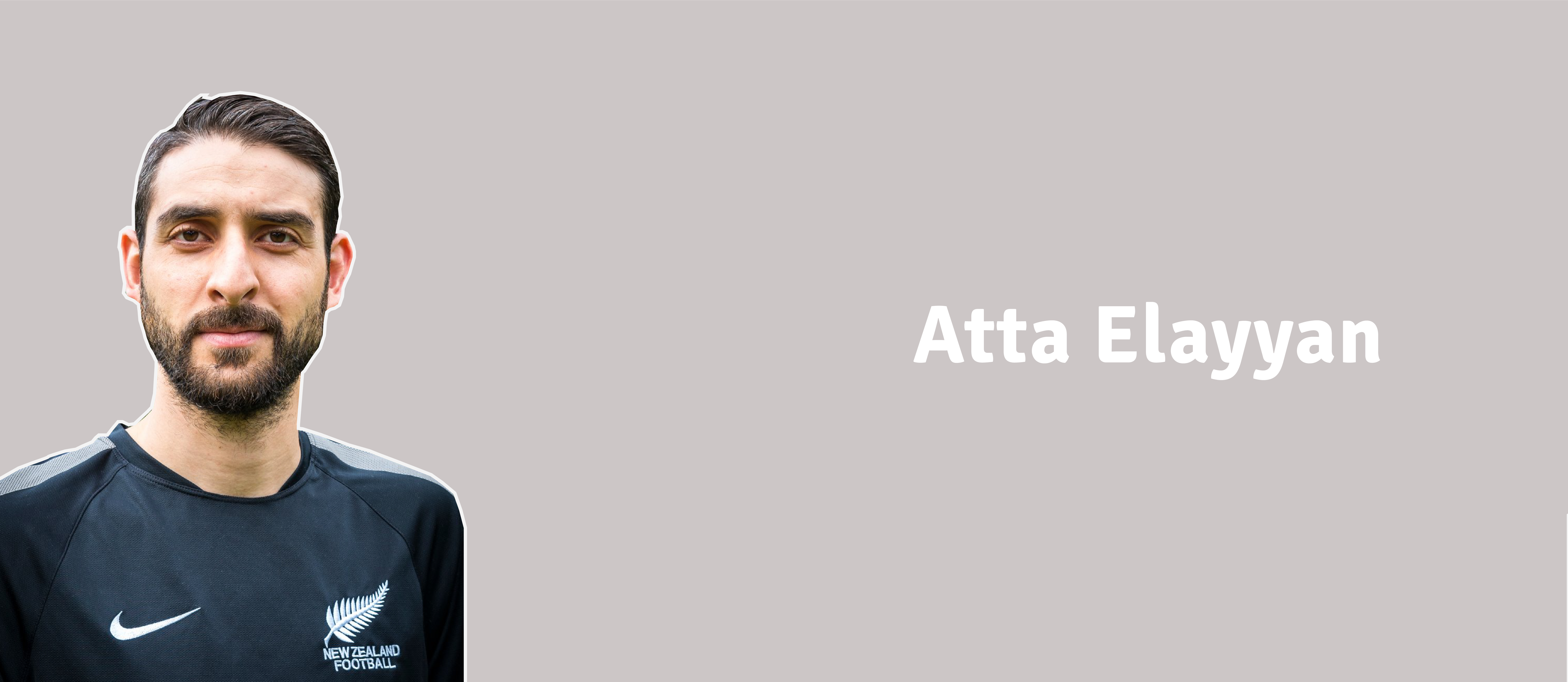 Reem Almasri and Omar Faris
"No one devoted herself to raising her child the way Atta's mother did," says Nidaa' Al-Qur'aan, a close friend of the family of Atta Elayyan (33 years old). Elayyan was martyred in the Christchurch attack after he had gone to Friday prayer with his father Mohammed, who was struck by three bullets, and is still undergoing medical treatment.
Nidaa' lived in New Zealand near the Elayyan family for four years before returning to Jordan. She knew Atta since he was a boy of twelve years old. He was the eldest of his siblings Hanin and Abdallah.
At that time, Mohammed Elayyan was working on founding an Islamic school in Christchurch. When the attack happened, Mohammed was working on founding an Islamic school in the city of Dunedin in southern New Zealand. He moved between there and Christchurch, but that week he was visiting his son.
"I consider this family to be exceptional," says Nidaa', praising the Elayyan family's behavior and their relationships with their surroundings.
Atta was born in Kuwait, after which his family moved for a time to the United States. After a few years, they ended up in New Zealand.
Ahmad Abeed was one of Atta's first friends once he arrived in New Zealand with his family.
"He was 11 years old and I was 10." They enrolled in the same school, graduated from it together, and then graduated from the same university (Canterbury University), where Atta studied computer science.
According to Ahmad, a childhood friend, Atta worked in the field of design after graduation, specifically in user experience design at a digital security company. He then embarked on a private project.  
His greatest achievement was founding a company specializing in developing Windows applications. Companies like Microsoft and Aramex worked with his company.  
For a time, Atta also worked in the field of design training. One of his drills was run in Jordan. A New Zealand magazine recognized him as one of the most prominent leaders of technological and digital innovations in New Zealand in 2017 and 2018.
According to Abeed, those who knew Atta discovered that he had many talents and interests. He was the main goalkeeper for New Zealand's national indoor football team, while simultaneously running his company.
He even obtained the Player of the Year Award from the soccer federation in 2014. He was also a member of a team that played "Counter Strike" professionally, which was one of the most important teams in the New Zealand and Australia region.
In 2015, Atta married Farah after Nada, a friend of Farah's mother, introduced them to each other.
"When I introduced my friend to Atta, she was nervous about sending her daughter to live in New Zealand (…) But when they saw Atta, they realized that he was worth it. Subhan Allah (Glory to God)."
"The two of them loved the same things to a strange extent. They loved to help people and were both spiritual. They shared many things with one another," says Nada. Two years ago, Atta and Farah's daughter, Aya, was born.
After the attack, one of Atta's colleagues, Eliaas Billeh launched a campaign to support Atta's wife, Farah, and their daughter, Aya, who has not yet reached two years of age, in their future lives.  
The International Soccer Federation and the New Zealand Soccer Federation mourned Atta, as well as a large number of people who knew him during their lives through his numerous activities. These included his former trainers and trainees, his Counter Strike team and university soccer team colleagues, as well as his fellow players and coaches on the New Zealand national team.
Josh Margetts, Atta's former teammate on the New Zealand national team, writes: "Atta was a great man and was well-liked by everyone in the Futsal Whites Squad and the futsal community. There are no words to sum up how we are all feeling. There is a huge hole in our hearts as we come to terms with the loss of a great person and a good mate. He will be sorely missed."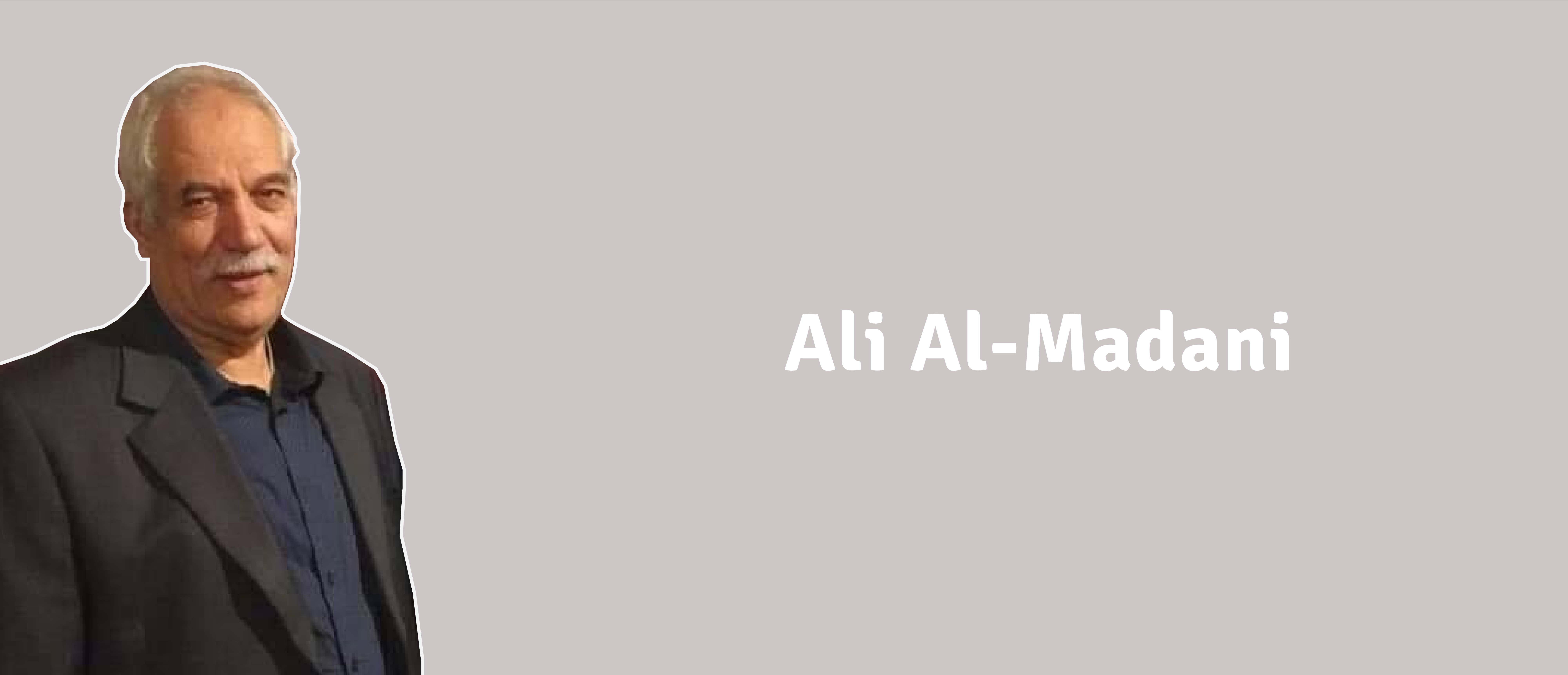 Dana Gibreel
After the end of the school day last Friday, Saamy had a task at school that prevented him from joining his father for Friday prayer that day. This broke a years-old routine in which Saamy accompanied his father, Ali (65 years old), every Friday to the Al-Noor Mosque. Noha tells Saamy's family that they (Saamy and Ali) would pray in a specific corner of the mosque after Ali left his phone and wallet at the house in order to remove any distractions from his prayer.
That Friday, Ali went alone to the mosque, sat in a different corner, and was struck by a bullet while kneeling in prayer. This is according to his nephew Oday, who spoke to 7iber on the phone from Za'atara village in Bethlehem. He described what the family saw in the video posted by the perpetrator on Facebook.
Saamy remains in a very poor mental state, says his cousin, as he has not stopped crying since the first phone call with his cousins in Za'atara, three days after the incident.  
Saamy is his parents' youngest son, after three daughters: Maha, Mais, and Lubna. Ali and Noha had their daughters a year after marrying in 1985, shortly before Ali left Jordan to work in the UAE.
Ali completed his secondary studies in Bethlehem, and then moved to Jordan in 1978. He then moved to Baghdad, where he studied communication engineering at one of its universities. He then returned to work as a teacher in The Polytechnic University in Jordan. He then left again for the UAE in 1986.
Ali worked in the UAE for 12 years, during which his three daughters were born, and then he emigrated to New Zealand in 1998. Thereafter, he would not return even to visit, according to Oday, his nephew.  
The wars always deprived Ali of sleep. And so, he left Palestine to look for some stability and peace, which he could not find in Jordan at the time. He also did not find equality between residents and nationals in the Gulf. So, went to New Zealand.  
"What I learned is that my uncle went to New Zealand to live in peace (…) He used to tell me: you will always be an outcast in the eyes of Gulf people," but in New Zealand, "no one asks you: 'where are you from?," Oday says, repeating what his uncle had told him.
Ali continued to urge his nephews to join him in New Zealand, especially whenever they would send him videos or pictures of martyrs or arrests in the West Bank.  
"His message to us was 'come, you'll live in peace here,'" says Oday, "[now] you see there is no country safe for us, no matter where we go."
Ten days before the incident, Maha, Ali's eldest daughter, arrived in Za'atara, her father's village, in order to see it  for the first time. Maha visited a few places in the West Bank, and she was preparing for a trip to visit Jerusalem and the cities of inner Palestine that were occupied in 1948.
On Thursday evening, she went to her uncle's house in Jerusalem in order to depart on her journey Friday morning.
On Friday morning, when Ahmad, Ali's brother and Oday's father, woke for Friday dawn prayer, he saw the news about New Zealand.
At seven in the morning, the family received a call from Mais's husband, who told them that Ali was in the mosque that had been attacked, and that they must stay by Maha's side until her father's fate becomes known. Thus, Maha returned to Bethlehem.
"On Saturday we found out that he was martyred," says Oday.
Ali's brothers learned of their brother's martyrdom while Maha was crossing the Al-Karama crossing to Jordan in order to travel to New Zealand.
"She said, if my dad is dead, he is a martyr, and if he is alive I want to travel to see him," says Oday. But Maha found out from her mother, later, that her father had died.
The interval between the attack and learning about Ali's fate was nearly two days. Oday says that the mosque closed, and the authorities barred the families from seeing the wounded or the unidentified bodies in the mosque or in the hospital. Only two days after the incident did they allow the imam to identify the bodies, at which point the family learned of Ali's martyrdom.
Oday says that the Jordanian Foreign Affairs Ministry contacted a distant relative of the family in Jordan, informing them that it was ready to cooperate, and that Jordan would oversee the return of the body if the family desired to bury it in Jordan.
The family preferred this option. However, the procedures in New Zealand hinder the restitution of the bodies to their families, and postpone their burial.
Oday says that the delay in burying Ali angers his family a lot, especially since his family is not allowed to see his body.
"My family was infuriated when they told them that they still hadn't seen him." Until late Tuesday morning, Naha, Ali's wife, and her son and daughters were still unable to see his body or receive it for burial.
"Respecting the dead means burying them. Why are they still waiting?" Oday asks. He answers his own question by saying that it is because the incident is "bigger than New Zealand. Shocking, but we are used to it."
Ali was the youngest of five brothers. The oldest of his brothers is nonagenarian Mohammed, who the family calls "Sheikh." The "Sheikh" would call Ali frequently, asking him to return to Palestine, and to see him again before one of them died. The last meeting between the two brothers was in 1978, when Ali left Bethlehem for Jordan.
Ali always asked specifically about Mohammed because he was the one who taught him and raised him and spent money on him during his childhood.
"My uncle, the Sheikh, would call my uncle Ali to tell him: 'I buried my younger brother and I want to see you,'" says Oday, describing what happened after the death of his last uncle, Mousa.
Returning to Palestine was not an option for Ali. He spoke about the possibility of returning to live in Jordan after Saamy would have completed his secondary studies this year.  
He would tell his brothers that he wanted to ensure Saamy's studies first, and then he would return to Jordan to be with his family.