Ala Qandil contributed to the text
Moataz dreamt of a life without the Israeli occupation. He got a small taste of it, when he visited his uncle in France. Moataz loved it there, but came back to Palestine. He was shot dead by an Israeli soldier at a protest in Bethlehem.
19-year-old Sa'ad also had dreams, even simpler: to finish his school, find a job, get married, start a family. He was shot multiple times by Israeli soldiers at a checkpoint. An Israeli ambulance arrive on the site, but provided no assistance for 20 minutes. He was left to bleed to death.
A day earlier, 150 meters away from Sa'ad's place of death, an Israeli policeman enjoyed a cup of coffee standing over a body of a dying 17-year-old girl, Dania. Days later, when journalists will visit their house, Dania's mother will show them her daughter's drawings of flowers, mermaids, calligraphy – nothing special, just sketches by a high school student. "I want her body back," the mother repeats.
Mustafa was crazy about cars and their design. Not just in a teenage-boy way. He had a plan: he will go to Germany to study mechanical engineering and work for Mercedes. It was hard to resist his charms, even his teachers often turned a blind eye to him missing classes. Mustafa was shot by the soldiers at the Lion's Gate, Jerusalem's old city. He was already dead, when more soldiers arrived and riddled his body with bullets, according to a witness. Then he was stripped naked and photographed.
Dania, Moataz, Sa'ad and Mustafa are only four out of 90 Palestinians who lost their lives in what media described as the renewed wave of violence in Israel/Palestine. But for the Palestinians living under the Israeli occupation, there is nothing new about the violence. Over the nearly last five decades, the attacks, beatings, shootings, arrests, house demolitions and other property destruction perpetrated by the Israeli soldiers, police and radical settlers, has become a part of the daily lives of the Palestinians. The recent knife attacks and car ramming committed by the Palestinians, as a political activist in Ramallah, Mariam Barghouti noted, just makes the occupation that much more visible.
Since the beginning of October more than nine thousand Palestinians and at least 133 Israelis were injured. The Israeli forces have arrested 1195 Palestinian, among them 177 children. More than 90 Palestinians and 15 Israelis and have been killed. Most of the Palestinians died in two cities that found themselves in the middle of the storm – Jerusalem and Hebron. It's no coincidence – these are the only two cities in the occupied territories, where Israeli settlers reside, protected by heavy Israeli military presence.
At least one third of the Palestinians killed in the last two months, including Moataz, were shot by the Israeli soldiers while taking part in demonstrations against the occupation or standing nearby the clashes. The other half was executed – sometimes while trying to attack Israeli soldiers, police, civilians, and sometimes – according to witness statements, like in case of Dania – for no apparent reason whatsoever. Each time though, the Israeli army had claimed that the killed person carried out an attack, usually with a knife. Already back in September, the human rights organization Amnesty International declared a killing of an 18-year-old Palestinian girl in Hebron as "the latest in a long line of unlawful killings carried out by the Israeli forces in the occupied West Bank with near total impunity". According to their investigation, Hadeel al-Hashlamoun did not pose a threat to the Israeli soldiers. AI also pointed out that in many cases the Palestinians who committed attacks or were deemed suspicious, could have been apprehended without being killed.
DANIA ERSHEID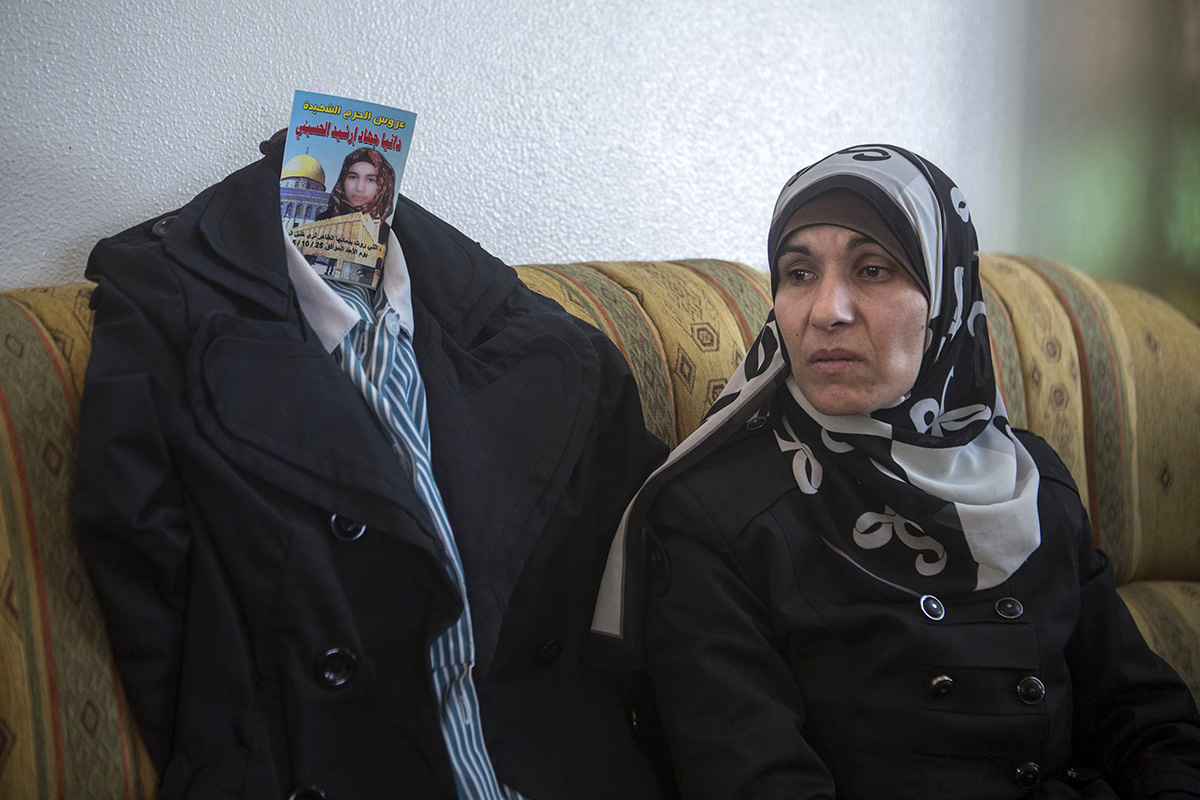 The killing of Dania Ersheid carries a lot of similarities with that of Hadeel, and just like the death of Hadeel, leaves the grieving family with many unanswered questions, the main one being: why was their girl killed? Amal, mother of Dania sits with other women in the living room, surrounded by posters of Dania, Hadeel and 16-year-old Bayan Ahmad Aseeleh – a third teenager, recently killed by Israeli soldiers at one of Hebron internal checkpoints. The 1997 agreement divided the city into two zones – the bigger one, H1, under the Palestinian control, and H2 – encompassing the heart of the old town and the Israeli settlements, under the Israeli rule. Behind one of those checkpoints in H2 is located the most contentious point of Hebron – the Ibrahimi mosque, also a holy place for the Jewish worshippers, for whom the place is known as the Cave of the Patriarchs. Dania coming from H1, like other Palestinians wishing to pray in the Ibrahimi mosque, had to cross through a checkpoint. Just like the case of the two other teenagers killed, the Israeli soldiers claimed Dania tried to attack them with a knife. A report by Amnesty International puts that version into question, quoting a witness who claimed that the Israeli soldier in front of the Ibrahimi mosque checkpoint searched her bag and yelled: "Where is your knife?", prompting Dania to step back and raise her arms. According to this witness, she kept repeating "I have no knife!", before she was taken out of sight and shots were heard. After soldiers shot next to her legs, she stepped back, repeating that she had no knife. Then they shot her with 8 or 10 bullets. Dania was then left to bleed, and a Palestinian ambulance was denied access to the area.
Dania's family refuses to believe she wanted to attack the soldiers: "She didn't want to do anything. She just wanted to pray and they killed her," Amal, her mother said. As we spoke, dozens of people streamed through the house to pay their respect to the family of the martyr. "She was a normal girl. She had friends, she studied a lot, she was very helpful". Her mother's grief was deepened by the Israeli authorities' refusal to release Dania's body. "I want her body", she kept repeating.
The streets of Hebron have emptied since tension soared and Palestinians living in the vicinity of the old city started to fear leaving their houses unless necessary. But since the end of October, thousands of people started to march in regular protests, demanding the release of the bodies of those accused by the Israelis of attempting or committing attacks, including that of Dania. One of the women marching carried her photo along the image of Sa'ad Atrash, another young Palestinian killed just a day after Dania, and almost at the same spot.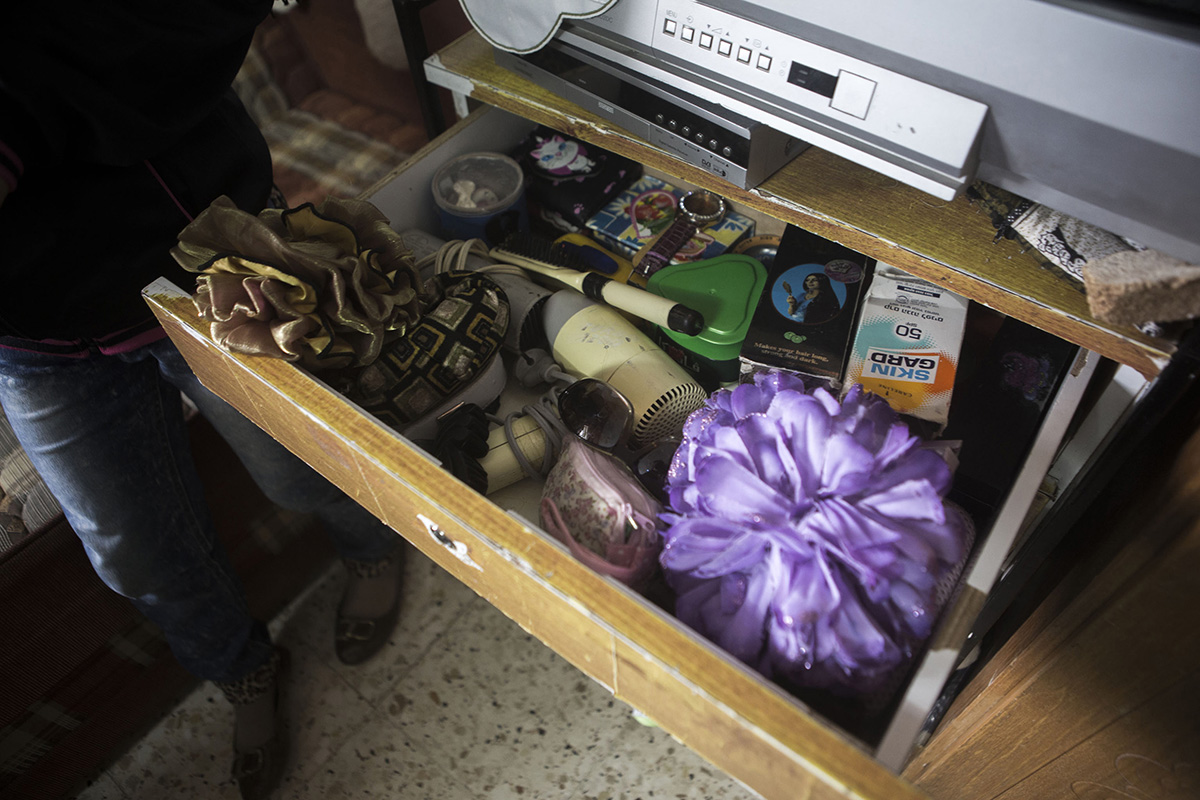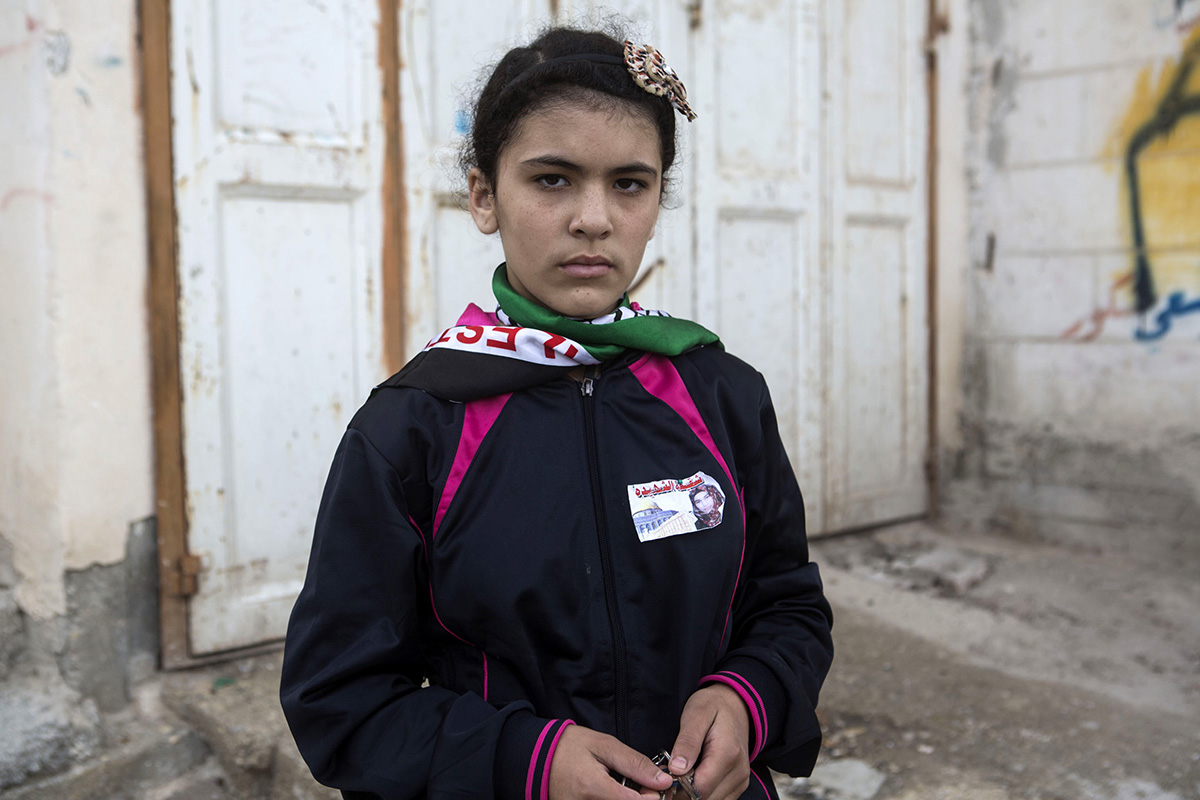 SA'AD AL-ATRASH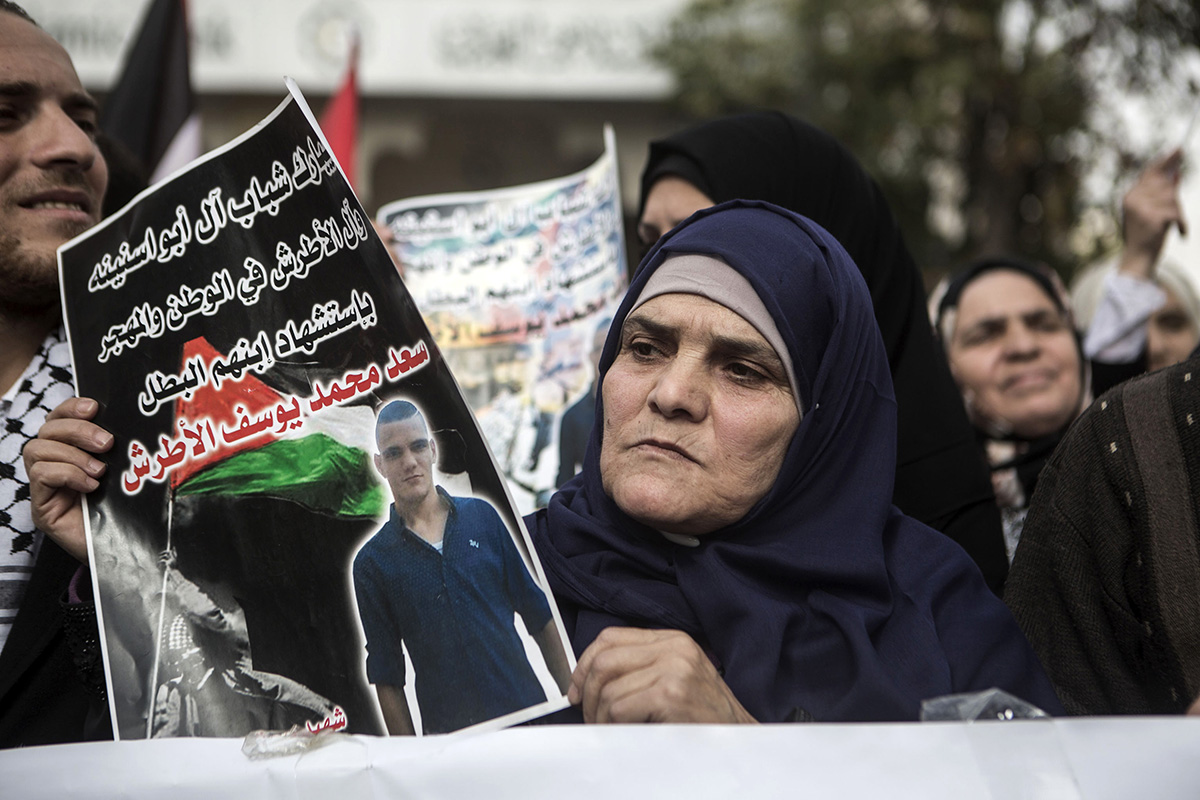 A week later, Amal finally got the body of her daughter. But Sa'ad's mother, Naja Al Atrash still has to wait. For the first time in her life, Naja participated in a demonstration. "I went not only because of Sa'ad, but also because of all the other families. Our message was clear – give us our martyrs", she explained. "We cannot stop thinking about it. We need to bury him".
Sa'ad was the youngest of eleven kids, so of course he was spoiled, and a smile never left his face. After his father's death, Sa'ad failed his final exams in high school. Yet, he stayed positive and instead of a university, he opted for a technical training for electricians. The vocational training center he attended is located on the other side of Hebron, and the shortest way from Al Atrash house leads through H2 zone. There was another route, longer, but less dangerous, going around H2. But it was too expensive for Al Atrash family to pay for the bus rides.
On October 26, Sa'ad was passing through there as usual. At the checkpoint, a soldier asked him to show his ID. When the boy reached for his pocket, he was shot multiple times by another soldier, according to a witness who spoke to Amnesty International. According to the same account, soldiers first let Sa'ad bleed to death for 40 minutes, and then planted a knife on his dead body.
His brother, Raed showed a photo on his mobile phone, downloaded from an Israeli website, showing Sa'ad on the floor, with no knife besides him. "They told me Sa'ad attacked the soldiers. I said, ok but let me see then the video," said Raed. "I know this area, I also walked there many times and I noticed all the cameras. Where is the footage which proves that there was an attack? They had no answer." In order to reach that place, Palestinians who come from H1, as Sa'ad did, had to go through a checkpoint with metal detector. If he had a knife with him, how did he manage to pass the checkpoint? His brother wondered.
Sa'ad wanted to graduate, find a job, build a small home on the family lands and start a family. He even asked his mom, Naja to help him find a fiancee. "All over the world, these plans are normal, but here it's a dream, and the most simple things, like getting married, having a home and an ordinary job, seem so difficult to achieve," said Raed, who over the years had become a like a father for Sa'ad.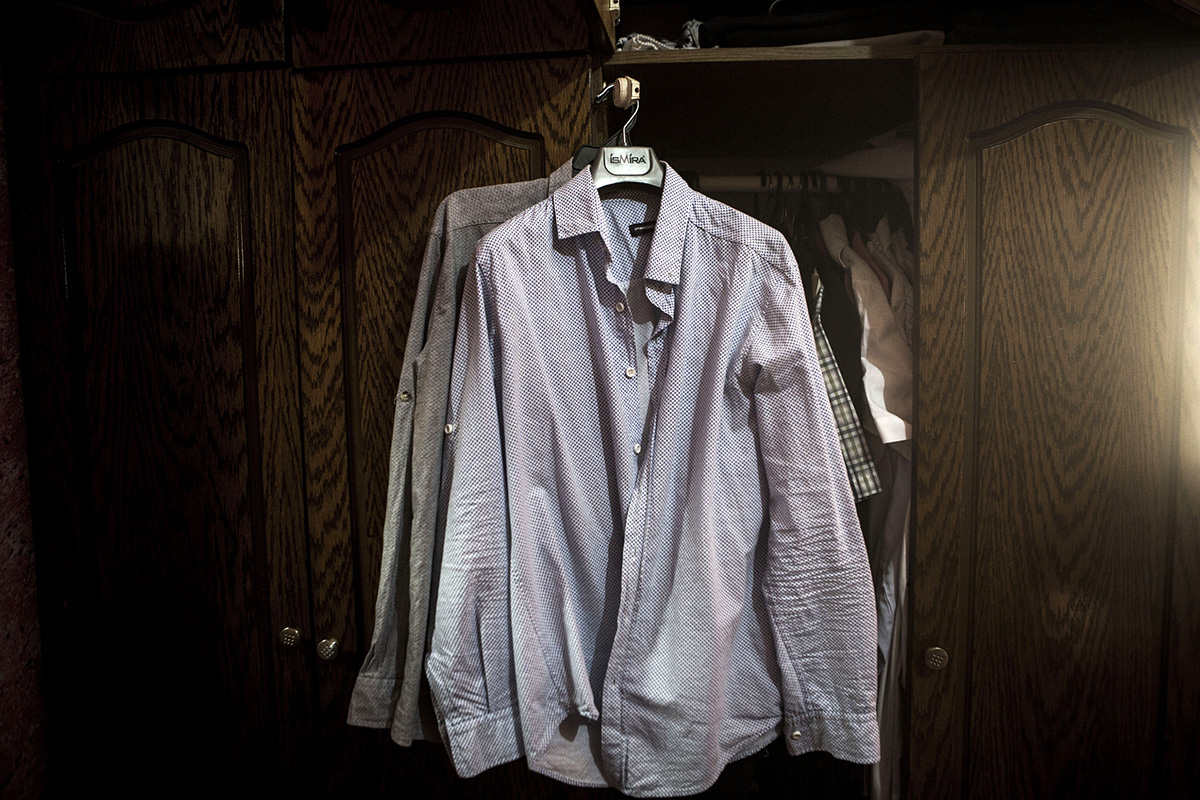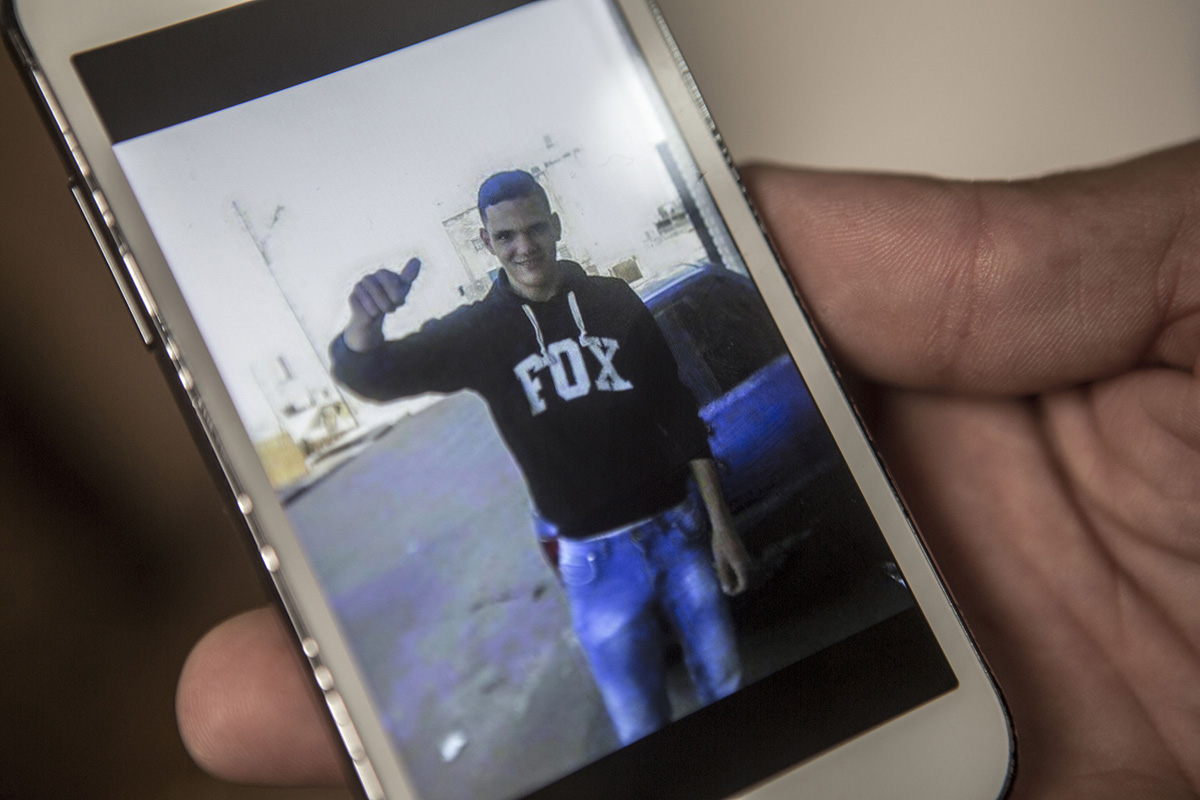 MOATAZ ZAWAHREH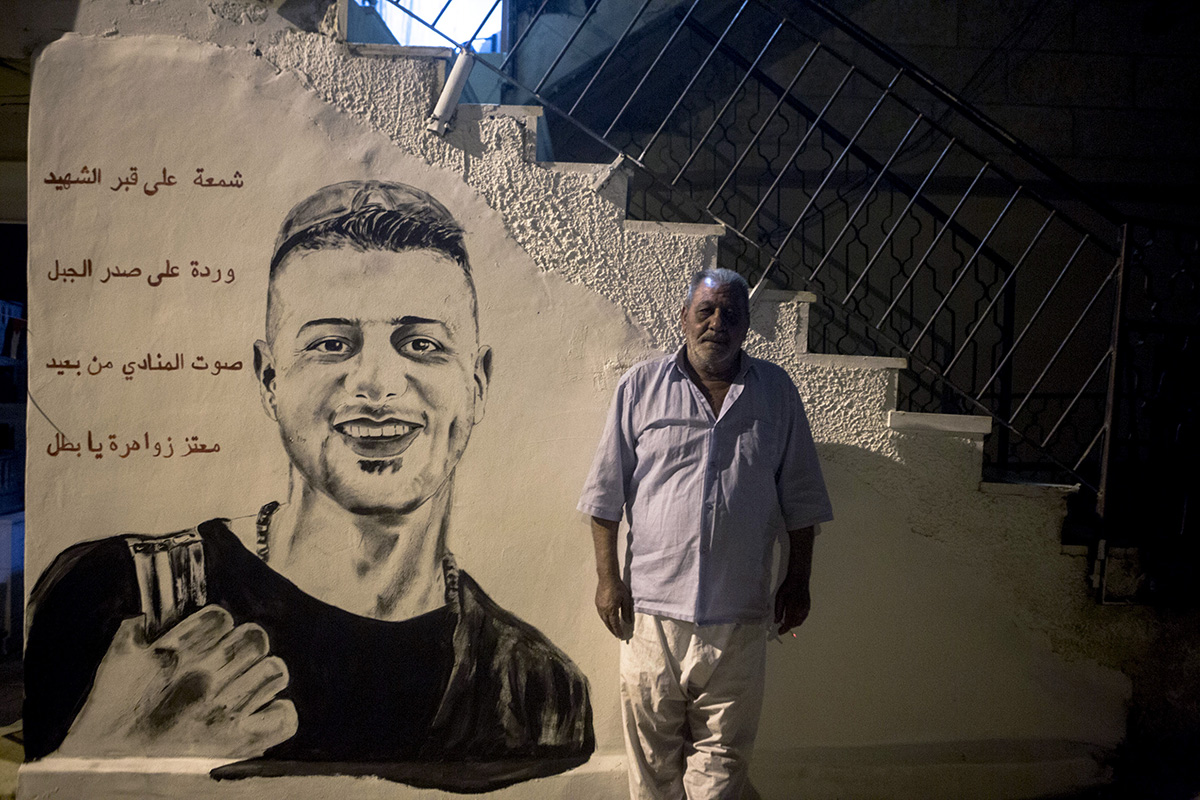 Moataz Zawahreh, 28-year-old, also wanted to get married. He would drive his father's taxi to earn a bit extra. He needed the money to finish renovating a small apartment, where he wanted to start a family. But his regular job was at the Jacir Palace, in Bethlehem, near Rachel's Tomb. His salary allowed the Zawahreh family to make ends meet.
While waiting tables there, Moataz often heard the explosions of sound grenades or the noise accompanying shooting of dozens of tear gas canisters. He might have even smelled it, coughed and cried because of it. The gas, generously shot out by the Israeli soldiers, usually finds its ways through the cracks in the doors or old window shutters into the nearby houses. The Jacir Palace, one of the most elegant places in all of Bethlehem, today the Intercontinental Hotel, is located in the sensitive area, right next to two refugee camps and the 12-meter-tall, concrete Israeli Separation Wall. Behind the cement slabs hides Rachel's tomb, a place holy to all three monotheistic religions, but now reserved only to the Jewish worshipers, guarded by soldiers in a adjacent pill-tower. Over the years it has become a traditional place of clashes between the Israeli army and Palestinian protesters. Moataz, coming from another refugee camp, Deheisheh, was no stranger to those confrontations. Deheisheh, south of Bethlehem, is a place proud of its tradition of resistance against the Israeli occupation. Houses are covered with posters of those killed during the second intifada. And the family of Moataz hails from a tradition just like this one. The father of Moataz, 64-year-old Ibrahim Zawahreh was injured and imprisoned several times by the Israeli forces for his participation in the resistance and affiliation with the Popular Front for the Liberation of Palestine (PFLP). Ibrahim's wife, Najiyeh, has participated in the protests and was taken for interrogations during the first Intifada. Two of their sons were injured in clashes, and another one – Ghassan, who is serving now time in prison, undertook a 41-day-long hunger strike in protest of administrative detention, an Israeli practice of holding people imprisoned without pressing charges and without access to a lawyer, for a time period that can be extended indefinitely. "All the men had been arrested, except Moataz," Ibrahim said. "Even his sister was arrested."
The dream of Moataz was to live a life without the occupation. He just managed to get a taste of what it would be like. His uncle Naji travels often to France, because his job is to coordinate cooperation between an organization in Deheisheh camp and French solidarity groups. He took Moataz with him. He loved it there. The Mediteranean sea, just an hour drive from Deheisheh, for most of his life had been unreachable for him and for majority of Palestinians living in the occupied West Bank. To reach it, they need a special permit issued by the Israeli military government ruling in the occupied territory. And to get it is very difficult, especially for a young man. But in France, he could go there without any restrictions. He made many friends, and although tempted to stay, Moataz could not bear the thought of leaving his family behind. His imprisoned brother, Ghassan, had just declared a hunger-strike. As his health condition deteriorated, the family expected the worst. So Moataz went back, terrified that he will miss his brother's funeral. He could not possibly imagine that it would be the other way around. Ghassan is scheduled to be released from the Israeli prison on November 30.
Moataz had been working a lot, his father recalled. And then, finally he got a day off. It was October 13, Tuesday, declared by Palestinian parties and groups to be a day of rage. Instead of just listening to the nearby clashes, he could finally join other young people, mostly from Deheisheh and the two other neighboring refugee camps – Aida and al Azzeh, in protesting the most recent wave of repressions imposed on the Palestinians. That day hundreds of people marched from Bethlehem towards the usual clash point. Moataz was in the front line and one of the first to start trying to reach the soldiers with rocks. Hours later, Israeli soldiers shot him in the chest with live ammunition. Surrounded by friends, carried to the ambulance, he sang "mother of the martyr don't be sad, every Palestinian is your son," Maan, the Palestinian news agency, reported.
The walls of the living room of the Zawahreh family have already been covered with photos praising imprisoned Ghassan and their uncle killed during the second intifada in 2002. Now, there is also Moataz.
Moataz's funeral gathered thousands of people from Deheisheh camp and far beyond. "The blood of Moataz unified us. And now they are thousands of Moataz in the streets", said Naji, who went back to France, with a file about Moataz's killing and a plea for justice. Ibrahim, despite everything his family has endured, is adamant about his support for resisting the oppression: "As long as there is occupation, I cannot tell anyone not to resist. Even my sons. I would go myself to protest, if I could, but I am sick".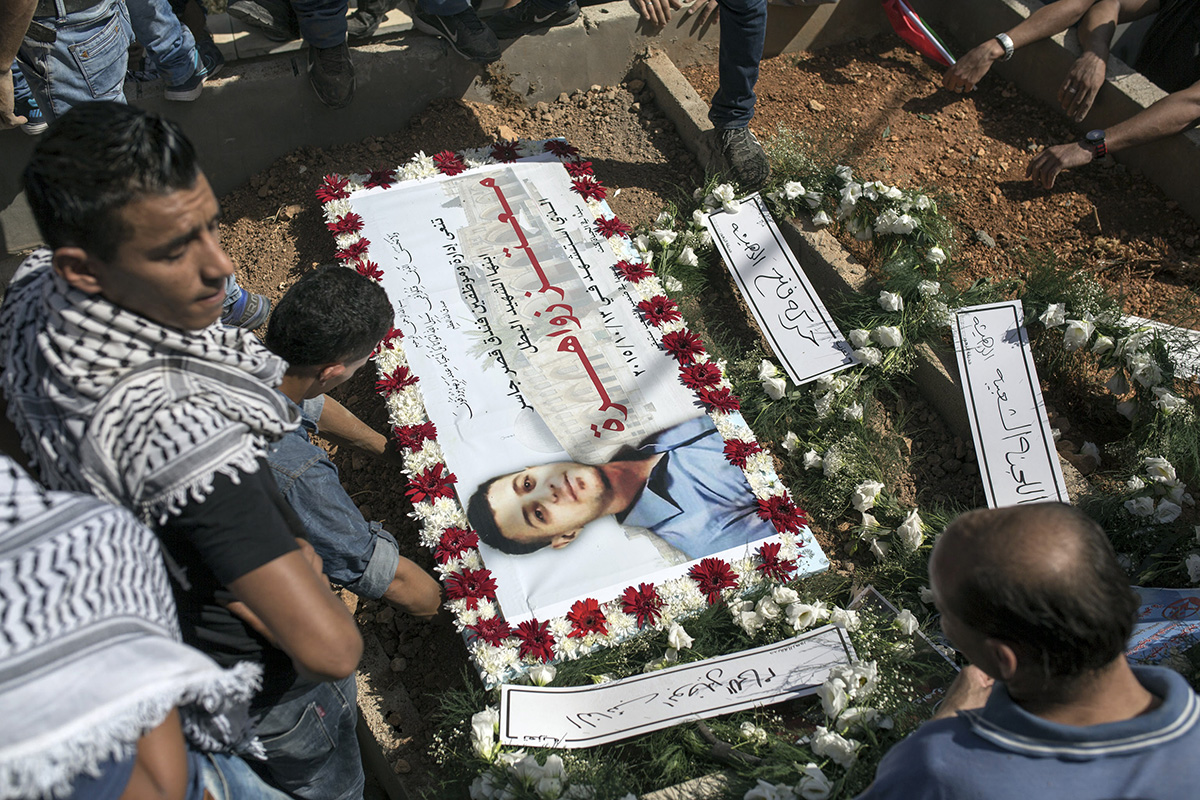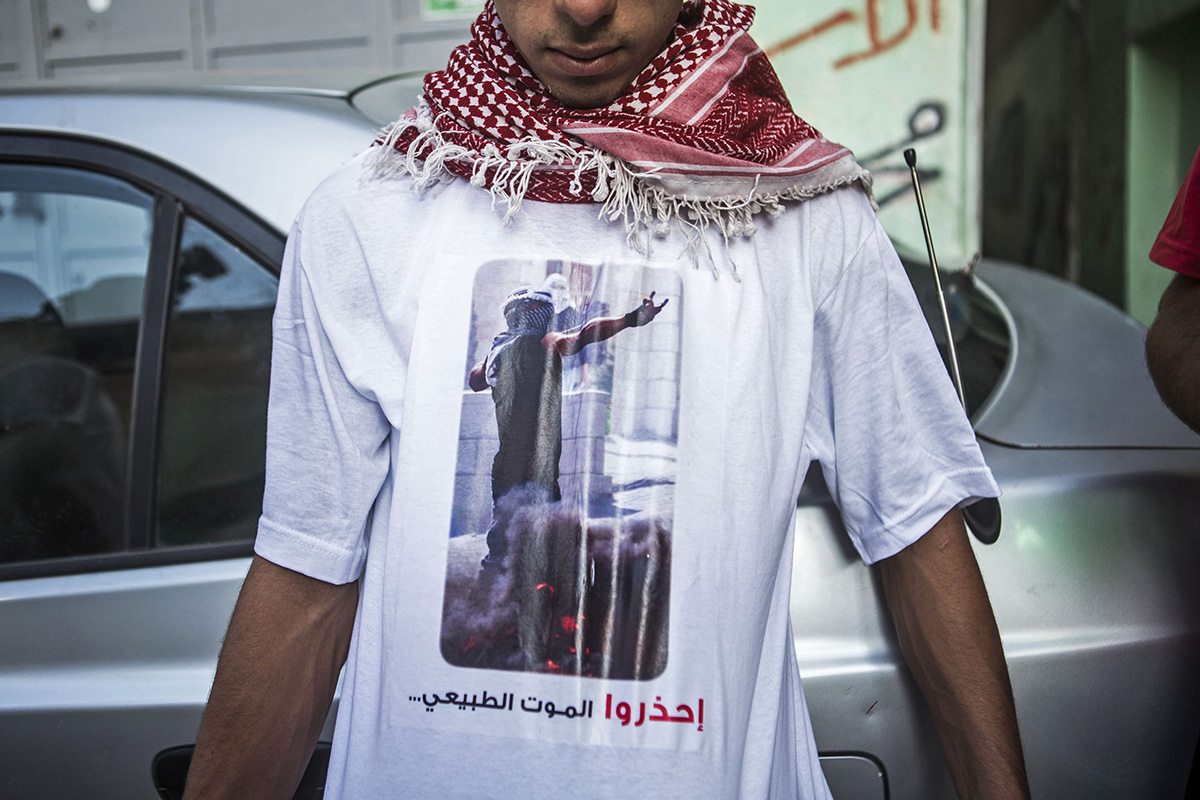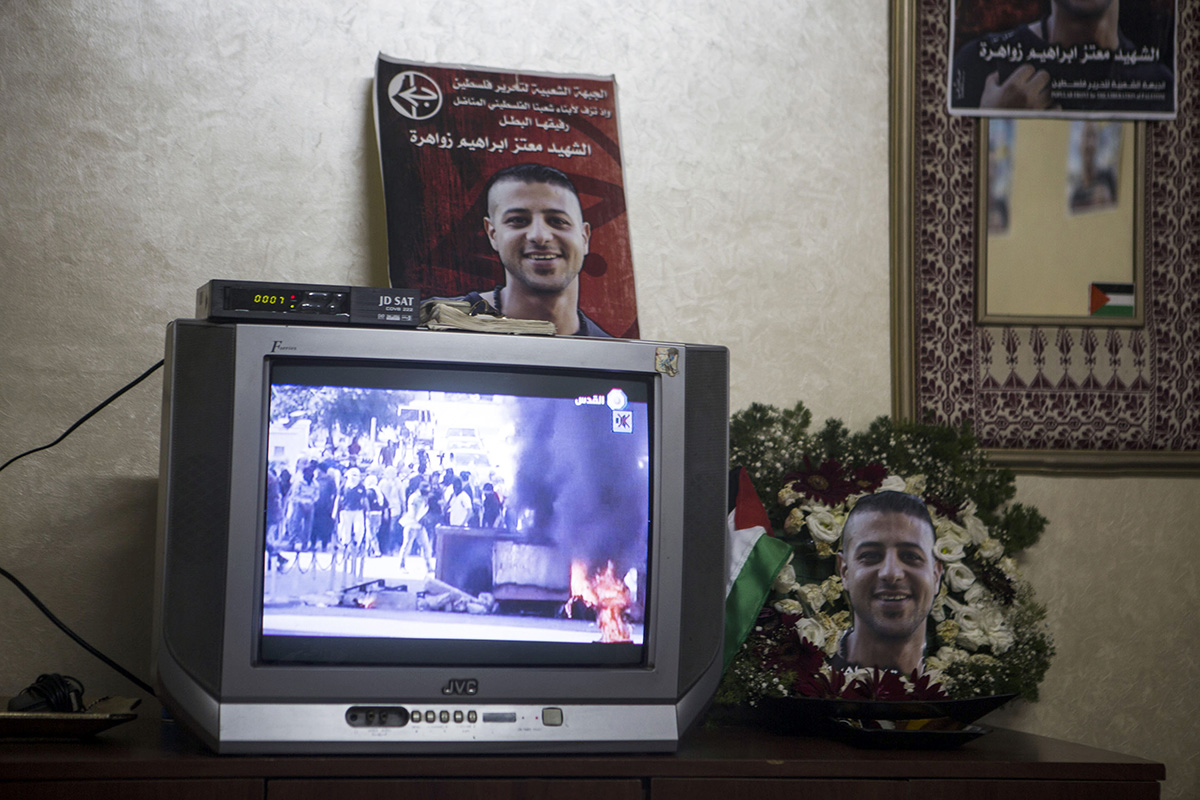 MUSTAFA AL-KHATIB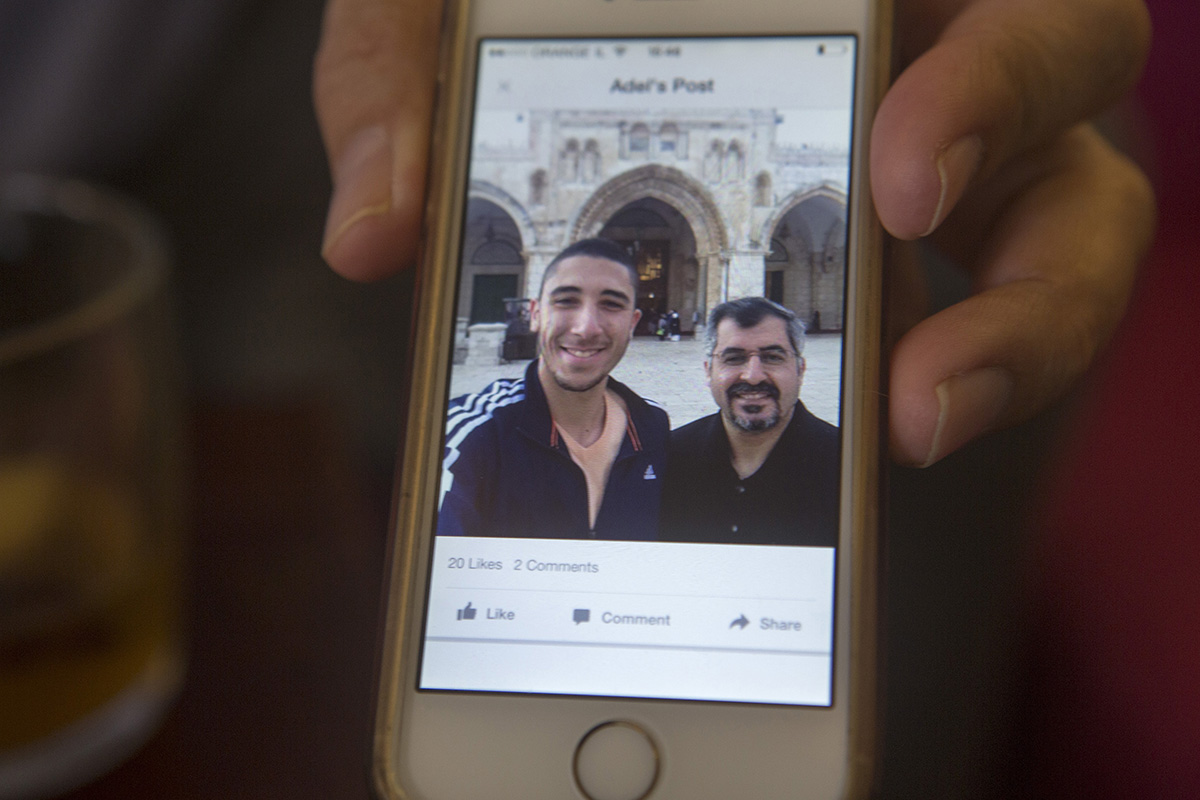 Every Friday, Mustafa and a group of his friends used to go together to Al Aqsa mosque for an early morning prayer, fajer. Sometimes, Mustafa's father, Adel would drive them there, and pray with the boys. They would study at Al Aqsa, then go play soccer in the old city and eat kayek (a special type of bread, typical for Jerusalem's old city bakeries). But for weeks before Moataz's murder, the Israeli authorities kept the mosque closed to young men. The day he was killed, they announced the mosque would be reopen to people of all ages, starting in the morning. Mustafa, as usual, dropped off his younger siblings at their schools. He told his sister Munia "Don't worry, I'll see you later". He still had a bit of time before the class, it was few minutes after 7am, and might have just wanted to go to pray.
Adel was in a work meeting when his phone rang. He ignored it. But when there was another call, he started to worry, and excused himself to answer. It was the headmaster of Mustafa's school. He told Adel that his son didn't show up for classes, but his car was in the school parking lot. "I sent a message to Mustafa on WhatsApp, asking where he was," he says. "When I didn't hear back, I worried. I left the meeting, and went to his school". In the news, it was already reported that a young man was shot to death at the Lion's Gate.
"When his classmates saw me, they started to offer their condolences, they knew he was the one killed at the Lion's Gate," Adel says. "I didn't believe it. I called Mayssa to tell her not to worry. For sure this was not our son – I told her. But I called the police… just to check".
Three weeks after Mustafa was killed, his parents mustered the strength to go to the place where it had happened. They spoke with Abu Muhammed, who owns a shop in the area. That Sunday morning, he was sitting in front of his shop, drinking coffee. Suddenly he saw three soldiers running towards a young, tall man, walking with hands in his pockets. Adel says that Mustafa always walks with hands in his pockets. "Now, this is illegal," his mom says. According to Abu Muhammed, Mustafa tried to get out of the way of the running soldiers. He didn't realize they were coming for him. When they reached him, one of the soldiers tried to grab Mustafa, and he instinctively pushed him away. Another soldier immediately fired at his body – ten rounds. He fell on his face. "And that was the first photo of our dead son we saw," his parents say.
When asked what she wants the people outside to know about her dead son, Mayssa says he was beautiful, with a sad smile. She pauses, and adds that he was gentle. And again, she takes few seconds to think, to tell me they used to tease each other a lot, in a good-natured way. Mustafa and Mayssa were close, they were not just mother and a son, they were good friends. Adel works late, and coming home, he would often find Mustafa keeping Mayssa's company. Mustafa was 17, the oldest of the three siblings. Ahmed just turned 11, and Mounia is 9. Mustafa's sister was scared, but she refused to talk about it, her parents said. Finally she wrote down what tormented her: she was afraid soldiers will invade their room, and she had recurring nightmare of the entire family getting arrested.
They complain that all the media attention and all the visits from friends and family, who come to pay their respect, leaves them no time to grieve. "We used to watch families in our situation on TV. We felt sad, compassionate. But being part of this tragedy… it's really different," Adel says. "It's much more complicated. We don't have time to grieve, to process our loss."
They still agree to talk, because they want the world to know what happens to a Palestinian family once their child is killed, especially to a family from Jerusalem. East Jerusalem has been annexed by Israel in 1967, an annexation that has never been recognized by the international community. For Jerusalemite Palestinians it meant coming under a direct rule of the Israeli authorities. Al Khatib family lived in Jabel Mukaber. They rented an apartment. After Mustafa was killed, they had to move out. The Israeli army and the police raided the house, made a mess out of the place, using the excuse of either searching of additional evidence or taking measurements to prepare for demolition. "And they come in big force – 30 – 40 people, trying to intimidate the youth and provoke them," Adel said. In order to protect the house from being demolished, the family moved out. "They are still harassing the landlord, although obviously we don't live there any more."
The Al Khatibs moved to a hotel for two weeks. Everyone was afraid to rent them a house, they said. And they now keep their new address a secret so they don't get their landlord into trouble. Furthermore, they worry that Mayssa, who has a West Bank ID, will lose her residency rights in Jerusalem. Other families, whose children were accused by the Israeli authorities of comitting attacks have been facing harassment too: old tax disputes were reopened, their residency status in Jerusalem was threatened, and others lost their jobs. "My uncle was fired after he started to cry when he heard the news about Mustafa. Imagine, after 21 years of work, they just asked him to leave on the spot," Adel said.
After the killing of their son, the family felt lost – where do you turn after a tragedy like this one? Which organization helps with the threat of house demolition? How do you find a lawyer? Who can help with kid's psychological state? It quickly turned out there are many more families in distress like this – four among old neighbors of Al Khatib's, back in Jabal Mukaber, and all together eleven families from Jerusalem. They wanted to find a way to get the bodies of their loved ones back from the Israeli authorities and formed an informal support group. "Until now, they are not releasing 32 bodies, 10 of them from Jerusalem," Adel said. Last week the families gathered at the Lion's Gate to commemorate those killed. The police forced them to leave. They brought the photos of their children and a sign saying "The martyrs have unified Palestine with their blood". And indeed, political or class differences aside, the parents stood there together, united in their pain.