This article is a part of a joint dossier produced by a group of independent media from Arab World. This regional cooperation brings together Al-Jumhuriya, Assafir Al-Arabi, Mada Masr, Babelmed, Mashallah News, Nawaat, 7iber and Orient XXI.
Shortly after daybreak on Friday morning, Egyptian day laborers begin gathering on the outskirts of Irbid, lining up in small groups of two to five workers along al-Hashimi Street, a main thoroughfare that leads into town. As the sun climbs in the sky, they begin moving east down the street, hoping to be the first group to reach the trucks that come looking for workers at the city entrance.
The first group had walked about 1 km from the main meeting point and sat near a closed shop with their work tools: an axe, a shovel, a big flat basket, and high rubber boots.
"Here there are workers and tradespeople. A tradesman does one thing, but we do any kind of work," says Ragab Dessouqi, who has been in Jordan for 12 years. The same goes for his friend Mohammed Mukhtar Abd al-Basset Sayyed, who came to Jordan to work as a crane operator. Both men are Saidis, hailing from Upper Egypt.
"We do everything except installing insulation and tiling," Mohammed says. "A person who comes here as a laborer stays a laborer, and those who come as tradesmen will always be tradesmen."
Ragab, Mohammed, and others work as day laborers in construction. This is the most vulnerable group of Egyptian workers in Jordan, with the least job and wage security. To make ends meet, they are forced to take nearly any job available—whatever is required by the workshop owners who pass by the usual meeting places in the morning to pick the workers they need and give them a lift.
These workers are divided into laborers and tradesmen. Laborers do jobs like hauling tiles, cement, and sand up stairs on work sites, carrying away dirt and leftover construction materials, digging building foundations, or demolishing and removing building facades. They might also clean gardens, plant trees, or move rocks.
"It's not only hauling away construction materials and digging. We clean gardens and work on landscaping," says Ali Ahmed Mohammed, 35, who came to Jordan from Assyout, in Upper Egypt. "We Saidis like agriculture and planting things. We'll dig up the earth even to plant trees."
Tradesmen earn more, but they are a minority of workers in these communities. No one knows how the standard wage—20 dinars a day for laborers and 25 for tradesmen—was determined, although workers often make less than this.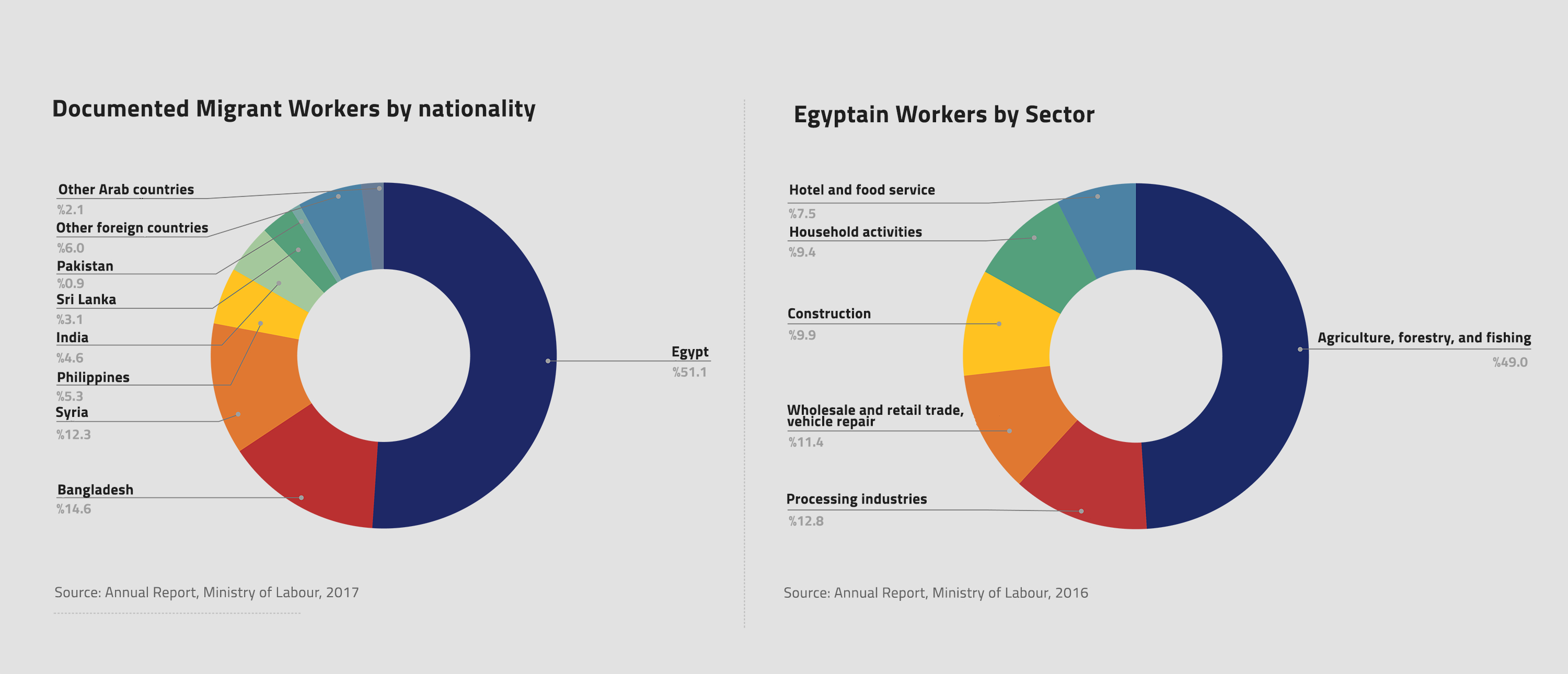 80 piasters
As the hour reaches noon, the chance of finding work for the day gradually declines and day wages decrease. Two days earlier, Ali and a friend found a job shortly before noon.
"A few days ago, we both went and worked a job together for 20 dinars. We save at the expense of our stomachs and live on the bare necessities," he says.
That was a fairly high wage for Ali and his comrade. They might make far less if days pass without work.
Samir al-Sayyed Atwa, 50, is getting nervous about the time passing without finding work. He came to Jordan in 1986 to work as an upholsterer.
"Subtract three years for the army and the rest have been in Jordan," he says. "I'm 50 years old and haven't been in Egypt for 20 years."
Atwa married a Jordanian woman seven years ago. He has four kids and owes back rent for a small house on al-Rashid Street.
Atwa comes here every day looking for any job, having given up his upholstery trade. He received notice of 2,380 dinars in back rent he owed on the warehouse where he worked, so he gave up the warehouse and upholstery to join the workers in the street.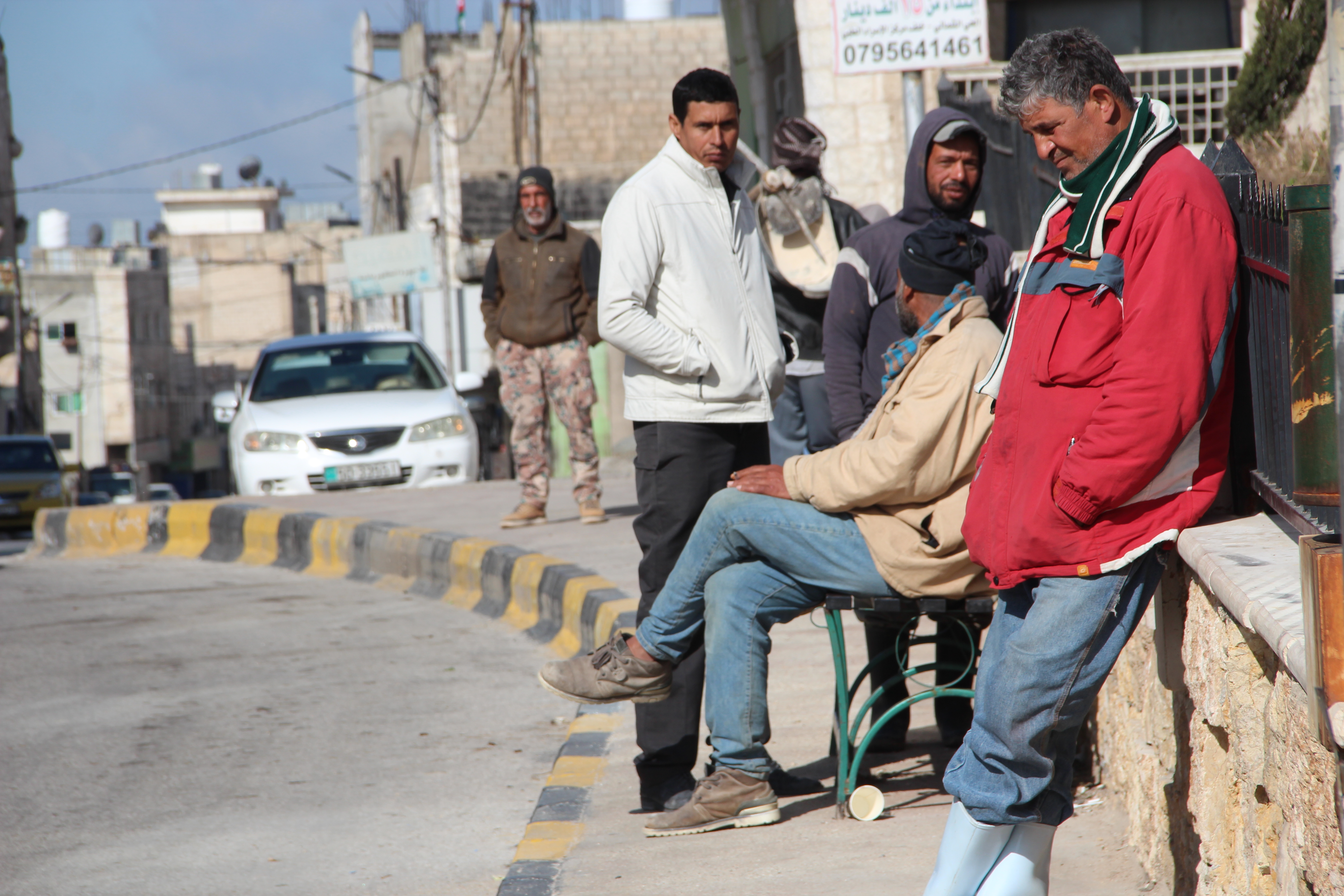 Atwa stands out for his lack of any work tools, but he has his body, his rubber boots, and his anxiety about the approaching noon hour.
"Man, I'll go with you for 15 dinars, I'll go for 10," he says.
He doesn't want a repeat of the other day, when no one had come offering work by noon. Instead of returning home to his children, he walked to the vegetable market.
"I carried boxes of vegetables for this guy for 80 piasters apiece," he says. That was his wage for the day.
"I work two or three days and sit around the rest"
"Come over here and tell him about the water buffalo," Osama al-Sayyed Ali, who came to Jordan in 2004, calls out jokingly to the 50-something Karim (not his real name).
"I sold the buffalo for about 30,000 pounds so I could come to Jordan, but I've only made 200 dinars since I got here," Karim says. A farmer in Egypt, he came to Jordan two months ago.
Most of these workers remember the exact date of their last job.
"From the 1st to the 27th, I made 40 dinars and borrowed 250," says Hassan Mohammed Ahmed, who arrived in Jordan three months ago and bought tools for 50 dinars. "I swear, I still haven't made back the money I spent on them."
Things are a little better for Sayyed Mohammed Ali, who has been in Jordan for five years. Married with children, he makes about 20 dinars a day.
"But there isn't work every day. I work two or three days and sit around the rest," he says.
Sayyed and his comrade work in hauling and digging.
"The last time I sent money to Egypt was four months ago," he says. "I borrow from friends, then pay it back and live on the rest." When things get tough for one of the workers, they pass the hat around and everyone chips in, loaning anywhere from 1 dinar to 20 dinars in exceptionally difficult circumstances.
There are Jordanian workers at the meeting point as well. Among them is Abu al-Leith.
"The Egyptian worker demands more, maybe because he has work permit fees and also needs to eat, drink, and live, and send money back to Egypt. So he asks for 20 dinars," Abu al-Leith says. "We only ask for 15, and Syrians ask for much less."
Mina Wagdi, an Egyptian bricklayer, has overheard the conversation and calls out to add, "At first we used to ask for 25, but these days we'll take 20."
Sending home a paper
As financial conditions deteriorate, so do working conditions for Egyptian day laborers.
Hani Barsoum, from Minya, says, "Some people's work permits have expired and they don't have the money to renew them. I want to pay the sponsorship cost and go home but I don't have the money. My permit expired on the 12th [of February]…I can't get a new one or pay the late fee so I can go home. The discharge fee is 50 dinars."
According to the Labor Ministry's 2017 annual report, 9,448 workers of various nationalities were sent home that year for violating the conditions of their work permit.
"We send money home depending on what we make. We subtract the costs of food and rent and some extra expenses and send the rest back to Egypt," says Mohammed Mukhtar. But he hasn't been able to send any money to his family for a while. His work permit expired in April and he's been working to save enough for a renewal.
Even those workers who are able to send money home typically send small amounts. They call these small amounts "paper," referring to small denominations of 10, 20, or 50 dollars. Less than a month ago, the remittance fee for transfers increased from 2 to 4 dinars.
"Four dinars is taken from any paper we send home. If you send a 10, you pay 4 four dinars," says Osama.
This has led some workers to stop sending money to their families, and the cash they keep is quickly drained in paying back loans. It has also been reported that remittances from Egyptian migrant workers in Jordan have fallen 25 percent because of a ban on remittance transfers without a valid three-year work permit.
Because of travel costs, Osama keeps delaying a trip home to Egypt.
"A trip to Egypt costs 250 to 300 dinars…My daughter's getting married on June 30th and I can't go. Can you believe it?" he says.
On their way to Egypt, most workers travel overland from Irbid to Aqaba then take a ferry to the Nuweiba port. From there, they take land transport to their hometowns. Nobody mentioned flying.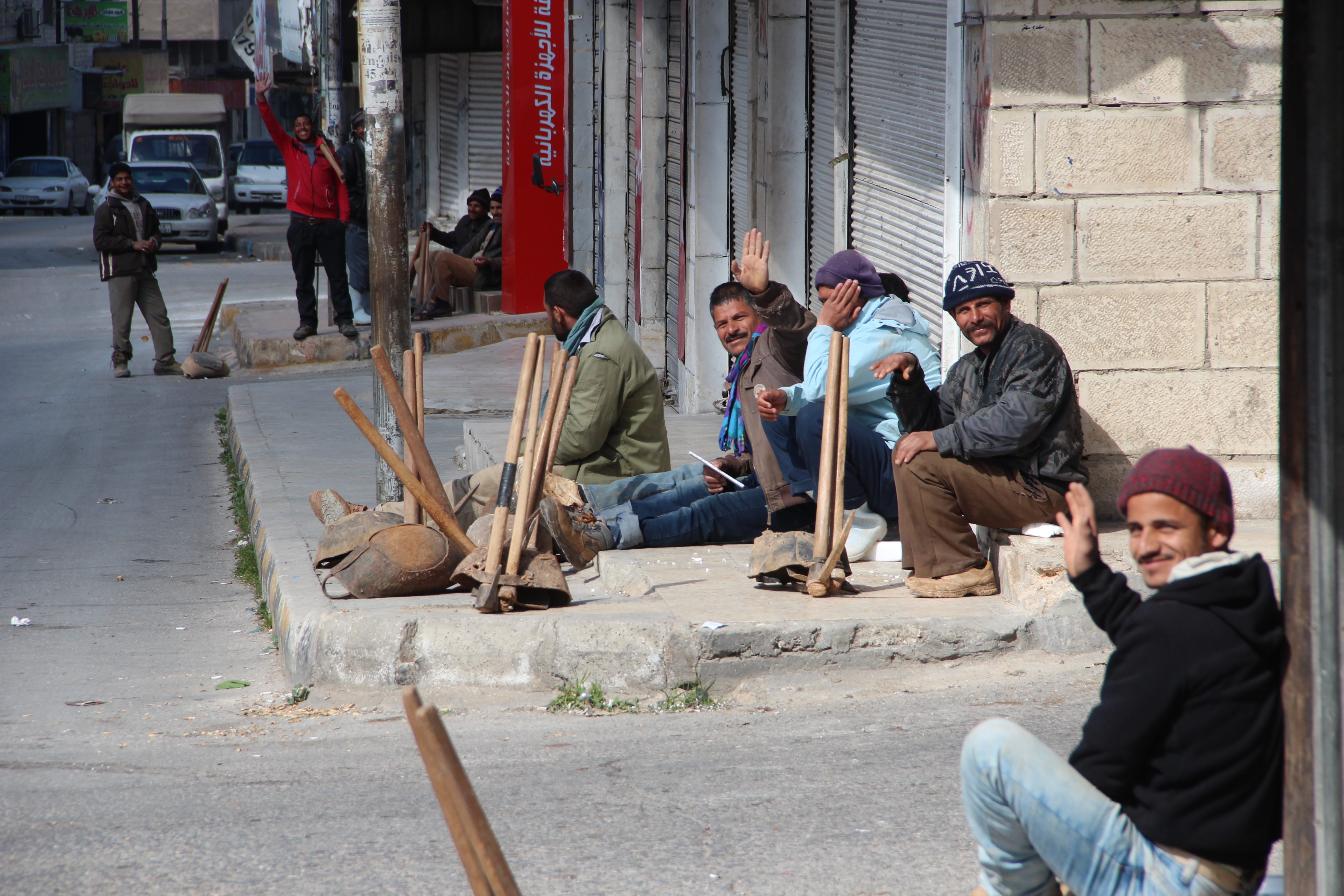 Like a funeral
Sayyed and Ragab live in a two-room house behind al-Hashimi Street in Irbid with four other workers. "We pay 150 dinars a month." They don't have the money for leisure. Instead, their life is based on economizing as much as possible. They arrange their living quarters so that no one spends more than 25 dinars a month, plus electricity and water. They rent the house together, with up to six people sleeping in a room. If the landlord raises the rent, they do not pay the difference, but instead bring in another worker to share the cost. In this way they can stick to the agreed upon expense.
Osama lists a set of inescapable expenses in Jordan: 520 dinars annually to renew the work permit, 30 dinars for a health certificate, 35 dinars a month for social security, 250 dinars a year for the sponsor. That's in addition to housing, utilities, and food.
Since the last Eid al-Adha — a date most workers refer to as the time when work started drying up — Osama says it has been rough: "Write this down. I come here at 6 am and stay until noon, then I go home to sleep. If you drop by the workers' quarters then and see what the young guys are up to, it's like a funeral. I swear, there's people who have stopped cooking, they can't even find the food to eat."
There is one exception to the rule of avoiding any non-work related activities: a welcome for workers who have just arrived from Egypt. Mohammed Mukhtar remembers the last gathering, months ago, when they welcomed "the mayor's son" — that's the nickname of the guest who brought them together for an evening they will not soon forget.
By midday on Friday, some of the groups scattered along the street start returning to the workers' quarters. From 6 am to 11 am only one pick-up truck has stopped to look for workers for the day. The small group that had beaten the others to the top of the road surrounded the vehicle. There was a quick conversation that concluded with the driver leaving without any workers. On the way back, Atwa — the worker without tools who had worked for 80 piasters a week ago — leaves the gathering spot, heading for the vegetable market. Maybe he can find another 80-piaster job.