In Jordan, like many other countries in the Middle East, there are both civil and religious courts. Religious courts, which include Islamic Sharia courts and Ecclesiastical courts affiliated with the country's various Christian sects, adjudicate all cases dealing with "personal status" issues such as divorce, marriage, child-custody and inheritance.
In the following report, originally published on 7iber in Arabic on November 16, Nadine Nimri explores a recent trend in which Christian men convert to Islam in an effort to avoid legal rulings issued by their churches' court systems.
By Nadine Nimri, translated by Orion Wilcox
One month after filing an alimony case with the Greek Orthodox Court, Rana (pseudonym) was surprised when her estranged husband's lawyer presented the court with proof of his client's conversion to Islam, demanding that the case be suspended given that it no longer lay in the court's jurisdiction.
Rana, who spoke to 7iber on the condition of anonymity, was married near the end of 2012 and soon afterwards her husband became physically and verbally abusive. "I got pregnant immediately after the marriage, which prevented me from leaving him sooner. But after I gave birth, things got even worse. At that point I decided to go back to my family's home to protect myself and my child."
Rana later filed an alimony case with her sect's Ecclesiastical Court, demanding that her husband provide financial support for her and her two year old son. At the first court hearing, Rana's husband requested an adjournment; he then failed to attend the second hearing only to announce his conversion to Islam at the third hearing.
"After my husband's conversion, the court ordered him to provide support for me and my child, but my lawyer assured me that the Greek Orthodox Court's ruling was not binding since it was issued after my husband announced his conversion to Islam. After my husband threatened me and demanded that I return home, I decided to waive my alimony rights in order to receive a divorce from the Sharia Court, which was approved in early October 2015."
Converting to Islam for "worldly purposes"
Despite a circular issued by the office of Jordan's Chief Justice outlining requirements for a person's conversion to Islam, including a consultation of the relevant religious court prior to acceptance of the individual's conversion, Salim Mdanat, a member of the Greek Orthodox Court, says that judges are sometimes surprised by a party to an ongoing lawsuit announcing his conversion to Islam "in order to avoid his responsibilities or the Court's rulings."
In their quest to evade court rulings, some individuals have resorted to threats. "As Ecclesiastical Court judges, we sometimes face pressure from litigants who threaten to announce their conversion to Islam if a court does not rule in their favor—particularly in divorce and alimony cases," says Mdanat. "Bowing to these pressures results in foregoing justice."
Speaking on the same issue, Shiekh Ashraf al-Omari, an inspector with Jordan's Sharia Court, says that, in some cases where individuals have attempted to document their conversion, it has been clear that "in reality they do not believe in the religion and doctrine of Islam. Rather, they are trying to achieve purely worldly goals such as marrying a Muslim woman or divorcing their wives in cases in which their original faith does not permit it. Some think of their conversion as a way to evade certain responsibilities."
"Religion is an issue of belief, [in Islam] this belief is expressed through testifying [that there is no God but Allah and that Mohammed is His Prophet]. Therefore, whoever wishes to embrace the Islamic faith can do so wherever they like. The only reason a person has for consulting the Sharia Court is for purposes of documentation given that certain rights are tied to a person's civil status," adds al-Omari.
Al-Omari says that the special procedures put in place by the Chief Justice's Office to document cases of conversion to Islam include "a sit-down discussion with the individual to hear why he has made this decision and what information he has about the Islamic faith, collecting statements from people who know the individual and an assessment of the individual's mental and psychological state." Additionally, the Chief Justice's Office, according to al-Omari, requests the individual's file from the relevant ecclesiastical court, if he or she is Christian, to determine any litigation being brought against the individual and to determine the individual's marital status. Furthermore, any children's files are requested from the Department of Civil Status. Finally, in order to determine the level of danger the individual may be exposed to following his or her conversion, the individual is requested to consult relevant local authorities to assess the situation.
No decision is taken until approximately one month has passed since the person submitted his request "so that we can be completely certain of the individual's decision," adds al-Omari, indicating that some individuals do not follow-up upon their requests after discovering the seriousness of the investigation. "We candidly speak to the individual about the legal stipulations of his conversion and the amendments made to his documents and the legal and religious consequences that entails. The individual will know that this is a step that there is no coming back from because religion is not something we can allow to be trifled with."
The Judicial Circuit's annual statistical report does not specify the number of Jordanians who have converted from Christianity to Islam. The report does, however, include the total number of converts to Islam, Jordanians and non-Jordanians alike, from that year.
Mdanat confirms that the Greek Orthodox Court does at times receive requests from the Sharia Court for information about litigation being brought against individuals who want to convert to Islam. "However, quite often we don't receive these requests and are then surprised during a court hearing to find that someone has converted," says Mdanat adding that his court has witnessed two such cases in the past year.
Rifat Bader, director of the Catholic Center for Studies and Media, says that the situation is similar in the Roman Catholic, or Latin, community. "The Roman Catholic Court witnesses between three to five cases in which individuals facing legal litigation, either alimony, divorce or child-custody cases, convert to Islam."
"The consequences are quite often disastrous for the family and children," says Mdanat, "particularly the minors."
Changing children's religion
As a result of a man's conversion to Islam, his wife and grown children lose all inheritance rights and "in many cases the children's religion is changed despite their belief and emotional connection to Christianity," says Mdanat. Furthermore, the mother will lose custody of the children once they reach the age of seven.
The religion of her child is the primary concern for Rana, who is currently fighting a child custody battle with her former husband who has tried to change the child's religion to Islam. "My lawyer was alerted to that issue early on and confirmed with the Department of Civil Status that my son's religion was listed as his birth religion (Christianity)" says Rana.
Usually, the Department of Civil Status changes any under-aged children's religion to Islam when their father converts. The legality of this action is based on a religious ruling issued by the Jordanian General Department of Iftaa' (religious rulings) stating that "if a father converts to Islam, he is followed by all of his under-aged children. With regard to children of legal-age, they remain with their original faith until choosing to convert to Islam of their own accord."
However, in 2005 the Minister of the Interior issued directives ordering that a person's conversion to Islam is only to be applied to that person's files and does not include any of his or her family members. All children born before the person's conversion are to continue to be listed as their birth-religion, whereas children born after the conversion are to be listed as Muslims.
The Minister of Interior's directives came after a number of citizens brought litigation against the Department of Civil Status in the Jordanian Supreme Court, objecting to the Department's changing of their religion from Christianity to Islam following one of their parent's conversion to Islam. In 1984, the Supreme Court issued a legal precedent contesting the Department of Civil Status's procedure of automatically changing of a child's religion, considering it an illegal administrative procedure.
The attorney Yacoub el-Far, who argued the case which resulted in the Supreme Court's decision, explained to 7iber the details of that case. El-Far was initially alerted to the issue when a 17 year old girl whose father had converted to Islam when she was 12 years old sought his consultation.
"When the girl entered high school she was surprised that the school required her to sit for the general Islamic Culture exam. Later, she found out that an employee at the Department of Civil Status had changed her religion from Christianity to Islam following her father's decision to convert in order to divorce his wife and remarry. The girl had remained in her mother's custody and her belief and sentiment were Christian. Therefore, she decided to submit a case to the Supreme Court and her religion was changed back to Christianity."
According to el-Far, this is not a rare occurrence, as the Department of Civil Status continues to change children's religious status despite Ministry of Interior directives ordering otherwise. The issue, says el-Far, is that "a large proportion of citizens and lawyers are ignorant of [these directives]."
Regarding the legality of the Department of Civil Status's procedures, al-Omari says that there is no legal text directly handling the issue of a child's religion following the conversion of one of his or her parents. However, the policy most often adopted is based on "the preponderant opinion in Hanafi jurisprudence" alongside the religious ruling issued by the General Department of Iftaa' (religious rulings) that states that "all under-age children follow their father in converting to Islam, whereas children of legal-age at the time of their father's conversion have the choice of joining their father or not; with the knowledge that the legal-age is 15 years old."
Al-Omari added that the responsibility of the Sharia Court is "providing proof and documentation to the individual wishing to convert to Islam, whereas the religion of the individual's children and any changes made to their documents is the jurisdiction of the Department of Civil Status."
7iber reached out to a number of men who changed their religion from Christianity to Islam, all of whom denied our requests with the exception of Muhanna Haddad.
Haddad described to 7iber his experience of converting to Islam in order to get a divorce nearly 20 years ago.
After several years of marriage, Haddad says that neither he nor his wife wanted to continue the relationship. "The issue was that Church Law, especially that of the Catholic Church, is very strict on divorce. Converting to Islam was the only way to get a divorce."
After his conversion, Haddad's children were registered as Muslims which negatively impacted his relationship with them.
"They denied their new religion which led them to refuse Jordanian citizenship. Today they live in Holland and continue to hold me accountable [for many things]… It wasn't just that they refused Jordanian citizenship. They also stopped visiting me here in Jordan and we would have been totally cut-off from one another if I hadn't insisted on keeping up communication.
Nevertheless, my relationship with them today couldn't be considered a relationship between a father and his children."
On top of problems with his children, Haddad faced criticism from the rest of his family who considered his conversion an insult to them and the family as a whole. "My older brother's first reaction was to ask: 'What am I supposed to say to someone who requests my daughter's hand?' Meaning that my conversion to Islam had weakened his daughters' chances of marriage," says Haddad.
Haddad says that, unlike many others, he was eventually able to overcome his relatives' anger. "Perhaps, I was lucky since my relatives understand that I don't pay any heed to the issue of religion. It's not part of my personal life or intellectual or ideological convictions."
Different custody rights for Christian and Muslim mothers
Whereas the future of her child's religion keeps Rana up at night, Mariana's (pseudonym) biggest concern is her loss of custody of her three children. Mariana says that throughout her marriage her former husband kept up a romantic relationship with a foreign woman. Her husband was unable to divorce her because the couple belonged to the Roman Catholic Church which denied his request for an annulment. However, during the course of the trial, Mariana's then husband announced his conversion to Islam, immediately divorced her and remarried.
"I have three children, the youngest of whom is nine years old. Today, I lost custody of my children simply because I'm a Christian. This is regardless of the fact that all of my children are still registered as Christians with the Department of Civil Status and my former husband is actually committed to his Christian faith. He makes a point of regularly attending Sunday Mass and raising our children in a Christian manner," says Marianna. "He only wanted to convert to Islam to end our marriage and rip my children out of my arms… Why is there discrimination between Christian and Muslim women? Why is there not equality before the law? Are we not all citizens?"
Article 172 of the Jordanian Personal Status Law states that "the right to custody (…) ceases once the child reaches the age of seven if the mother is a non-Muslim," whereas custody remains with a Muslim mother until the child reaches the age of 15 at which point he or she chooses between remaining with the mother or living with the father.
Al-Omari justifies this law given that seven years is the age of discernment for a child and, therefore, [in Hanafi jurisprudence] the child must at that point be with his or her Muslim father. Additionally, the Personal Status Laws for the different Christian sects specify that a mother has custody over her child for seven years."
Regarding the subject of custody, Abdullah Hamarneh, a member of the Roman Orthodox Court, says that the policy actually adopted in church courts is based on "the best interest of the child and in most cases custody is granted to the mother until the child reaches the age of majority" not just seven years of age.
Apostasy and losing civil rights
Hamarneh warns against changing one's religion for non-ideological purposes, indicating that often "once the person achieves the goal for which he or she converted—in most cases divorce—they are clearly regretful and want to return to Christianity… However, it is not possible to re-register them as Christian with the Department of Civil Status," even if they receive an apostasy ruling from the Sharia Court.
The statistical report released annually by the Chief Justice's Office does not contain any information on cases of apostasy or individuals wanting to return to Christianity, despite containing detailed information on cases heard by the Sharia Court regarding divorce, marriage, alimony and other issues.
"I don't have comprehensive statistics in this area," says el-Far regarding apostasy cases, "however, I am currently representing ten individuals who converted to Islam and now want to return to Christianity."
El-Far recalled the case of a Jordanian man he represented in 2003. The man converted to Islam in order to divorce his former wife and then wanted to return to Christianity. He was able to attain an apostasy ruling from the Sharia Court and a ruling from the Roman Catholic Court considering him a member of the sect. However, the Department of Social Status refused to change the man's registration back to Christian and the Supreme Court dismissed his case against the Department.
Facing limited options and a complete freeze on his estate, the man had no choice but to immigrate with his children to Canada as a "religious refugee."
"Most people who decide to change their religion do not realize the legal consequences of that decision, particularly those related to civil rights," says el-Far.
Mdanat clarifies these consequences: "An apostate cannot remarry a Christian woman and he cannot inherit property from his relatives."
Two years ago, a Christian man who had converted to Islam and later left the religion went to his church to register his marriage. After submitting his paperwork, the priest discovered the religion section on the man's identity card was empty and immediately determined the marriage legally invalid.
Article 28 of the Jordanian Personal Status Law "temporarily forbids the marriage of a male or female apostate from Islam, even if the other party is a non-Muslim."
Inheritance and a wife's rights
Al-Omari adds that the law provides some guidance on the marriage and inheritance rights of an apostate. "[An apostate] cannot inherit from his or her Muslim relative. In the case of his or her death the apostate's Muslim relatives may inherit from them, however, his or her non-Muslim relatives cannot inherit from them in accordance with the rules of inheritance in Sharia law and given that there is no acknowledgement of the individual's leaving the religion."
Article 281 of the Jordanian Personal Status Law states that "there can be no inheritance between adherents of different religions; no non-Muslim may be the heir of a Muslim."
Al-Omari denies that a Christian wife loses rights due to her husband's conversion to Islam, saying that "this is a mistake made by some people who are ignorant of the provisions of Sharia and the law. A man's conversion to Islam does not in any way result in his wife losing her rights. Rather, her rights surely increase."
"The husband's responsibilities toward his wife continue and are valid, particularly [her rights] to spousal support, housing and medical treatment among others. Additionally, a husband may entrust to his Christian wife a third of his estate, whereas a Muslim wife only has the right to an eighth of her husband's estate if they have children and there is no will. All of this also applies to his grown children if they have not chosen to follow their father's conversion to Islam," adds al-Omari.
According to a ruling issued by the Court of Cassation, Ecclesiastical Courts do not have jurisdiction to hear disputes between a Christian wife and a Muslim husband; in such cases the Civil Court system has jurisdiction. However, if the husband's conversion to Islam occurred after the Ecclesiastical Court has issued a ruling, then the decision remains binding.
In May 2011, a Jordanian business man announced his conversion to Islam hoping to nullify an Ecclesiastical Court ruling that he provide his wife, son and daughter with an alimony settlement worth seven thousand Jordanian Dinars. However, the Court of Cassation ruled that the alimony decision issued by the Church Court was binding. Following the couple's divorce the wife's support was dropped and the children's support remained in effect."
Article 60 of the Jordanian Personal Status Law provides that "a wife has the right to spousal support even if she belongs to a different religion than her husband or is living in her parent's home. If the husband calls his wife to move to his home and she refuses, without a legally accepted reason, then she has no right to spousal support. A wife has the right to refuse to move to her husband's home if he fails to pay her dowry or to provide legally acceptable housing."
The issue, according to ecclesiastical court lawyers, lies in the section regarding a wife moving to her husband's home. If a wife refuses to move to her husband's home, even if she despises him, she will lose her right to spousal support.
Some women also complain about the complicated legal status they find themselves in after their husband's conversion, particularly because they are forced to deal with two legal systems, one Islamic and one Christian, in order to end their marriage.
"My husband converted to Islam and then returned to Christianity six times," says Salma (pseudonym). "His conversion was a means of punishing me and getting revenge every time there was a disagreement between us… Due to family pressure, I forgave him every time, but now I don't want him as a husband at all."
Salma filed for divorce with the Sharia Court and was granted a "quick divorce." However, she has yet to receive a divorce ruling from her Church's Court.
"Since we were married in the Latin Church, which does not permit divorce, I began the procedure of filing for an annulment but the procedures seem complicated and until now I have not been able to separate from my husband in the eyes of the church."
"There is a firm principle in Christianity that a marriage between a man and woman is a permanent union," says Bader. "Therefore, the claim that divorce is impossible or complicated is true. The Catholic Church has taken it upon itself to not enter the term divorce into its vocabulary." However, Catholic Courts will grant an annulment if it is clear that a key issue was concealed from one party to the marriage. Father Badr points out that "the Pope recently issued a special decree to expedite the annulment process."
Regarding these complicated procedures, Ecclesiastical Court lawyer Kristen Fadool says that "the reality is that there is a need to simplify the annulment procedures, especially because they are complicated and sometimes negatively affect victims."
"The Orthodox Church simplified the procedures for attaining an annulment in cases where marital life was impossible 15 years ago," says Fadool. However, both the Catholic and Latin churches continue to place severe restrictions on this process."
Salma points out that the problems do not end with complicated procedures. Rather, those seeking an annulment in Ecclesiastical Courts face steep court fees. Salma was able to attain a divorce from the Sharia Court for 25 Jordanian Dinars, whereas the cost of attaining an annulment costs more than 300 Jordanian Dinars.
Jihad Shuweihat, President of the Latin Ecclesiastical Court, explains that "the Ecclesiastical Court fees reflect the courts' costs. The reality is you cannot compare the Ecclesiastical and Sharia courts because the latter are supported by the state and therefore their fees are symbolic, whereas none of the different Christian Sect's courts receive any official support from the state."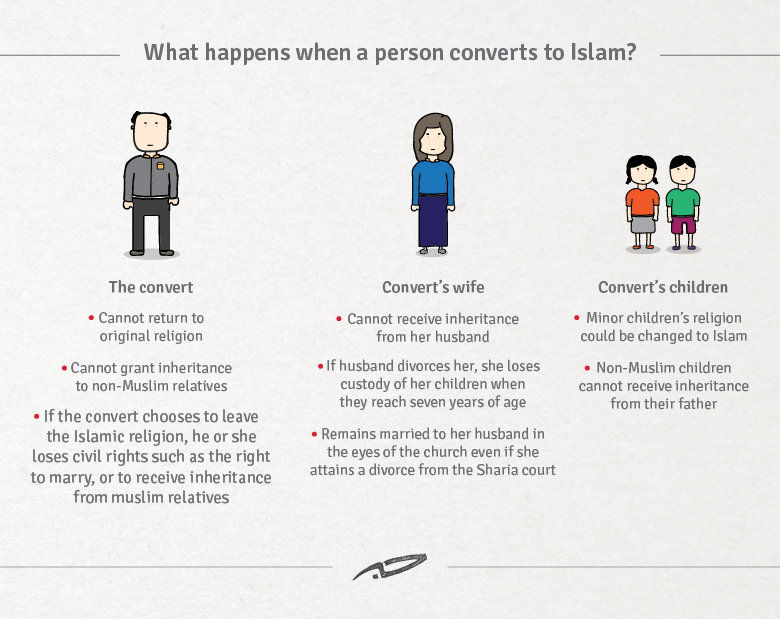 What is the solution?
Bader says that individuals' exploitation of conversion to a new religion in order to evade court rulings has created huge legal complications and social problems.
In his opinion, the issue with the circular issued by the Chief Justice's Office regarding the requirements for a person announcing his or her conversion to Islam is that these requirements are directives and not laws. Therefore, this circular has not prevented conversions for non-ideological purposes—most importantly evading marital responsibilities and approving new marriages.
"The Church is not against freedom of religion or the freedom to embrace the religion of ones choosing," says Bader. "However, the problem is that, in Arab society, this type of freedom is unidirectional. It is like a bus that takes a person to a new station but will not return him or her to the original station. We have seen the hardships associated with allowing a one-way trip without the right to return."
Hamarneh agrees, saying that there is a serious need to tighten up restrictions on conversions and definitively determine the individual's purpose for converting to Islam. Given that Christians have the right to convert to Islam, they must be "given the opportunity to return to Christianity if that is what they want. Especially if it later becomes clear that the person's conversion was not based on conviction," adds the Roman Orthodox priest.
Regarding an individual's ability to return to Christianity after having converted to Islam, el-Far referred to a ruling issued by the Egyptian High Administrative Court on the issue of apostasy. The Court ruled that a Christian who had converted to Islam could return to his or her original religion and, furthermore, contested government employees' procedure of refusing to change the person's registration back to Christianity.
However, al-Omari says that "current directives, which are updated from time to time, are applied in Sharia Courts. However, every case has its own circumstances and the constitution and the law grant judges the ability to use discretion. The courts apply the law without any encroachment or supervision from any other authorities except those authorized to do so by the law."
On the contrary, Fadool argues that "there is an acute need to develop a mechanism that secures all individuals' rights regardless of their religion."
"With regard to women's rights, there must be an amendment to the provision on custody to ensure equality between Christian and Muslim women and the same goes for inheritance with regards to an individual's wife and children," adds Fadool.
Finally, Fadool calls for "more compliance with the directives banning the changing a minor child's religion. This should be a personal choice once the child reaches the age of majority."
Alongside these suggestions, the attorney Said Karaja says that "the solution to this and other issues is a civil state based on equal laws for all citizens regardless of religion; a state that does not represent a specific religion but that rather protects all citizens' civil rights, including the right to freedom of religion or no religion, in a peaceful manner."
"This is not in any way a call for abrogating religious marriage or banning religious rites—quite the opposite," continues Karaja. "These are issues of religious freedom. What is required is the establishment of a civil law that protects the rights of all citizens including the rights associated with marriage, divorce and inheritance so that all citizens are equal before the law."
On this point, the attorney and civil rights activist Sawsan Gharaibeh agrees with Karaja. "Dealing with these cases requires a meeting of human rights principles with some inherited legal principles in addition to facing the more difficult question over the role of the state."
Gharaibeh calls for the commencement of a dialogue to balance between inherited legal interpretations and the need for equality between all citizens, highlighting the importance of the state's role being one of protecting the rights of all citizens and upholding justice within a framework that respects citizenship and equality.
As for Haddad, whose conversion to Islam for the sake of attaining a divorce cost him so much, he says that "a civil law that treats all citizens equally regardless of religion" would have allowed him to avoid all the loss he has endured.