The Press and Publications Department has initiated a ban on all Jordanian news websites that have not yet registered and been licensed by the government agency. According to an official memo (see below), the head of the Press and Publications Department, Fayez Al Shawabkeh has issued orders to the Telecommunication Regulatory Commission (TRC), complete with a list of over 300 websites to be blocked in the Kingdom. In turn, the TRC commissioner has sent the list to the country's various Internet Service Providers, demanding the blocking be implemented by the end of day, Sunday, June 2
nd
.
According to Al-Ghad daily, Shawabkeh has denied given such orders, however, his department's memo to the TRC has since been obtained by online media (and is available below with a translation).
[Note: The headline on Al-Ghad has changed to Shawabkeh confirming the government's implementation of the blocking, but the URL remains the same]. The mandatory registration was enacted as part of amendments made to the
Press and Publications Law back in September 2012
, which spurred controversy due to its various articles that have been deemed as a government-led effort to restrict free speech online. The amendments included articles that would hold online news sites accountable for the comments left by their readers, prohibiting them from publishing comments that are deemed "irrelevant" or "unrelated" to the article – a restriction that caused several prominent sites to turn off their comments sections. Online news sites would also be required to archive all comments left on their servers for at least six months. However, what was arguably
the most troubling amendment
has been requiring these websites to register and obtain a license from the Press and Publications Department, rendering them subject to the same conventionally restrictive regulations governing print media that includes appointing an editor-in-chief who has been a member of the Jordan Press Association for at least four years. The amendments were approved by both houses of Parliament and given the Royal seal of approval in September. As of the moment, it is unclear which ISPs have followed up on the Press and Publication Department's requests, or the technical aspects of the block (possibly DNS and/or IP blocking). This post will be updated with new information as the story unfolds.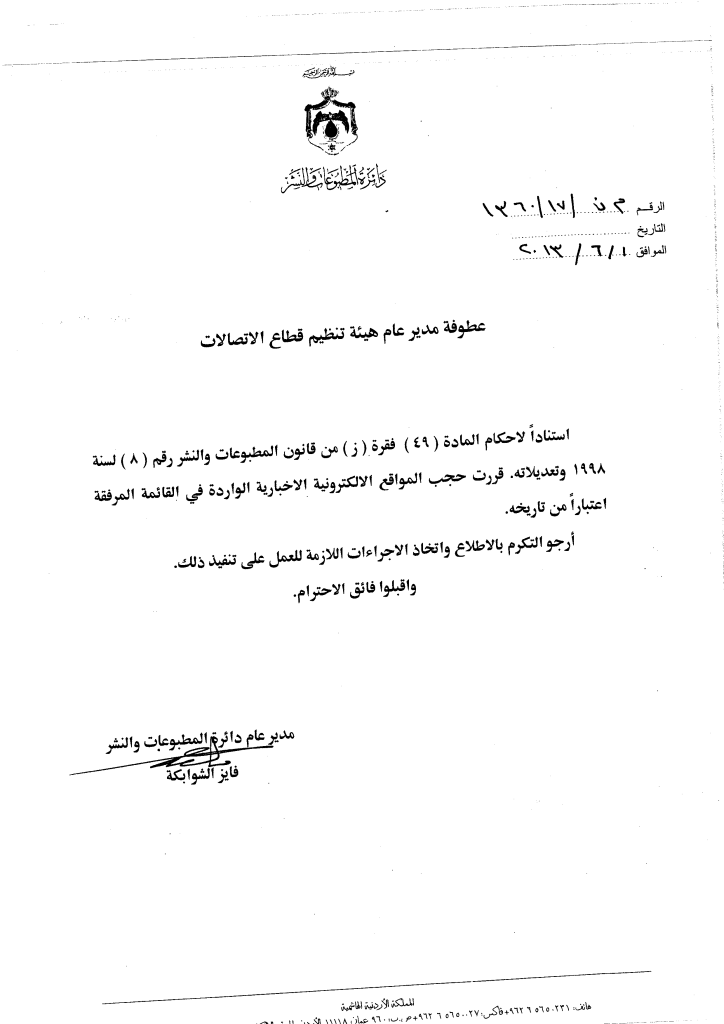 Translation:
Your Excellency Director of the Telecommunications Regulatory Commission
Based on article (49), paragraph (G) of the Press and Publication Law No. 8 for the year 1998 and its amendments, I have decided to block the news websites in the attached list as of date. 
Kindly review and take the necessary measures to implement.
Director of Press and Publication Department,
Fayez Shawabkeh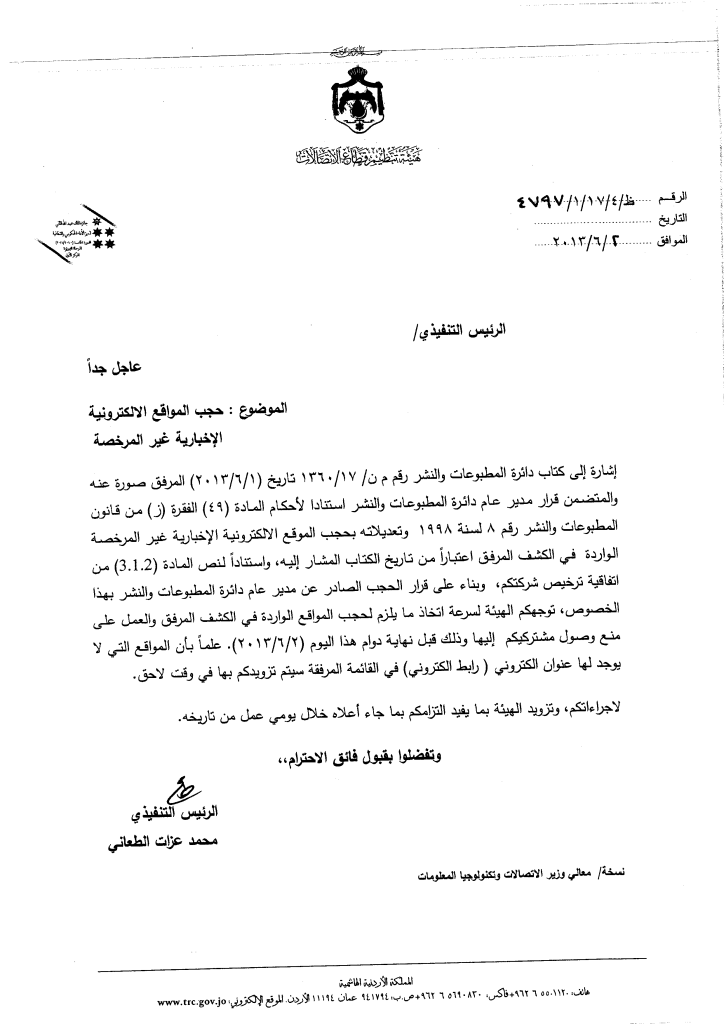 Memo from Telecommunications Regulatory Commission to ISPs
To Chief Executive Officer
Very Urgent
Subject: Blocking Unlicensed News Websites
Reference to the Press and Publication Department memo no. MN 17/1360 dated June 1, 2013, a copy of which is attached […], and based on the provisions of article 3.1.2 of the licensing agreement of your company, and based on the blocking decision by the director of the Press and Publication Department in this regard, the [Telecommunications Regulatory] Commission directs you to do what is required to block the websites listed in the attached document and prevent your subscribers from accessing them before the end of today, June 2, 2013. Note that the websites that don't have a URL in the list, you will be provided with later.
Executive Director
Mohammad Azzat Ta'ani
— Official list of Websites: