Protesters across the United States and European countries are rectifying a revised history, glorified and placed on pedestals in broad daylight in the public spaces of their towns and cities. Over the past several weeks, protesters have toppled, vandalized, damaged and called for the removal of dozens of monuments honoring historical figures, obscuring the bloody history they left behind. 
This recent wave of monument removal followed the killing of African American man George Floyd at the hands of Minneapolis police on 25 May, sparking an uprising coast to coast against the systemic racism of law enforcement, which disproportionately kills Black men without any meaningful accountability. 
Floyd was arrested for allegedly using a counterfeit $20 bill. Derek Chauvin, a white police officer with the Minneapolis police department, was depicted on widely shared footage pressing his knee on Floyd's neck for almost nine minutes as the latter pleaded for his mother and repeatedly cried «I can't breathe.»
Floyd's last words were the same ones spoken by African American man Eric Garner, who was killed by chokehold in 2014 at the hands of a New York Police Department officer, Daniel Panteleo, who was not indicted for the killing. 
Chauvin, on the other hand, was initially charged with third-degree murder and second-degree manslaughter. His charge was later updated to include second-degree murder. Charges were also leveled against the three other officers present at the scene, some of which were holding down Floyd's body. 
As part of the widespread uprising against the horrific and racist killing of Floyd, crowds across the United States and even in some European countries began a campaign to remove the statues and public symbols of historical figures involved in the ownership and trafficking of slavery, white supremacy and colonialism. 
Indeed, Chauvin's knee pressing down on Floyd's neck and eventually leading to his death can be understood as a metaphor to how many of those glorified historical figures, some with dozens of statues across different cities, have also historically «pressed their knees» down on African Americans, Indigenous peoples and other minority groups. 
Many of the toppled monuments were erected at the turn of the twentieth century. They represent what the elite political class deemed a legacy to be celebrated and a history to be revised. Their placement in the public space rather than inside the walls of a national museum is the difference between glorification and documentation. Their erection in public spaces served exactly for that reason — it was a reassertion of the power and authority of those figures during their time, as well as their power and authority over the history they've created even after their death. Their presence in the public space is an eternal revision of the tarnished history they've left behind. Their permanence and durability, even physically through material used to build them, also serve their invisibility in the public space. Their glorification becomes second-nature, among the trees and the benches and the trees, a fact of life that is rarely questioned or suspected by the passersby. The recent wave of toppling forces them to reappear into the subjective foreground of history and begs the question: Who are people behind the statues? 
As professor Joseph Massad recently wrote, «Removing and destroying these statues is nothing more than a partial correction of the false and institutionalized historical memory these idols represent, and is a small step forward towards a possible redefinition of what the American, French and British identity should mean.» 
Below are some examples of the dozens of statues taken down in the past month.
UNITED STATES: 
Statue of Christopher Columbus
Richmond, Virginia
Installed in 1927, toppled on 9 June 
Almost 20 statues of Christopher Columbus have been removed by protesters or city officials in various states during June. The first one to be taken down by protesters in recent uprisings happened in Richmond, Virginia on 9 June, when thousands of protesters acting in solidarity with Indigenous peoples toppled the 2.5 meter statue and dumped it in the nearby Fountain Lake. A local activist present at the scene, Chelsea Higgs-Wise, remarked: «We have to start where it all began — we have to start with the people who stood first on this land.» City officials in Boston, Massachusetts, Houston, Texas, Columbus, Ohio and San Francisco, California, among others, ordered and implemented the removal of Columbus statues after they were vandalized or in anticipation of removal by protesters. 
Christopher Columbus was an Italian colonial leader responsible for the genocide of hundreds of thousands of Indigenous peoples in the Americas, namely the Arawak. Until this day, Columbus Day remains a national holiday observed by the United States and some European countries to celebrate Columbus' as one of the first settler leaders to arrive on Turtle Island on 12 October 1492. The emphasis on «the heroism of Columbus and his successors as navigators and discoverers, and to deemphasize their genocide, is not a technical necessity but an ideological choice. It serves — unwittingly — to justify what was done,» American historian Howard Zinn wrote in his book, «A People's History of the United States.»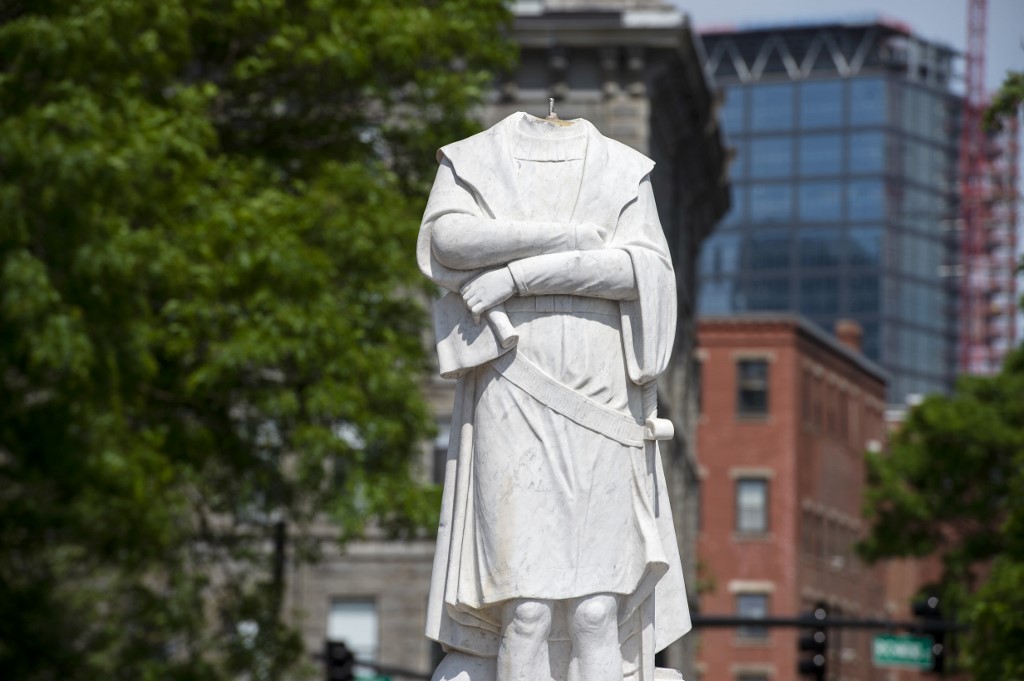 A decapitated statue of Christopher Columbus at Christopher Columbus Park in Boston Massachusetts on June 10, 2020. Photo by Joseph Prezioso / AFP.
Confederate statues
Dozens of statues honoring the Confederacy were toppled by protesters or ordered removed by city officials in the same wave of uprisings. The statues glorified leaders of the Confederacy, a collective of eleven Southern states that attempted to governmentally secede from Northern states as they wanted to maintain the system of slavery of African Americans and championed white supremacy. The Confederacy was ultimately defeated by the Union Army during the American Civil War from 1861 to 1865. 
Statue of Albert Pike
Washington, District of Columbia
Installed in 1901, toppled on 19 June 
Albert Pike was a writer and a senior officer in the Confederacy. Pike was suspected of alleged involvement with the Ku Klux Klan, an American white superemacist group which was founded in the late 1800s and remains active until this day. It targets mainly African Americans, Indigenous people and Jews, but has also targeted other minorities.
His statue was the only remaining confederate monument in the capital of the United States. It was pending removal by the city in 2017, which it could not implement without approval from the US Congress. Protesters toppled Pike's statue and set it on fire on 19 June, which marks the national holiday of Juneteenth commemorating the emancipation of African Americans and other enslaved people in the United States. 
The statue of Confederate general Albert Pike after it was toppled by protesters, on late June 19, 2020. Photo by Eric BARADAT / AFP.
Statue of Williams Carter Wickham
Richmond, Virginia
Installed in 1891, toppled on 6 June 
Williams Carter Wickam was a confederate military general. A statue of him near the Virginia Commonwealth University was toppled by protesters and vandalized with graffiti and red paint on 6 June.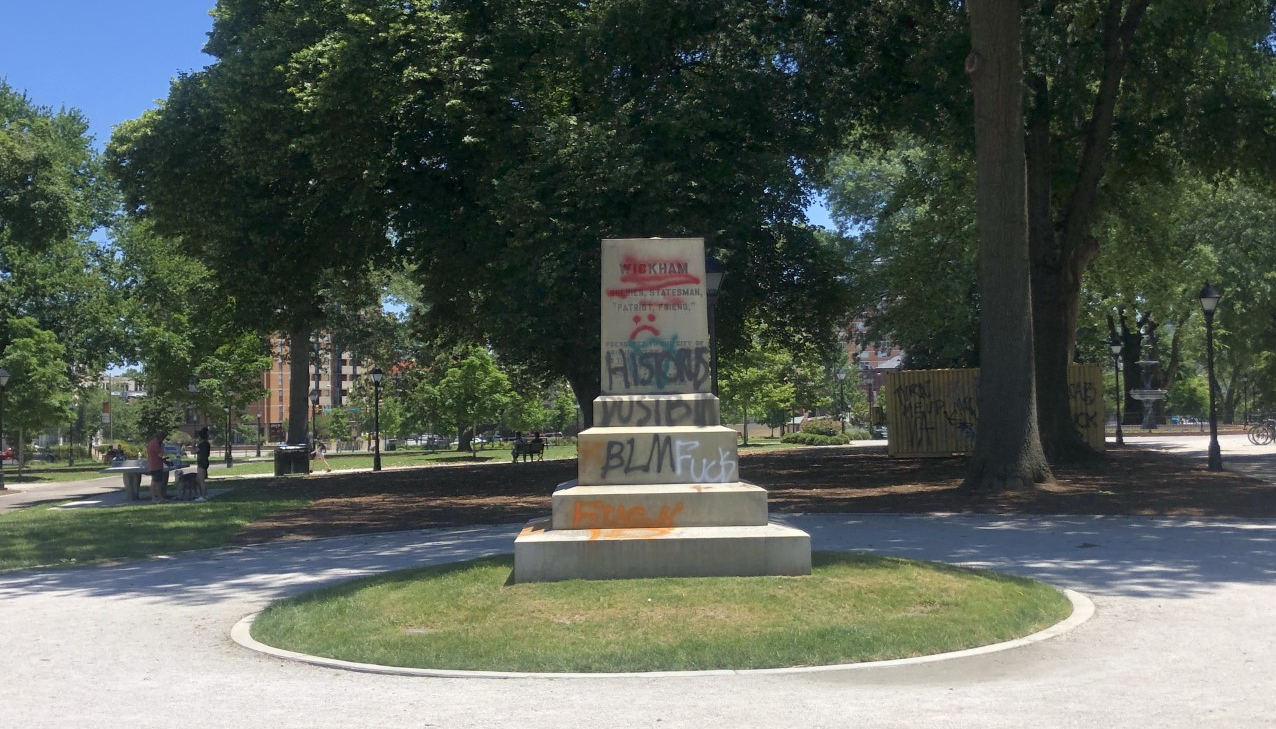 The Confederate statue of General Williams Carter Wickham in Monroe Park on Sunday. Photo by Laura Perrot.
Statue of Robert E. Lee
Montgomery, Alabama
Installed in 1908, toppled on 1 June 
Robert E. Lee was a military leader of the Confederacy during the American civil war and owned multiple slaves in his lifetime. His statue on the campus of a high school carrying his name in Montgomery was toppled by protesters on 1 June. Four of those involved were charged with felonies in connection with the toppling but their cases were recently dropped by a judge. Two national parks have moved to remove Lee's name from their premises, and a high school board is considering a name change. 
Still, there remains one 18-meter statue of Robert E. Lee standing at the heart of Richmond, Virginia. Thousands of protesters have repeatedly called for the removal of the now vandalized statue.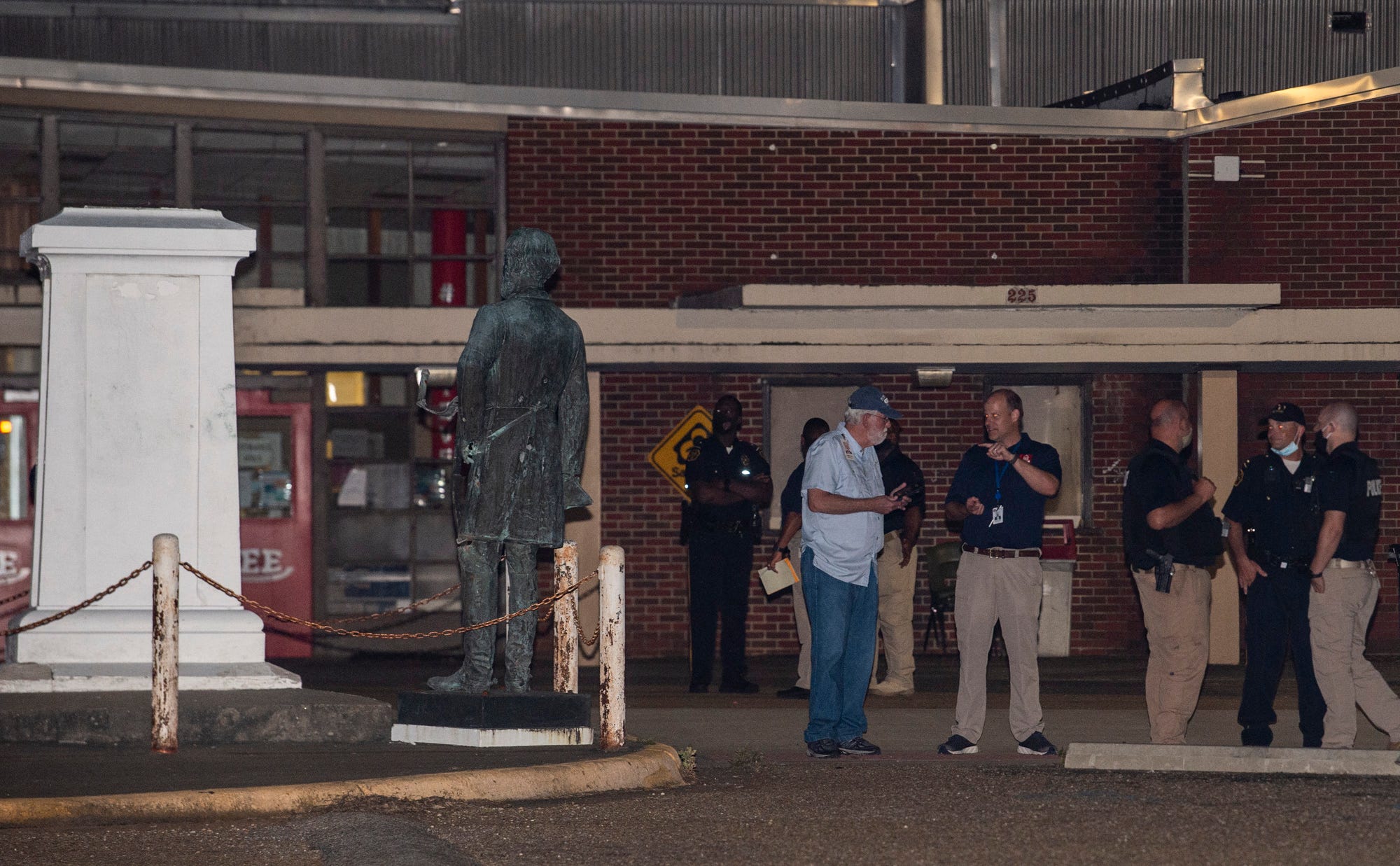 The Robert E. Lee Statue stands off the pedestal at Robert E. Lee High School in Montgomery, June 1, 2020. Photo by Jake Crandall/ Montgomery Advertiser
Statue of Francis Scott Key
San Francisco, California
Installed on 1888, toppled on 19 June 
Protesters removed the statue of Francis Scott Key, the composer of the US national anthem and owner of multiple slaves throughout his lifetime. He opposed the abolition of slavery despite freeing his own. His statue was removed by protesters at the Golden Gate Park on Juneteenth.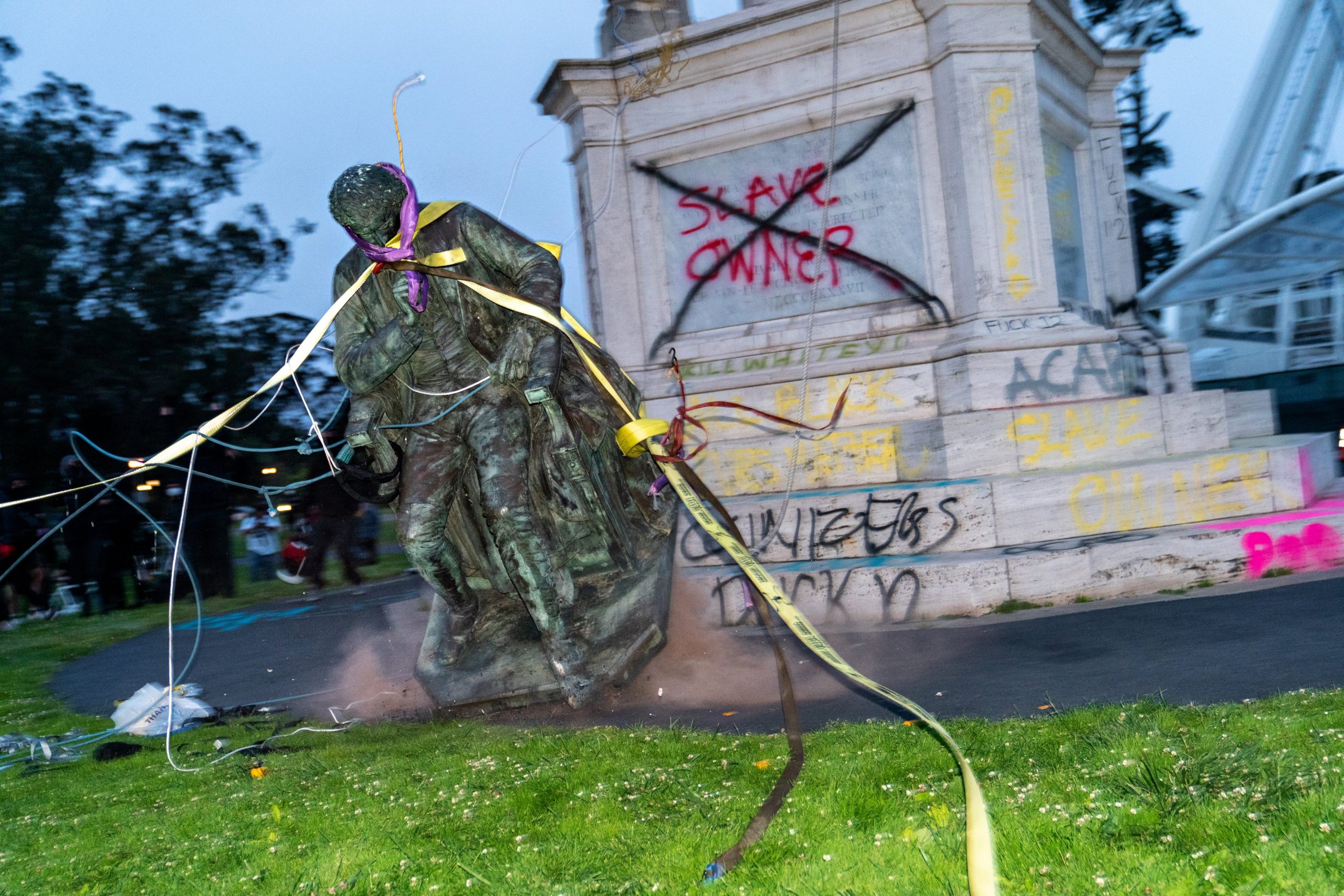 The statue of Francis Scott Key hits the ground in Golden Gate Park, San Francisco, June 19, 2020. Photo by Jungho Kim/ The Chronicle.
Statue of Ulysses S. Grant
San Francisco, California
Installed on 1896, toppled on 19 June 
Protesters toppled the sculpture of the 18th president of the United States, Ulysses S. Grant, in Golden Gate Park on 19 June, The removal of Grant's statue was controversial among US leftists because Grant led the Union Army to the defeat of the confederacy. Grant still, however, owned a slave himself until a certain time and had control over others.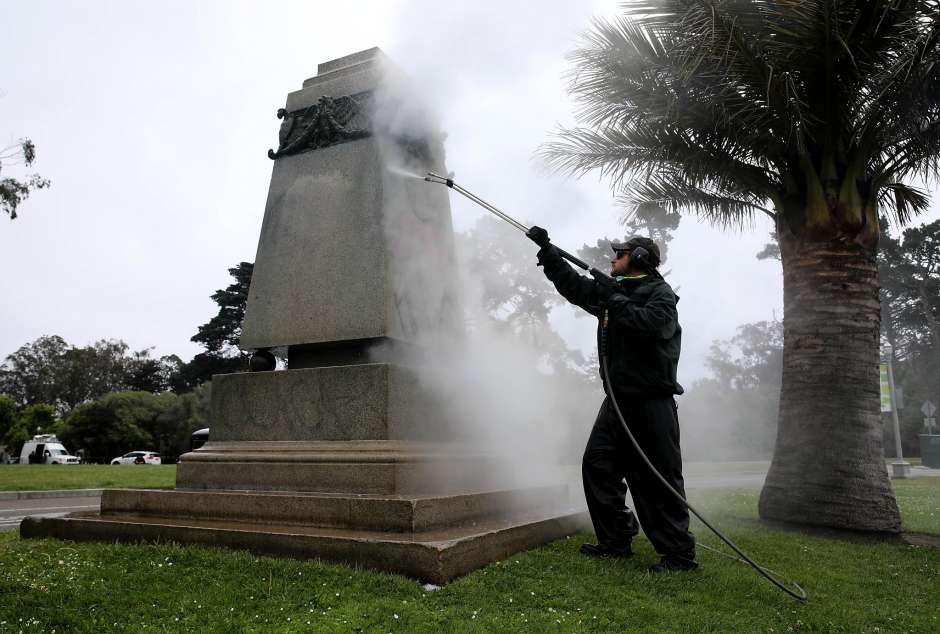 A worker washing the statue of Ulysses S. Grant, on June 20, 2020, in San Francisco. Photo by Yalonda M. James/ The Chronicle.
Statue of Stand Watie
Tahlequah, Oklahoma
Installed in 1913 and 1921, toppled on 13 June 
Stand Watie was a leader of the Cherokee Nation, a Native American tribe. He served as a general in the Confederate Army, and signed a treaty with other Cherokee leaders giving up native land in Georgia and removing native Cherokees from it. The Cherokee Nation removed on 13 June two statues of Watie, including one commemorating soldiers of the Confederacy, from their Capitol Square in Tahlequah. The monuments were erected by the Daughters of the Confederacy in 1913 and 1921.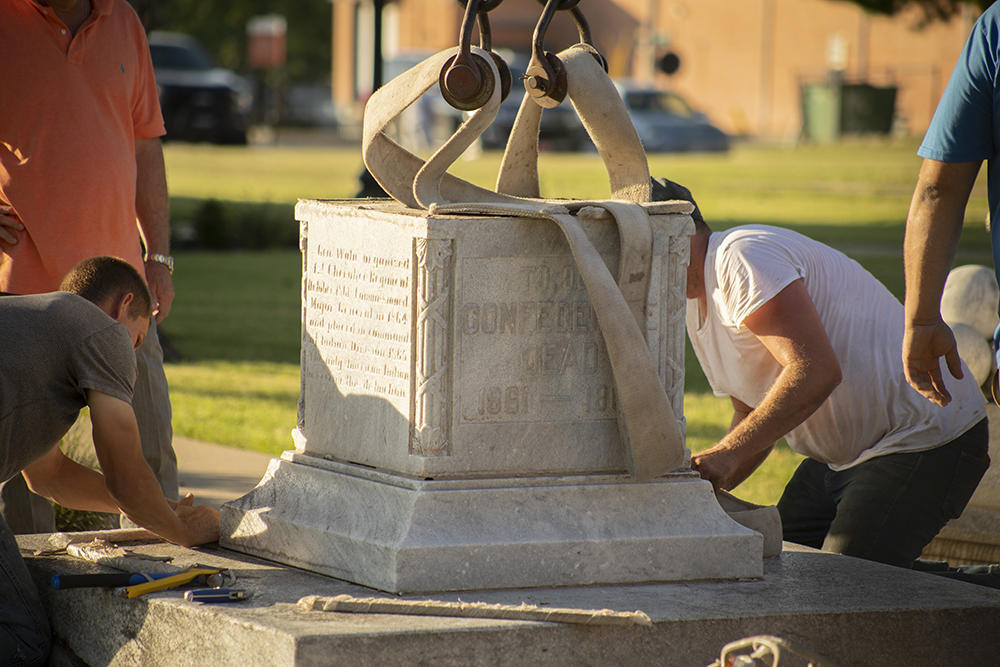 Workers remove Confederate monuments in Tahlequah, Okla. On June 13, 2020. Photo by Cherokee Nation.
UNITED KINGDOM: 
Statue of Edward Colston
Bristol, England
Installed in 1895, toppled on 7 June 
Edward Colston was the leader of a British slave trading company during the 17th century, which was responsible for the trafficking of tens of thousands of slaves from African countries and across the Atlantic to be sold in the United States. Few are more notorious for their crimes in slavery than Colston. 
Scenes of protesters toppling down a large monument of the notorious slave trader in Bristol, England on 7 June and dumping the 5.5-meter shrine in the nearby Bristol Harbour was cathartic. Police are now seeking to identify those who removed the statue.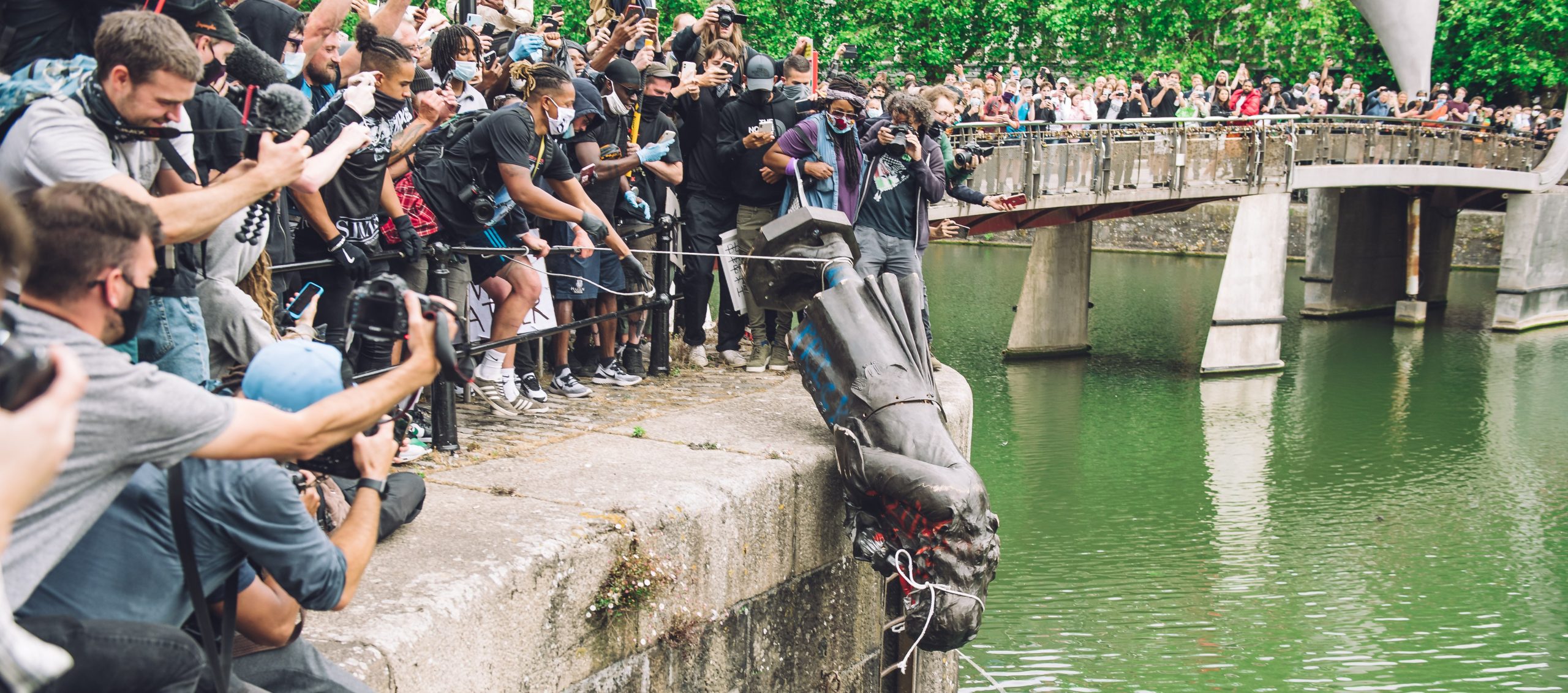 Protesters toppling down a large monument of Colston in Bristol. Getty Images.
Statue of Winston Churchill
London, England
Installed in 1973 
The statue of Britain's prime minister during the Second World War, Winston Churchill, in London's Parliament Square has been vandalized and targeted by anti-racism protesters over the past few weeks. This has prompted the city council to place protection measures for the statue, which still stands in the park today. British Prime Minister Boris Johnson condemned attempts by protesters to remove the monument. «It is absurd and shameful that this national monument should today be at risk of attack by violent protestors,» he wrote on Twitter. «The statue of Winston Churchill in Parliament Square is a permanent reminder of his achievement in saving this country – and the whole of Europe – from a fascist and racist tyranny.» Under Churchill's guidance, the British Army committed numerous crimes against countries it colonized and invaded, including India, Ireland, Iraq, and others. Churchill advocated the use of poison gas against Iraqis, Kurds and Afghans. His policies during the British colonization of India played a significant role in exacerbating the Bengali famine in 1943, which caused the death of almost three million people. His criminal legacy remains unique and its effects still present to this day. 
Despite the recent toppling campaign, hundreds of Confederate monuments remain standing in the United States until this day.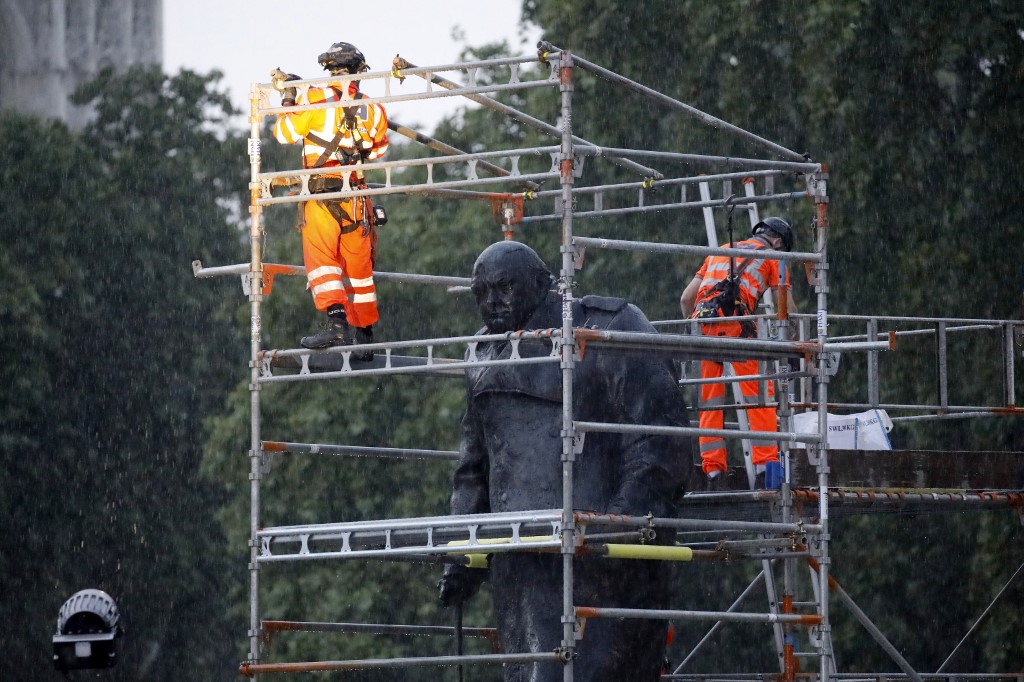 Workers remove the boards protecting the statue of former Prime Minister Winston Churchill from vandalism during anti-rascism portests, on June 17, 2020. Photo by Tolga AKMEN / AFP.