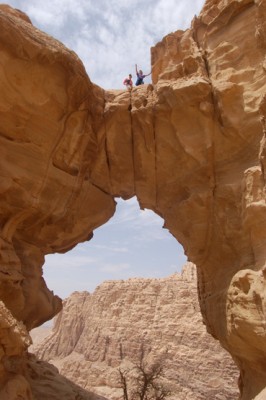 Written by Tony Howard
Previously, I've discussed the increase in Jordan of areas coming under controlled access regulations and the likely loss to the adventure community of what are good trekking and climbing areas. I would like to follow this up with an update – good news and bad news as they say…
Let's consider the bad news first: having had more meetings with all concerned, it appears that the extensive Petra Park area, about which we were mildly optimistic, is in fact suffering from a seemingly overwhelming desire to cater solely for mass tourism rather than support adventure activities; perhaps they are unaware that adventure tourism is the fastest growing aspect of tourism, which is the world's biggest business – even Saga are catering for trekking holidays and using cruise ships with climbing walls up their funnels!
Instead, the Petra Park authorities are taking the opposite approach, commencing with the construction of a track complete with steps (as if there aren't enough in Petra) on what was a popular unspoiled and natural 'adventure trail' to the beautifully located Monastery. This route, untouched since Nabataean times 2000 years ago, wound delightfully up across cliffs on wide rock terraces, finishing with a few exposed steps across a small cliff where hands were needed for balance – fixing a short length of cable should have sufficed for safety, in fact, we offered to fit it. Instead, the authorities are spending thousands turning what was a unique way though a quiet part of Petra into a tourist path for the masses. Additionally, we are told that this and other trails outside the Petra Basin (location of the old city) but within the Park perimeter will be designated and a fee charged accordingly – some might be classed as 'guided routes only', all of which will create problems for anyone trekking through the area (possibly insurmountable if there are insufficient guides). Climbing is still banned, the reason always given being that "it's dangerous and there are no rescue teams".
Slightly more optimistically (well, sort of) the RSCN (Royal Society for Conservation of Nature), who are planning a new Reserve adjacent to and immediately south of Petra and who were adamant that the area, Jebel Mas'uda, would have the same regulations as their other Reserves are considering relaxing the rules a bit. It's badly needed: basically their regulations state "no climbing, designated trails only, guided parties only, no wild camping, no personal tents" plus many other restrictions. Talking recently to the head of Wild Jordan (the fund raising 'tourist arm' of RSCN) we were told that they will review the regulations for Mas'uda and maybe ease off on trekking and camping restrictions as many long distance trails pass through on their way south from the Dana Reserve and Petra (new controls permitting) to Wadi Rum. Sadly, we couldn't get any confirmation that the ban on climbing would be reconsidered even though, as in Petra, there is no good reason for it other than the get-out that there are no rescue teams in Jordan.
More positive news is that something is happening regarding rescue. At the moment the very few accidents (except for people falling off donkeys or down steps in Petra) are usually in Wadi Rum and rescue is carried out by local Bedouin guides with, if necessary, the help of the Royal Jordanian Helicopter Squadron. The trouble is, none of the guides are recognised by the authorities and only three have had any official training – at Plas y Brenin with the help of the BMC (see footnote). This spring however we were involved in a meeting of adventure tourism operators and one of the outcomes was that guides need to be qualified and rescue teams created, not just for Wadi Rum but also for the Dead Sea Canyons, which are increasingly popular and sometimes serious undertakings. Take note, this could also mean that helicopter rescues may be charged for (they have always been free in the past).
We tried to initiate the relevant training courses in Jordan many years ago and helped prepare a syllabus with Andy Perkins, Mountain Guide and ex BMC vice-president, but in the end no funding was available. French Guide, Wilf Colonna, who works in Jordan for six months of the year, then took up the project but once again the authorities were not interested. This time it looks like it really will happen and Andy and Wilf are putting new proposals in. With any luck, this could mean that not only will there be long-deserved official recognition of Jordan's mountain and canyon guides, but there will also be trained rescue teams with modern equipment – perhaps this will remove the excuse given by the Petra Park and RSCN that climbing is banned because there are no rescue facilities. We shall see.
Meanwhile, we have suggested that the RSCN run a pilot scheme in Mas'uda, and allow climbers in to selected areas. There is good potential here for sandstone climbs similar to Rum, on walls up to three hundred metres high in a truly wild location, though logistics are a problem as there is no nearby road or other means of vehicle access, nor is there easy access to water. We have done a number of exploratory treks through the area, this spring reaching a huge rock bridge perched on the lip of a deep canyon. The initial approach down the canyon wall follows a spectacular staircase of Bedouin bridges and ladders, or a 'Bedouin escalator' as a friend called it. Half way down we found a sneaky exit leading into a side canyon with an impressive staircase of rocks leading up to the bridge. Shards of pottery were strewn everywhere, a piece we took with us being identified as possibly Edomite, so perhaps 3000 years old, but why is it there? Was the bridge a lookout place, with its view out to the southwest, across Wadi Araba to the Negev?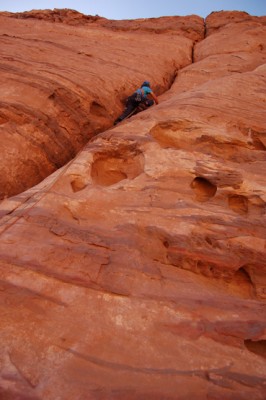 We also spent a month in north Jordan this spring, north of Ajloun castle, sponsored by the Abraham Path Initiative (API) who are working on a long distance trail "In the footsteps of Abraham, inviting us all to remember our common origins, to respect our cultural differences, and to recognize our shared humanity, highlighting the rich culture and hospitable people of the Middle East."
They asked if we could help out by finding more treks and climbs so that users of The Path might be tempted to stay longer in the area, thereby benefiting the local community. Life doesn't get much better: four weeks of exploration in an area that we knew would be at its best in the spring, and all in a good cause. Most of our time was spent on new walks including a couple of two-day treks down to the Greek antiquity site of Pella in the Jordan Valley. With only forty-year-old maps to go off, we also found two unexpected treks down thickly forested valleys, one with a good path and a real delight, the other totally wild and challenging and a great day out revealing numerous cliffs that should repay another visit to what is a uniquely beautiful part of Jordan.
With the help of the local Ayoun community who were very supportive of our project, we also located about a dozen other new limestone cliffs; as elsewhere in this part of Jordan, they are mostly about twenty to thirty metres high and of high quality karst limestone, sharp edged and pocketed – no polish here! Luckily we even found routes that could be climbed using trad pro. Grades varied from Diff to E1 5b and of necessity tended to search out cracks, though some picked their way nicely up steep pocketed slabs, whilst the occasional route ventured onto the walls, the best being Mick Shaw's 'Jabberwok', finishing up bulging razor sharp rock with its "claws that catch and teeth that bite".
We also explored some of the more unprotectable walls on top-rope but no doubt the growing number of keen Jordanian climbers will soon be making their own climbs here and equipping routes where necessary as is now happening on other limestone cliffs in the north. We were also assured by the Tourism Ministry that there is no ban on climbing, nor are there any plans for designated trails, so here at least we are free to roam and climb as in Wadi Rum, where new climbers visit from around the world and new climbs are still being done annually. This season's crop included routes up to five hundred metres on Jebel Rum by regular Austrian visitors Albert Precht and team, whilst we added our own humble contribution, Sunset Temptation, a nice two pitch HVS crackline approached up a formidable dune. With climbers and trekkers active from September through to May, the locals have reaped massive benefits from adventure tourism. Let us hope that the Petra and RSCN authorities can follow their example.
Footnotes:
British rock climbing grades are explained in full in the book Treks & Climbs in Wadi Rum. The grades mentioned in the story are:
Diff (Difficult) is Grade 3 UK, and grade 3 French
HVS (Hard Very Severe) is Grade 5a UK, and grade 5c or 5+ French
E1 5b (Mild Extreme) is Grade 5b UK and grade 6a French