Interview by Maïra al-Manzali
In the 80's-90's, there was one band constantly playing on Amman's radio stations. Their music used quintessentially 80's synthesized sounds, electric guitars, heavy metal drumming and Bedouin dialect. They held numerous concerts in the Roman Amphitheatre, and their music videos were on local Jordanian T.V. networks. Due to their fusion of traditional scales and progressive rock, they enjoyed popularity across many different groups of society.
Today, this band, Mirage, has virtually been forgotten. I asked people around Amman whether they'd heard of Mirage, and got confused looks from anyone under 30, and 'ahs' of faint recognition from those above. You cannot find any of their albums in the pirated CD shops in Wast al-Balad, which mainly sell hits from Egypt, Lebanon and Syria. Yet they were an 80's phenomenon. Mirage released the first Arabic music video*.
In the early 80's, Mirage enjoyed great local success with its English lyric songs. Started by school friends Wael Abu Nuwar and Jamal Taher in September 1984, the band went through an initial experimental phase incorporating Arab scales and melodies into progressive rock in English, in the footsteps of their idols Jethro Tull and Pink Floyd. The band grew, using different vocalists including Aida Abu Nuwar, Wael's wife, the 13-year-old Dina Ra-ad-Yaghnam, and Suher Odeh. They achieved royal recognition, and in 1985, played in the Roman Amphitheatre for the then young Prince Abdullah, who continually gave his patronage and support to the progressive fusion rock band, and even visited their studio. In 1990, Mirage was joined by the guitarist Emad Salsa and the drummer Haitham Nasser, who became core members. With their switch to Arabic lyrics, they achieved success not only in Jordan, but across the Arabic-speaking world.
All this changed in 1996 when a personal incident forced the lead singer Wael and his wife Aida into exile. It was a dramatic blow to the band, to the singers' personal lives, and to the alternative music scene in Jordan. The members went their own ways. Wael and Aida relocated to Canada. Emad Salsa started composing music for the Jordanian version of Sesame Street. Dina embarked on a communications career, with some occasional singing and acting. Haitham established a private business while playing drums for other friends. Today when one thinks of popular Jordanian music of the 80's-90's, traditional sha'abi music such as Samira Tawfik or Omar al-Abdullah come to mind, rather than progressive rock.
But now Mirage is back. They've released a slick rock version of Tigoul Ahwak on YouTube and will soon be launching their comeback album, BANATALGHAIM, inspired by the poetry of Hayel Ajlouni. I sat down with them in their studio in Jebel Lweibdeh, the hub of Amman's alternative scene, for a Q&A about their music and their come-back.
So how did Mirage start?
Jamal: Wael and I have history in music together. We had a rock band in the late 60's-early 70's at school, it was called The Madcaps. Don't ask me why [laughter]! It was a short time, an experimental phase, in which we mostly did cover songs.
Wael: We used to play at graduation or matinee parties for teenagers at clubs around town. It was a lot of fun, and Jamal and I learned to play guitar, keyboard, base… So Mirage is really the childhood dream, that one day we would have a band like the ones we listened to: Deep Purple, Pink Floyd, Jethro Tull, Genesis, Eric Clapton… We aspired to be a band like that. So when Mirage materialised in 1984, it was from that childhood dream back from the 70's.
How did the other members join?
Dina:  Ever since second grade I knew I wanted to sing: I wanted it so much I'd cry at night. I used to watch Mirage on T.V., and when I was 13, they were looking for another lead singer, so I auditioned! I couldn't believe I had gotten it!
Jamal: You were 13??
Dina: I was. Child labor! [laughter] Emad's really the only real professional; he's been playing guitar since before he could walk!
Emad: Before Mirage, I was playing the 'standard' music; jazz, rock…
Haitham: I brought Heavy Metal into the band.
Dina: He's like the crazy wild drummer from the Muppet Show!

Band members (left to right): Wael Abu Nuwar, Dina Ra'ed Yaghnam, Jamal Taher, Haitham Nasser, and Emad Salsa.
Did you have any Arabic musical influences?
Jamal: Arabic music is the reason for the diversity you hear in our music. It was everywhere: we grew up with it, even if we didn't consciously listen to it, we were  always aware of it. There was Oum Kulthoum playing, Fairuz playing, it was always there.
Dina: It's in our collective consciousness.
Jamal: When I wrote our first Arabic song, I was surprised; it came out spontaneously with this fusion. Being spontaneous is the secret. This is why it made a difference. It was a turning point in Jordan in the 80's when it came out, because this kind of fusion was new to them. Now we're trying to do this again; what we're doing now is really different. We want to make people stop and listen again. What we're doing is really sincere in our hearts and spontaneous, and we never compromise. We make it or break it.
Wa'el: Before releasing Tigoul Ahwak, we always wrote and performed in English. People were on our backs, telling us to do Arabic songs, and we finally did in the 1989. I wrote the lyrics for it. So as with our English songs, we released a music video for it. It turned out to be the first ever Arabic music video. Arabic bands had never produced music videos before*. We used costumes, horses, camels, and filmed in the desert. When we released it, it just caught fire, not just in Jordan, but in Morocco and Algeria. I still get Facebook messages from people talking about Tigoul Ahwak. People don't forget because it was the first song of its kind in the Middle East to be produced as a music video. That's when we switched completely to Arabic, and we stayed in Arabic until 1996, when I moved to Canada. Then we really stopped doing music… except for just on the side…
So talk about your switch to Arabic.
Dina: It was a quantum leap from our English work to authentic, heartfelt Arabic fusion. Because you can't get away from your roots. Nowadays, when I look at 'Arabs got Talent', it's sad that so many of us look to the West for culture and art when it has to come from within, from where you are from. There's not a right and a wrong, there's not a West and an East, it's just what you feel.
Jamal: Our melodies are never western spirited. The composition itself is not western or classical..
Dina: It's global!
Jamal: It's Oriental, it's Eastern, completely we don't try to sing in western melodies. It's different from the westernised Arab music, because it has that Oriental element.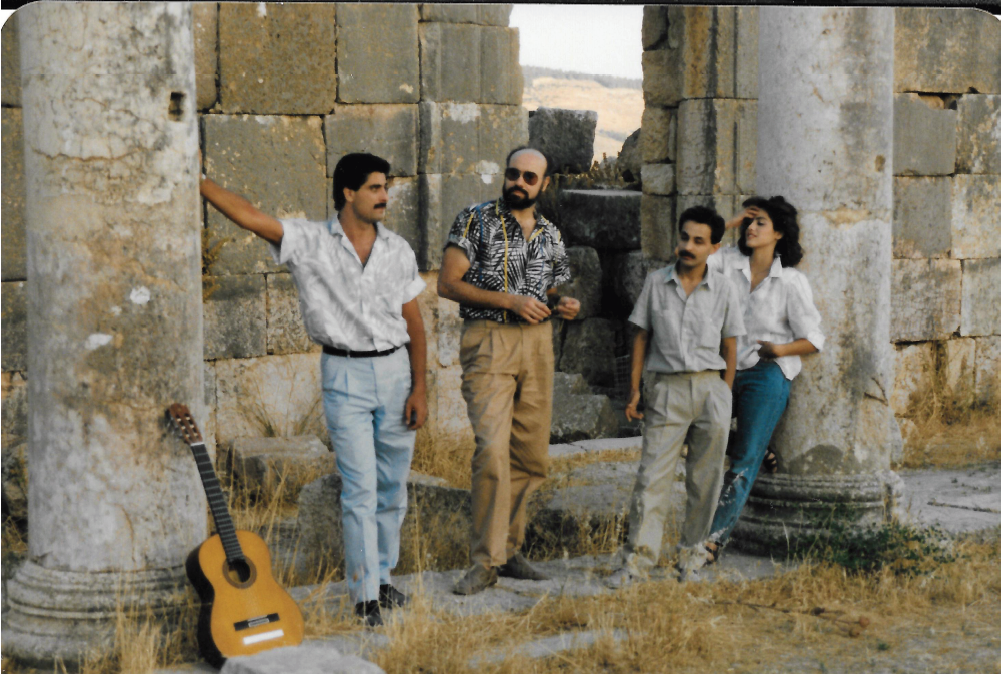 Mirage, 1986.
So how did the band get back together?
Wael: Well, it was actually Mohammed al-Kahhaleh, our esteemed manager, who brought us all together and started this whole reunion!
Jamal: He's our biggest fan. I don't know why, but he is [laughter] ! He's a sincere friend.
Mohammed: It started by discovering old tapes in my collection. I converted them to the internet and I found out there was no material of Mirage on the net. Once I put them up, it caught fire again.
Wael: I had always tried to find our old songs on YouTube: nobody in the band had them! So I'd check every once in awhile on the net, typing Mirage, and four years ago *boom*: My Own, the first song we'd ever released was on YouTube! I was so excited. I looked at it and saw 'Mohammed Kahhaleh', and realized we were cousins. So I immediately messaged him thanking him, saying I'd waited so long for someone to post a song! He told me that he had many of them and that he'd post one a day. And that's how the whole idea started.
Jamal: I was like 'Who's Kahhaleh? Somebody is posting our songs on YouTube! Who is this guy?'
Dina (jokingly): Our 'fairy godmother'!
Wael: So it took a while to digest the idea of getting back into music, at this age. Mohammed and I started experimenting with some of the old songs… and finally everybody joined in and it turned out to be the biggest headache of our lives! [laughter]
Jamal: We never stopped playing music… But writing new songs, and using this digital technology… I hate this digital world; I'm not into these gadgets at all. [laughter] I just want to pick up my guitar and play. But Wael stayed in the recording and production world, so thank god someone knows about this world!
Dina: I had no idea about the reunion, until I needed to record a song for Nadeem Sawaha's play about Gibran Khalil, A Rest Upon the Wind, so I sent Jamal a message on Facebook, and he said they had a studio! So I came here and… I ended up re-joining Mirage!
What are the major themes of the new album?
Wael: Land and belonging. All the songs on the album are written by Hayel Ajlouni, an icon in Jordan as well as a poet. He passed away less than a year ago. The album is a tribute to him, as well as a tribute to my late wife [Aida Abu Nuwar], who was the lead singer and passed away in 2009. This makes it special for us.
What do you think of popular Jordanian music today?
Jamal: I like everybody who does something different and has the balls and the guts to do something different. But it's mostly not melodic enough. The arrangement is very repetitive. As you can hear in our songs, we don't like repetition. Whereas for most popular music, there's 2-3 moods in the songs and that's it. Verse-refrain ten times. We don't do that.
Dina: There was a period of time when we didn't have music like this here. It's nice to see it coming back.
Jamal: Alternative music is booming. Rock has been back in Amman for the past 5-6 years. That's what we're doing now. Alternative Rock Fusion. Alternative Bedouin Arabic Rock Fusion.
Dina: But when we talk about music, we shouldn't forget about the 95% of the population that's not in Amman. The true success would be…before bridging with the West and other parts of the world, bridging it between each other. There's such a dichotomy across the Arab world between the progressive and the traditional. And I don't think that dichotomy used to exist, because a lot of the beauty of the progressive comes from the traditional, it's just a matter of contemporising it and finding a way to show people that we're not trying to distort our culture –we're just trying to bring it into the 21st century. Getting the people outside Amman to understand that we're actually trying to pay tribute to our culture as opposed to… offend it. That would be the greatest success, because music is supposed to bring people together. I think Mirage's music will reach people outside Amman, and from different cultures.
Jamal: There's a trend now. People are fed up. Unluckily, in the 80's, there were very few. People would not dare to do this. Tigoul Ahwak was originally supposed to be a rock song, but we didn't do it back then because there were no rockers at that time. We were afraid. You can hear that the remake is rock. Because now the place for it is there.
***
Mirage's new album, BANATALGHAIM, will be launched this coming month, and will be available on iTunes. Their album will include collaborations with the Dozan wa Awtar Choir Group and the opera singer Zeina Barhoum.
---
* While there were 'videos' with music in them, such as those by the classical Egyptian singer Mohammed Abdel Wahhab, or videos of live performances, there had been no videos produced for the sole purpose of accompanying a pop song until Tigoul Ahwak.