On Tuesday May 25th 7iber.com turns three years old, and we're celebrating with a storytelling and open mic night on the beautiful terrace of Dar al-Anda in Jabal Luweibdeh, complete with balloons, cake, and birthday hats. Don't miss it!
Summer is here; time to enjoy Amman's evenings in the open air with outdoor concerts and screenings. Sign of Thyme are playing at the JARA Theater on Friday, and Autostrad are playing along with Egyptian-American musician Kareem Salamah at the Hussein Park Theater on Wednesday. On Monday, check out the Young Leaders Social Media Cafe launch, and two documentaries on poetry and music duos at the RFC's Film House.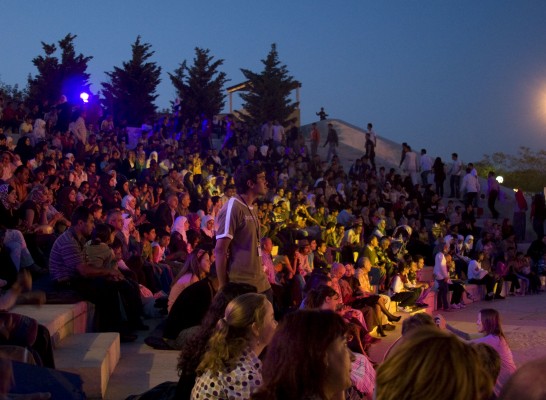 There's plenty more, so read on and enjoy. We hope to see you on Tuesday.

Sunday May 23, 2010
Book of the Week, Presentation and Discussion, Department of the National Library, 6:00 pm.
Theatre Performance "Two loners waiting in Solitude", written by Mohannad Salahat and directed by Mohammad Bani Hani. Royal Cultural Center, 8:30 pm.
Monday May 24, 2010
Lecture: Islam And the Cultural Identity in Europe, by Head of the Office of International Relations at the Hashemite University Dr. Jamal Al-Shalaby, Abdel Hamid Shoman Foundation, 6:00 pm.
Amman (Young Leaders Social Media Cafe) Launch, La Ville Cafe – Madina St. 6:30 pm.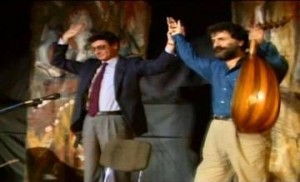 Screening of two documentaries produced by Vision Productions:
"Mahmoud Darwish and Marcel Khalifeh: the Poetry and Music Duo", and "Ismail Shammout and Tamam Al Akhal: We are still together", directed by Bashar Hamdan. Film House/Royal Film Commission. 8:00 pm.
Summer Musical Dinner Party, Canvas, 8:30 pm. Tickets for 35 JDs, part of proceeds go to GOLA (Gift Of Life Charitable Organization)
Tuesday May 25, 2010
Film: The Apple/Iran, France, Abdel Hamid Shoman Foundation, 6:30 pm.

Chapter 11 – Live Jazz at Canvas, Jabal Luweibdeh, 9:30 pm. For reservations call 064632211
7iber's Storytelling Open Mic night and 3rd Anniversary Celebration. At Dar al-Anda – Jabal Luweibdeh, 7:30 pm.
Emad Alaeddin live at Murphy's House of Rock/Um Uthaina – Red Rose Hotel. 9:30 pm.
Wednesday May 26, 2010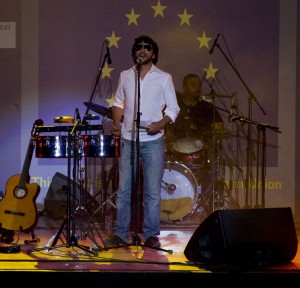 Concert by Egyptian-American musician Kareem Salama, and Jordanian group Autostrad, Al-Hussein Park Outdoor Theater, 7:30 pm. For more information: 065906573
Film: Turfa by Majida Kabariti, Royal Cultural Center, 8:00 pm.
Music: Bayt al-Ruwwad led by Shakher Hattar, Prince Hashem Park/al-Hashmi al-Shamali, 8:00 pm.
Thursday May 27, 2010
Theater
One Small Step, written by David Hastings and Directed by Toby Hulse, Al-Balad Theater, 8:00 pm. For more information: 06 4603420

Friday May 28, 2010
Souq Jara, Spring and Summer Market, Jabal Amman – First Circle – JARA Street (Fawzy Malouf St.), 10:00 am – 10:00 pm.
Sign of Thyme Live at JARA Theater, 7:30 pm.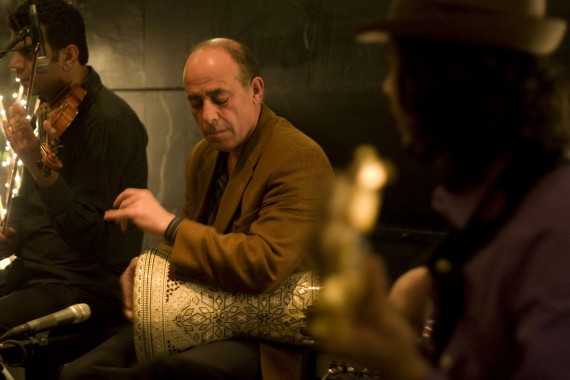 Saturday May 29, 2010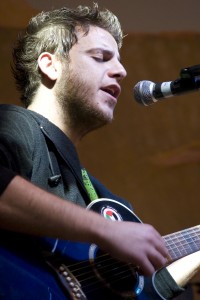 Music: El-Far3i Early Shows at JAMM (above Tallit Jabal, first left after Falafel al-Quds on Rainbow street), 6:00 pm.
Souq Al-Balad, Farmers Market, YWCA – 3rd Circle. 10:00 am – 2:00 pm.
Antiques Market, Ba'ounieh street/Jabal Luweibdeh, 10:00 am – 10:00 pm.

Cinema, literature and football, screening of short films: "Lo importante", "Rodilla", "Campeones", "Temporada 92-93" and "Gol", followed by a roundtable discussion, National Gallery of Fine Arts, 6:00 pm.