Amman Tech Tuesdays are back, this month with the Open Source Edition, so all you technology enthusiasts out there, don't miss an evening of networking and interesting presentations.
It's also Ta3leeleh time, so head to Mohtaraf Remal on Monday for Amman's monthly open mic evening.
This week brings you an invitation into the home of Makan resident artist Savage in his work "I AM Cinema." You also have two interesting talks; one by photographer and artist Regina Mamou at Darat al-Funun on Tuesday, and another on Community Organizing by Marshall Ganz, Advisor to the Obama campaign on organizing and leadership development.
You also have Scandinavian Film Days with features from Denmark, Sweden and Norway at the Royal Film Commission, and the week wraps up with two intimate live gigs with classic guitar and vocals in the vicinity of Rainbow street; Tareq Abu Kwaik's "El Far3i" at JAMM, and Hana Malhas with an acoustic show at Turtle Green.
For your full outlook of weekend markets, theater, music, films, and more, read on:
Sunday May 30, 2010
Book of the Week Presentation and Discussion, Department of the National Library, 6:00 pm.
Play directed by Ghannam Ghannam (Arabic), Directorate of Arts and Theater, 8:00 pm.
I AM Cinema (2010): Work by Savage, at Bait makan: artists' studio/home, 7:00 pm.
Play: One Small Step, at Al-Balad Theater, 8:00 pm.
Monday May 31, 2010
Scandinavian Film Days: Babette's Feast/Denmark, Royal Film Commission, 8:30 pm.
Ta3leeleh, a cultural, social, and artistic forum, Mohtaraf Remal/ Jabal Luweibdeh, 8:00 pm.
Tuesday June 1, 2010
Scandinavian Film Days: "One Eye Red" by Daniel Wallentin/Sweden, Royal Film Commission, 8:30 pm.
Amman Tech Tuesdays, Princess Sumaya University for Technology/Friendship Hall, 7:00 pm.
Artist Lecture by Regina Mamou, Darat Al Funun, 6:00 pm
Chinese Film "Tuya's Marriage", Abdel Hamid Shoman Foundation, 6:30 pm.
Wednesday June 2, 2010
Scandinavian Film Days: "North" by Rune Denstad Langlo/ Norway, Royal Film Commission, 8:30 pm.

Concert: Bayt al-Ruwwad group led by Sakher Hattar, Prince Hashem Park/al-Hashmi al-Shamali, 8:00 pm.
Talk: "People, Leadership, and Change" a public forum by Marshall Ganz, Hussein Cultural Center, 7:00pm
Thursday June 3, 2010
Film: "Space Launch", documentary with commentator: Dr. Hanna A. Sabat, Jordanian Writers Association/Shmeisani, 6:30 pm.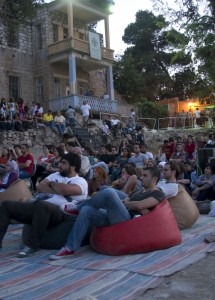 Friday June 4, 2010
Souq Jara, First Circle – JARA Street (Fawzy Malouf St.), 10:00 am – 10:00 pm.
Concert by Local Band, Souq Jara Theater, 7:30 pm.
Saturday June 5, 2010
Souq Al-Balad, Farmers Market, YWCA/near Third Circle, 10:00 am – 2:00 pm.
Antiques Market, 6 Ba'ounieh street/Jabal Luweibdeh, 10:00 am – 10:00 pm.
Evening of Song &Dance with Anwar Rais of Lebanon, fundraiser for The Al Hussein Society for the Physically Challenged, at Husain & Tanya Mango's Residence in Abu Sous, 8:00 pm. Tickets  50JD per person. For more information call 06 581 7598 /99.
El Far3i Early Show, guitar and vocals by Tare q Abu Kwaik, JAMM/Above Tallet Jabal (Jabal Amman), 6:00 pm.
Hana Malhas Acoustic Show, Turtle Green/Rainbow street, 7:00 pm.