They say the missing are neither dead nor alive. They must be floating in a middle world waiting for their fate to be unveiled.
I was seven years old in 1981 when my father left the house one morning and did not return at night. He was detained by a militia in Beirut and was only set free 3 days later.
Many years later, I learned he was luckier than the others. There is an estimated number of 17,000 missing in Lebanon whose families still await their return. They all disappeared during the 1975-90 Lebanese civil war and their fate is still unknown. They were from diverse religions/confessions, gender, ages and political persuasions and were abducted or killed by the different Lebanese militias, the PLO, Syria, or Israel and their allies.
Lebanon, a small country whose population accounts for 4 million, is home to eighteen official religious sects. After fifteen years of civil war that ended with an estimated number of 144,000 dead and 184,000 wounded, an amnesty law in 1991 not only pardoned all those who took part in the war, but also relieved them from the obligation of testifying and sharing all the information they have, including any details on the fate of the missing.
A Commission of Inquiry — which was set up by the Lebanese Government in January 2000 as a result of pressure from the families of the "disappeared" — did set about examining several mass graves, but stated that they were unable to ascertain the identities of those who were buried. The report further stated that none of the "disappeared" were alive in Lebanon. One of the starker conclusions of this report recommended that those missing for at least four years should be considered dead.
Since 2009, I started working on telling the stories of the families of the missing and the kidnapped in Lebanon, one of the gravest crimes in the international law and one of the most unsolved issues in Lebanon. While the whole society was trying to move on, thousands of people were still struggling to know the fate of their loved ones and refused to put the war behind them.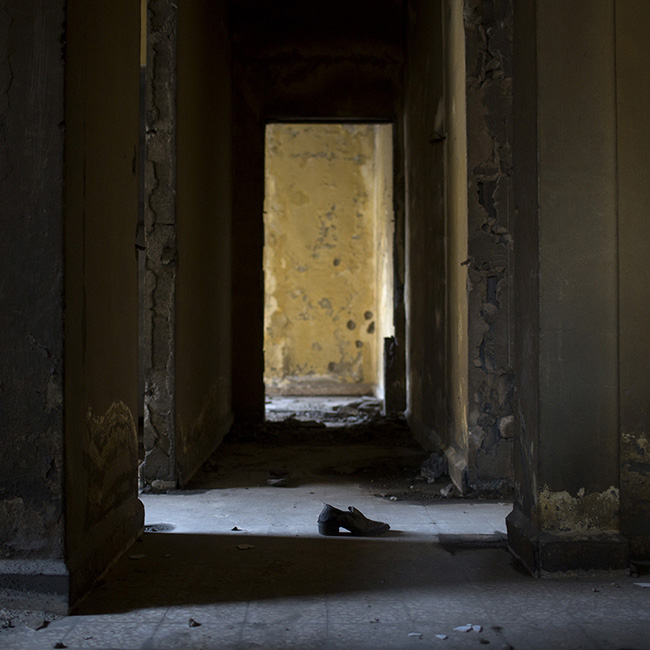 A shoe in an abandoned building that was used as a detention center during the war in Bhamdoun, east of Beirut. Inside the building, a couple of months after Wajih Zahalan was kidnapped in 1982, was found a pile of passports belonging to people who were taken away by force by a Lebanese militia, amongst those was the passport of Wajih. Ayman Zahalan, his son, who was 8 years old when his father was kidnapped, entered the building January 2014 for the first time since the kidnapping of his father in 1982. He started looking for writings on the wall, hoping to find a message from his father but found nothing.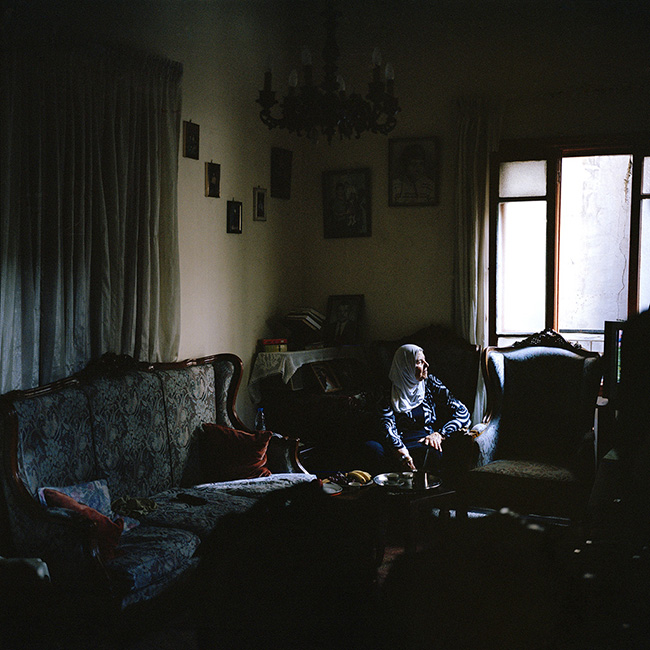 Halima al Laddawi (Imm Rasheed) watches TV at her house in Tripoli, north of Lebanon. Above her hangs a photo of Rashid who went out on April 10, 1976 to buy cigarettes and never came back home. He was 15 years old. His mother looked for him all around the country, but never heard anything about him. Her heart tells her he is still alive.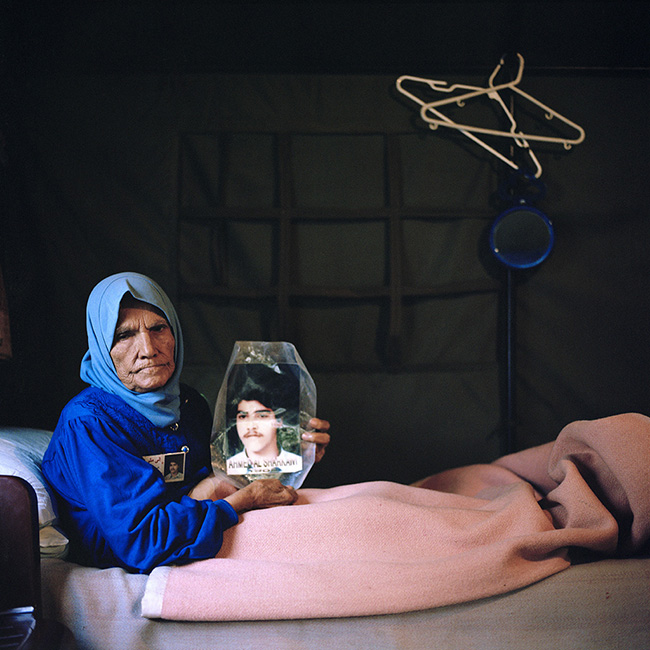 Imm Ahmad holds Ahmad's photo as she sits on one of the beds at the tent of the victims of enforced disappearance and the missing in downtown Beirut- Lebanon. Ahmad was taken away by force in 1986 from his home where he lived with his wife and little son. His mother looked for him everywhere in Lebanon and Syria but never found him. He was 21. He never knew that his wife was expecting his second child.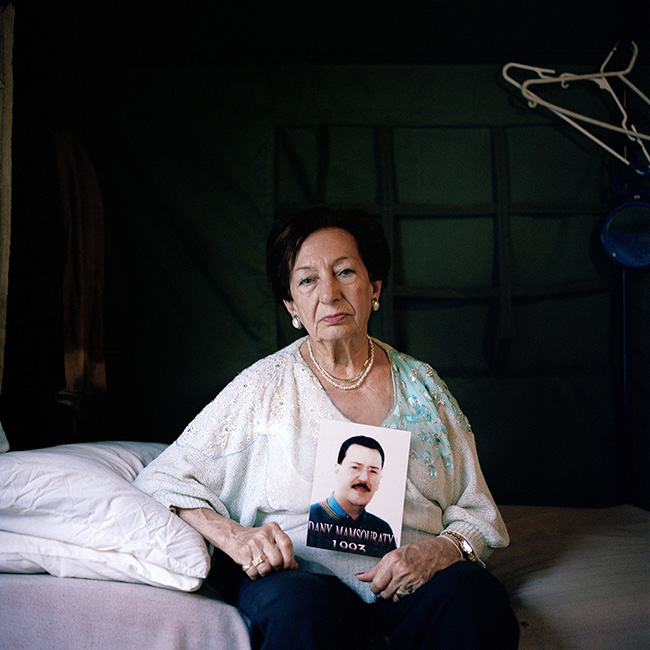 Marie Mansourati holds a photo of her son Daniel as she sits on one of the beds at the tent of the victims of enforced disappearance and the missing in downtown Beirut- Lebanon. Daniel was taken away by force in 1993 as he was driving in a Damascus street with his brother while on a visit to see his relatives in Damascus. He was never seen again.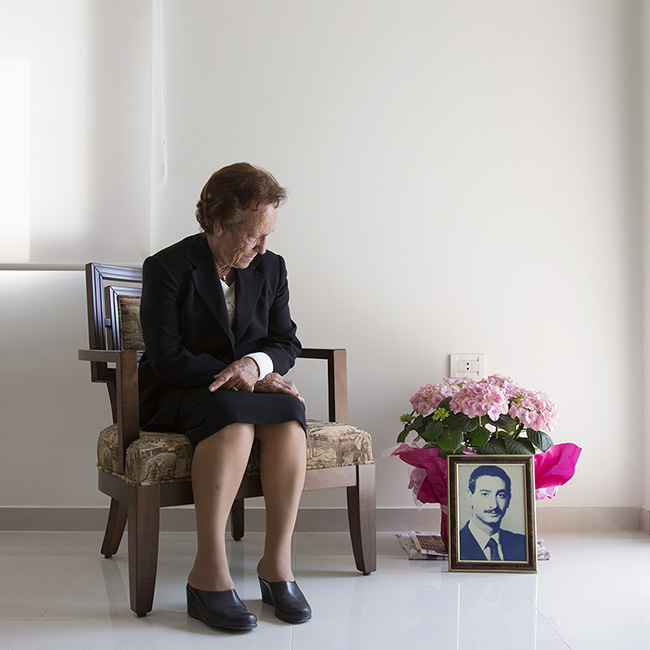 Marie Ghawi looks at the framed photo of her son Georges who was 22 when he was kidnapped on December 30, 1983 while on his way to a business meeting in west Beirut- Lebanon. He was her only son, a brother to 2 sisters. She looked for him everywhere, but never found him and his fate in still unknown. That day, she put his photo next to his favourite flowers, a gift from her grandson on mothers' day.
Few years ago as she was listening to one of the released detainees in a Syrian prison recounting the ways the detainees are tortured, she had a stroke that left her with a very heavy tongue. She imagined her son being tortured this way.
A photo of Georges Ghawi sits on one of the two beds in the one bedroom apartment where his mother Marie lives alone for the past month, north of Beirut. When I entered her room, the photo was on the bed. She said she sleeps on the other one and that she keeps talking to her son, wondering if he is still alive and safe.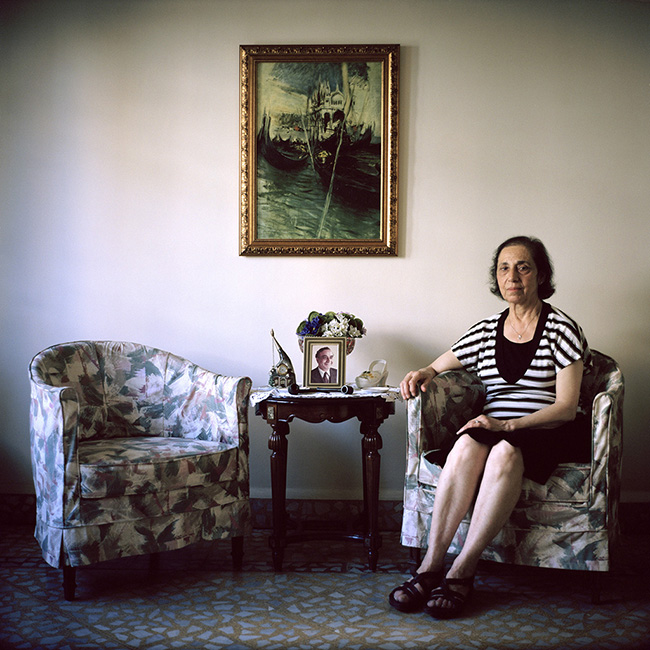 Aida sits in her living room next to a photo of her husband Kamal Geadah who was stopped at a checkpoint on Aug. 19, 1985 while driving back home from work with his nephew Semaan. They were both taken away along the car and never seen again. Their fate is still unknown. Semaan, a volunteer with the Lebanese Red Cross, had just finished helping in carrying the victims of an explosion in Beirut.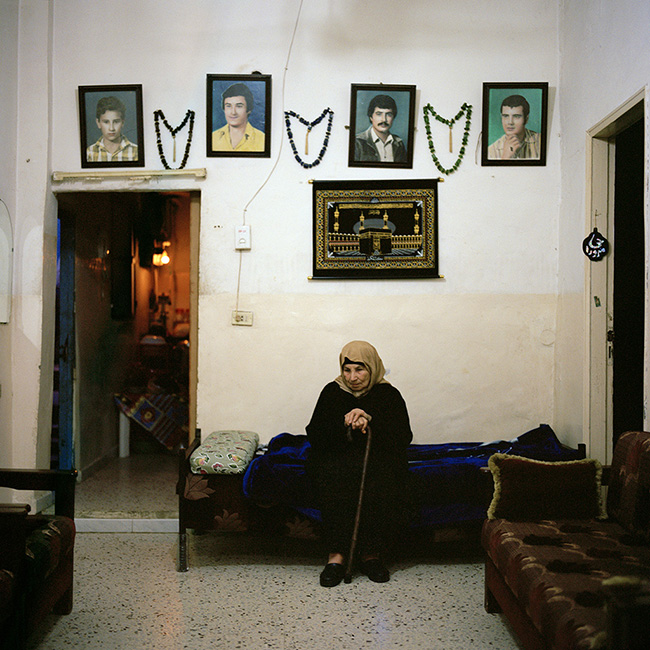 Imm Aziz sits in her living room under the framed photos of her 4 sons in the Palestinian refugee camp of Burj el Barajneh in Beirut's suburbs. In September 1982, militants came knocking on the Dirawi's door while they were having breakfast together and took away by force Imm Aziz' 4 sons, Aziz, Ibrahim, Mansour and Ahmad. Not very far from their home, the Sabra and Chatila massacre was taking place. She never saw them again and their fate is still unknown.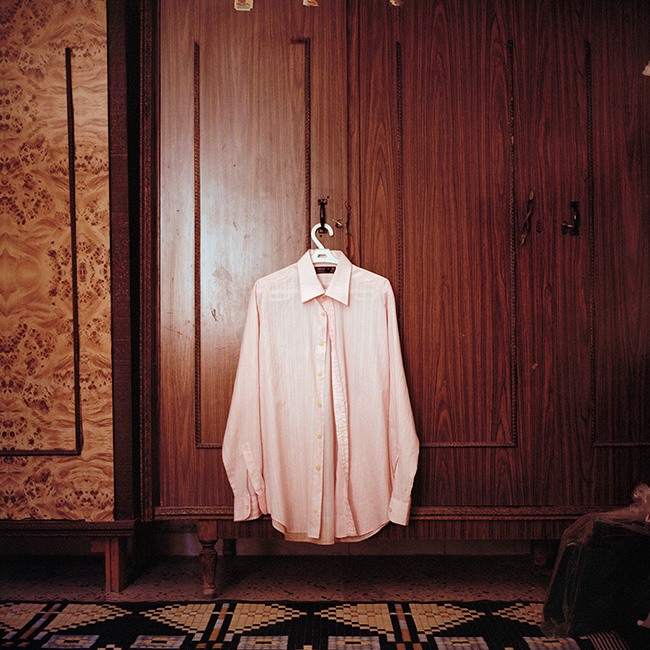 The pink shirt of Aziz, who was 31 when he was taken away by force from their house along with his 3 younger brothers. Imm Aziz tried to give him his pink shirt as he was on the truck, but the militant got on the truck and kicked him in front of his mother, Imm Aziz recalls.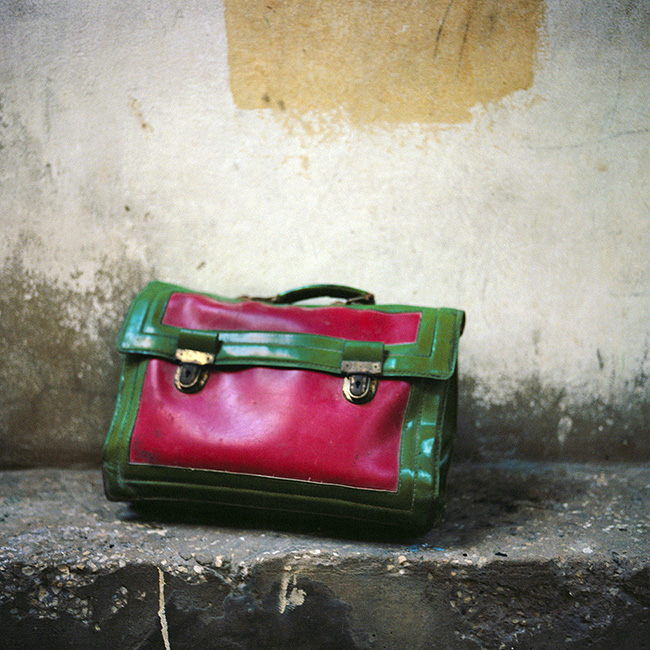 The school bag of Ahmad, the youngest son of Imm Aziz, who was 13 when he was taken away by force from their house along with his 3 older brothers.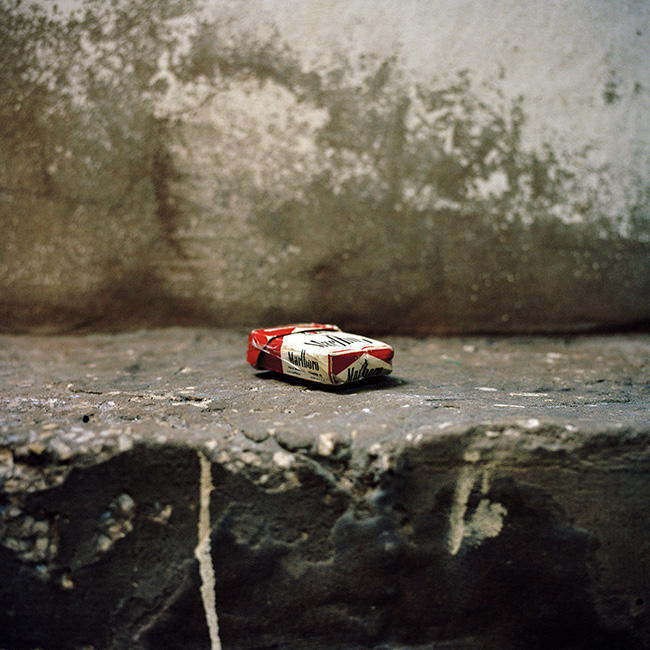 The pack of cigarettes of Aziz. Like many families of the Missing, Imm Aziz kept some of the belongings of her sons as relics of their one-time presence, hoping that they will come back home one day to find their belongings preserved. A pack of cigarettes, a toothpaste etc became the most important items she hangs on to.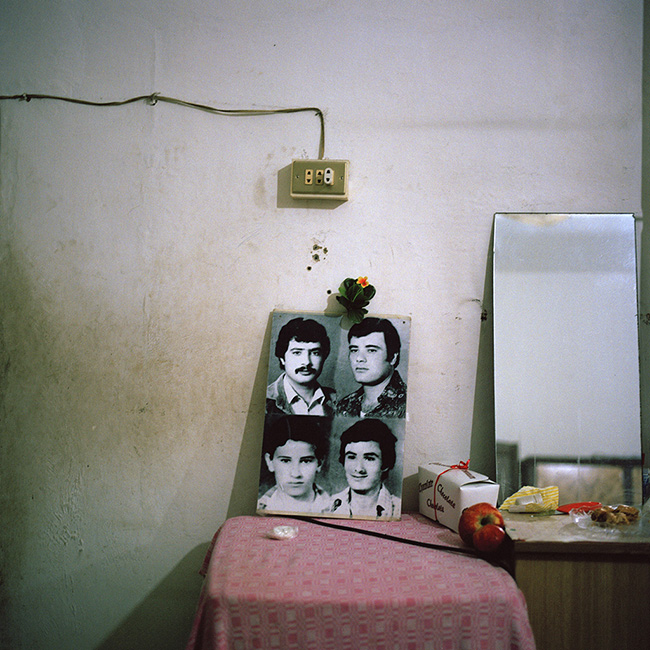 A photo of Imm Aziz's 4 sons sits on a table in the Palestinian refugee camp of Burj el Barajneh in Beirut's suburbs.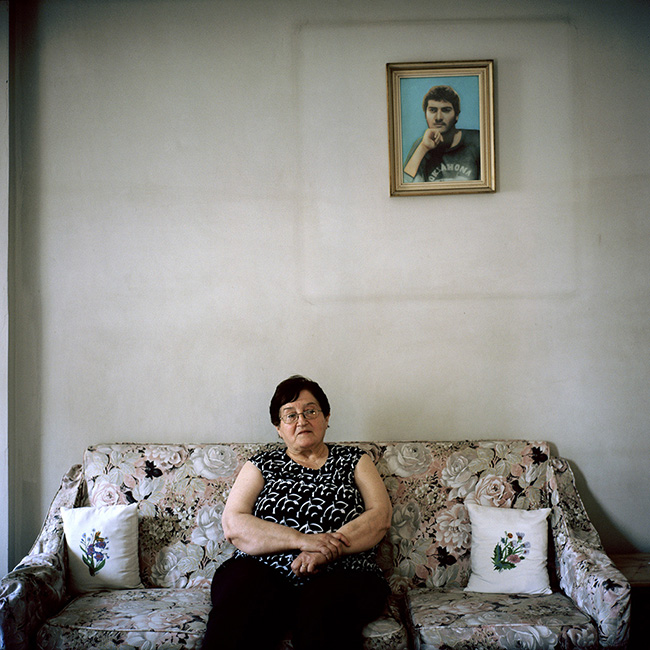 Maguy Andreotti sits in her living room under a portrait of her son Stavro. In 1978, on a July day Stavro, 17, went with some friends from his neighbourhood for a drive. The teenagers never came back home that night. Maguy lost her 3 boys in Lebanon's 1975-90 civil war. Stavro, 17, was kidnapped and his fate is still unknown. Her middle son, 9, was killed when a bomb hit their house in the 70s and her youngest one, 1, suffocated from the shelter's smoke while they were hiding from the bombing. He died in her arms as she thought he was sleeping. Few years ago her husband passed away. She lives alone with her memories. Maguy talks mostly about Stavro. She mourned her two other sons as well as her husband but she still has hope that Stavro will come back one day.