During this time of year, tourism guide Bassam Al-Taji, who is fluent in Hungarian, gets in contact with anonymous Hungarian tourists via Whatsapp. After reaching his number by way of his personal website, they consult with him to find a way to spend their vacation in Jordan.
"Hungarians tour around the whole kingdom and they take their time with it," Bassam says, comparing the current situation to before, when two days in Jordan were offered as part of a bundle for Hungarian tourist groups by Charter, a Hungarian airline:
"[The airline] monopolized the flight between Budapest and Sharm El Sheikh, and it passed by Amman for a while."
Beginning in last October, a direct flight between Amman and Budapest took off for the first time, nine months after the announcement that the Ryanair company and the Jordan Tourism Board had signed an agreement to run 14 new direct routes between 13 European cities, Queen Alia Airport in Amman, and Aqaba Airport.
The direct routes Ryanair launched included Austria (Vienna), Belgium (Brussels), Cyprus (Paphos), the Czech Republic (Prague), Italy (Bologna and Milan), Lithuania (Vilnius), and Poland (Warsaw and Krakow). These flights reach Amman, and eight flights reach Aqaba Airport: two each from Bulgaria, Italy, Germany and Greece.
This was the first agreement signed by the Jordanian government as part of a series of agreements with low-cost airlines, the ticket prices of which resemble the price of a dinner entrée.
During that same month, the Jordan Tourism Board made an agreement with Norwegian Airlines to operate two weekly flights from Copenhagen to Amman and Aqaba.
In November of that year, EasyJet returned to Jordan, but this time to operate two weekly trips from Aqaba Airport to secondary airports in Berlin (Shönefeld) and London (Gatwick) exclusively during the winter months, which extend to the end of March.
Ryanair returned in April to announce its willingness to start, during the next winter season, four new flights from Amman to Malta, Germany, Greece and Milan, starting in November 2019.
Usually, tourism guides describe the "dead months," as the months of January and February, but compared to this year, "I have not had a free day," says Adel Al-Mahadin, a guide fluent in Romanian.
The testimony of tourism guides accords with the 68% rise in the number of tourists that passed through the city of Petra during February of this year compared to the previous year. The increase in the number of passengers in Queen Alia Airport in the month of February of this year is estimated to be 50,000 travellers, compared to February of 2018.
The tourism sector began to recover in 2017 due to a few factors. One is the relative political calm in the neighboring countries compared to 2014 and 2015, and the others are linked to a change in approach by the Tourism Ministry and the Jordan Tourism Board to make Jordan an easier location to reach. This is according to the previous Tourism Minister, Lina 'Anab, and her statements to 7iber.
More than 8.4 million travellers passed through Queen Alia Airport in 2018, an increase of half a million travellers compared to 2017, according to Airport International Group numbers.
Over the last few years, the rise in traveller numbers was accompanied by a surge in government revenues from the airport, according to the Transportation Ministry budget.
In this report, we evaluate the effect of low-cost airlines' decision to operate their fleets between Amman and other cities on the tourism industry spanning four months (November 2018 to February 2019).
We pose the question: what policies must the government undertake to ensure continuous growth in the number of people passing through Jordan and to ensure the distribution of tourism revenues to different levels of society?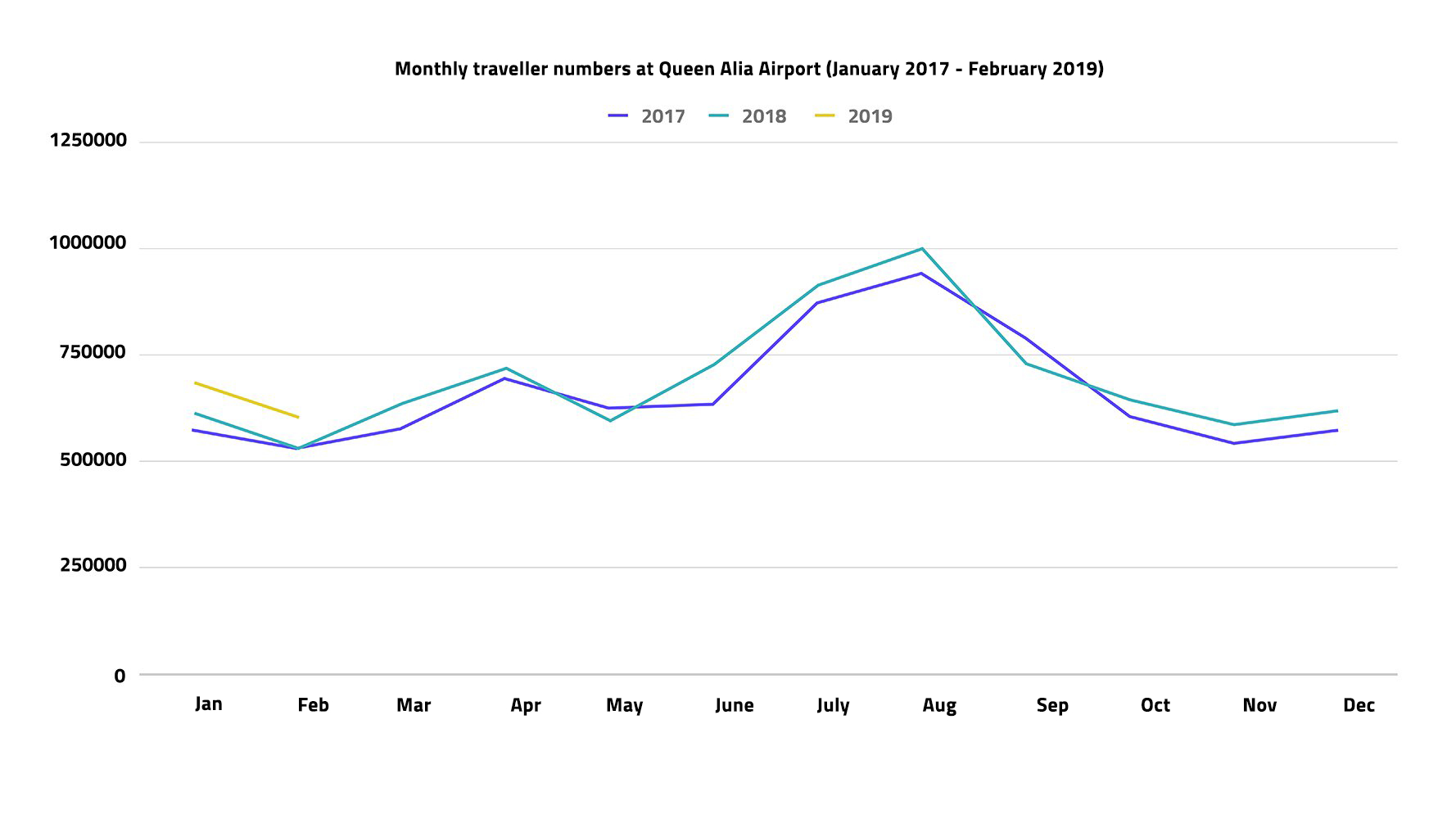 Low-cost airlines in Jordan: "We brought people to Jordan"
For less than 100 Euros, you can buy a round-trip ticket for June 2019 between Amman and Budapest from Ryanair.
Low-cost flights began to spread in the United States at the beginning of the 1970s after restrictions on the civil aviation market increased, and in the 1990s in Europe after the aviation market was liberalized.
Low-cost airlines rely on a profit model based on lowering operational flight costs by shrinking services that the traveller receives from normal airlines.
For example, these companies operate their flights from small, non-central airports. They turn to these cities to lower the cost of taxes or ground services like luggage handling.
These companies provide prices for seats exclusively, without any of the services included in the ticket [price] of large airline companies.
Thus, for example, these airplanes do not provide television service, and put an additional premium on bags that the traveller wants to bring along, whether in the cabin of the airplane or bigger bags, with very strict rules on the dimensions of these bags and their weight.
The Jordan Tourism Board began to turn to attracting low-cost airlines to Jordan in 2015. By its own description, this was one of the suggested solutions to confront the problem of decreasing numbers of arrivals in Jordan from all continents compared to 2014.
Attracting tourists of the world to Jordan requires "a complete paradigm shift in our way of thinking and our management of the sector in order to respond to the growing demand and changing travel behaviors worldwide," says Lina 'Anab, the Minister of Tourism from 2016 to 2018.
Independent tourism has spread because it does not require the medium of a tourism office, and tourists prefer to spend less on the price of tickets and more on the destination itself.
But the number of routes that came to Jordan was small, and the price of travelling by them was exorbitant. According to 'Anab, "our study revealed that the cost of arriving and ease of travel were fundamental factors in attracting tourists to new places."
In November 2018, around thirty low-cost flights were launched. The number of arrivals rose notably from countries connected to Jordan by low-cost airline routes via Queen Alia Airport in Amman and King Hussein Airport in Aqaba.
For example, the number of Romanian arrivals at Queen Alia Airport rose from 250 to 700 visitors between October and November after the launch of the first direct route between Amman and Bucharest, and the number of Hungarian tourists rose from 148 to 638 after the launch of the Budapest-Amman route.
But the number of Italians jumped from 2800 to 4000 visitors between October and November after the launch of two new flights between Amman and Milan and between Amman and Bologna.
Notably, the increase was not just limited to countries that share low-cost airline routes with Jordan. It included other countries, as it became possible to reach Jordan via extended low-cost routes between those countries and Jordan.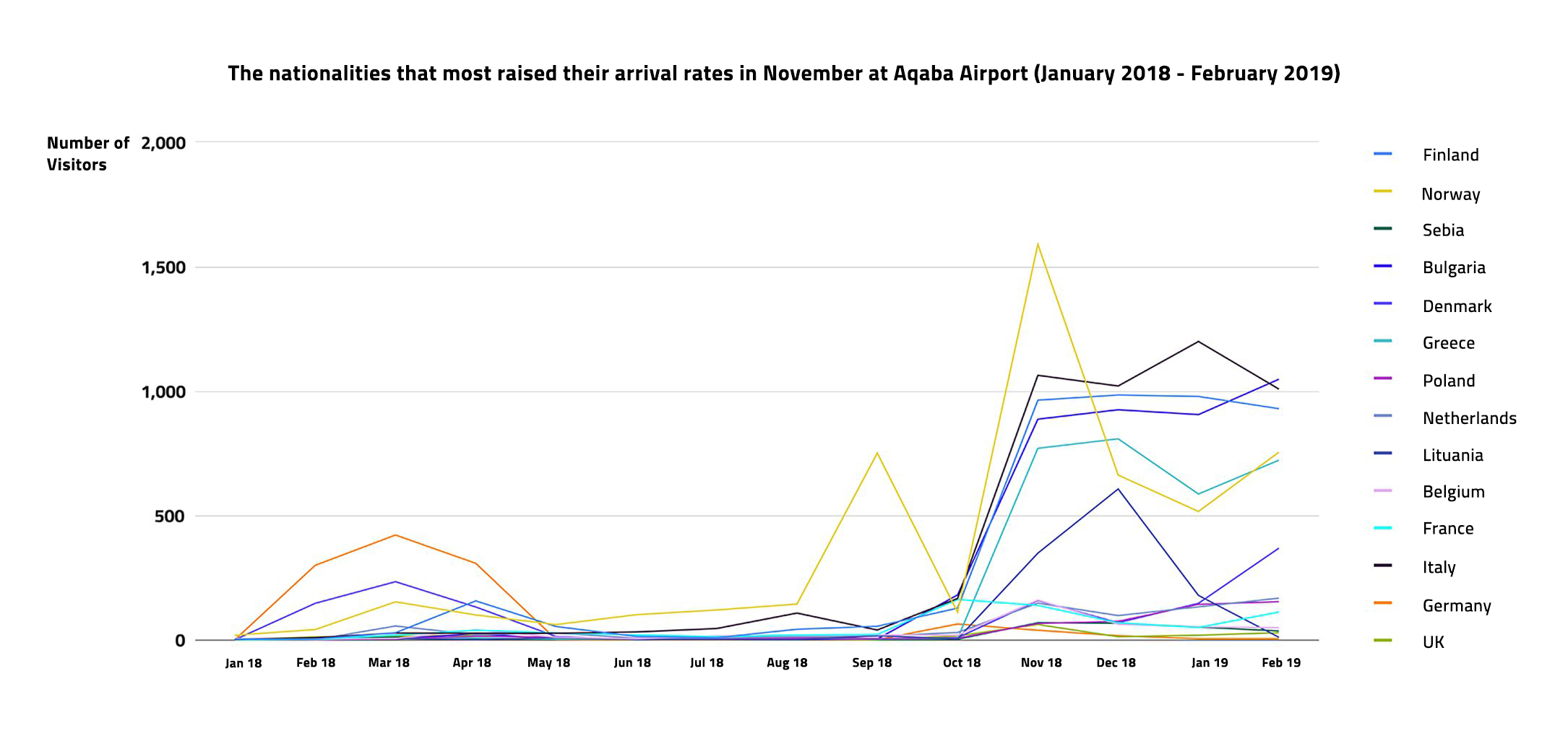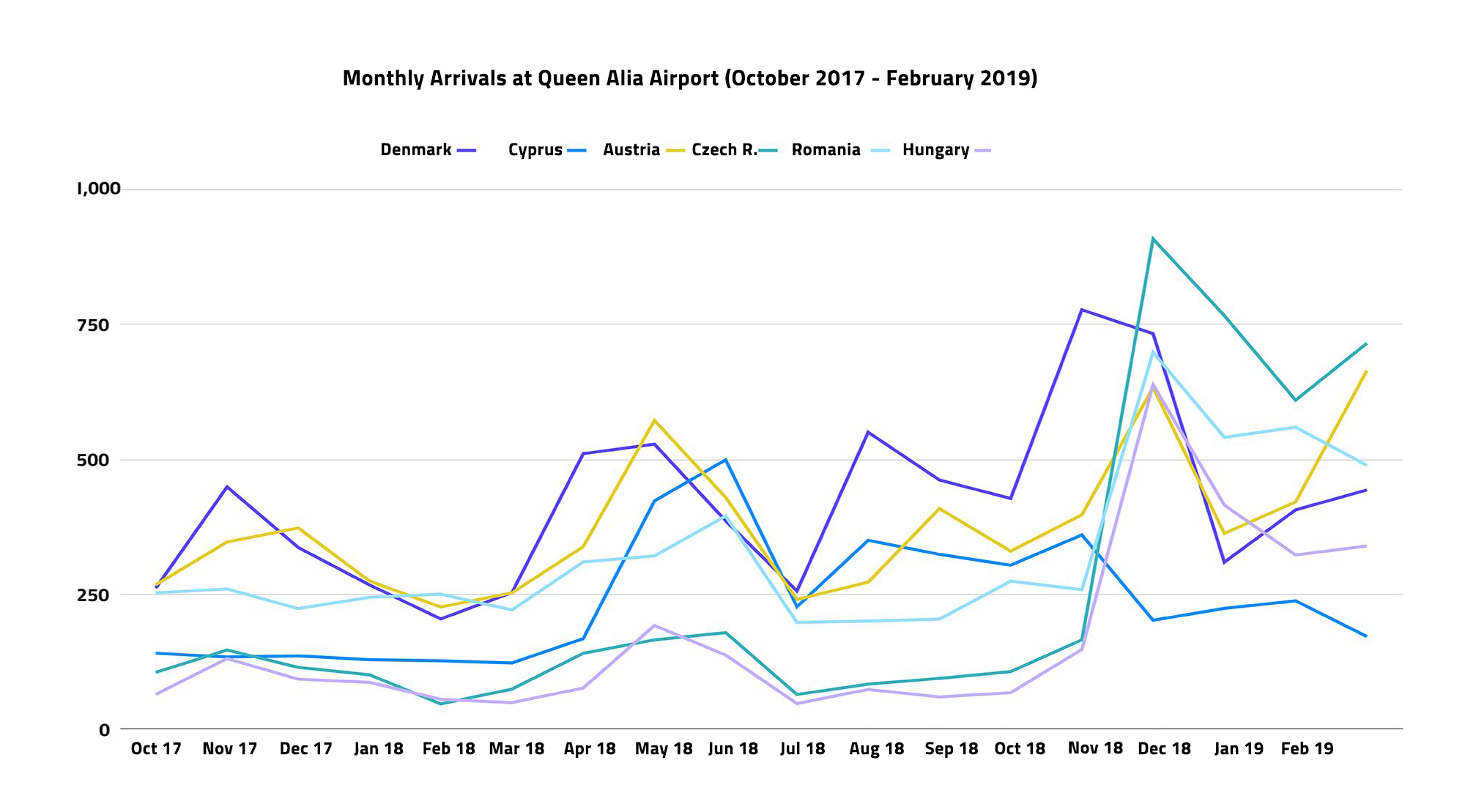 The story of low-cost airline companies in Jordan did not begin in 2018. 2014 saw numerous setbacks for the tourism sector. One of these was the low-cost airline EasyJet's halting of two direct flights between Queen Alia Airport and secondary London airports like Stansted and Gatwick, a year after it had launched them in 2013.
"All airline companies, and especially low-cost [ones], reevaluate the profit viability of their routes," the director of marketing for the Jordan Tourism Board, Ala' Al-Hindi, says to 7iber.
Although the Board did not conduct a study to specify the reasons EasyJet left Jordan, according to Al-Hindi, an airline halting a route does not necessarily mean that the company loses. Rather, the airline found a route to the same region with a greater financial viability:
"EasyJet said that the tax at Tel Aviv airport is less and the cost of ground services is less, and that [the route] goes the same distance, and spends the same [amount of] gas, so it is more suitable for it to go via the Tel Aviv route [rather than going via] Jordan."
The Board will pay a sum, for a period of three years, for marketing campaigns for Jordan via other airline channels as well as social media networks. Ala' Al-Hindi clarifies that the sum is in exchange for these companies to commit to a number of routes that they will launch from Jordan.
After three years, the airlines will evaluate the profit viability of these routes, and the Board will evaluate returns on the investment by measuring the increase in tourism sector revenues in comparison with the cost of the marketing services that it paid to these airlines.
The goal, according to Al-Hindi, is for Jordan to do away with seasonal tourism, and for it to be a tourism destination year-round.
We see, for example, that the high season for foreign tourism in Jordan is February to May, and October to December.
"In the summer, Europeans don't come to us. Arab nationalities come to us because foreigners go to other places that are cheaper like Sharm El Sheikh and Turkey," according to Al-Hindi.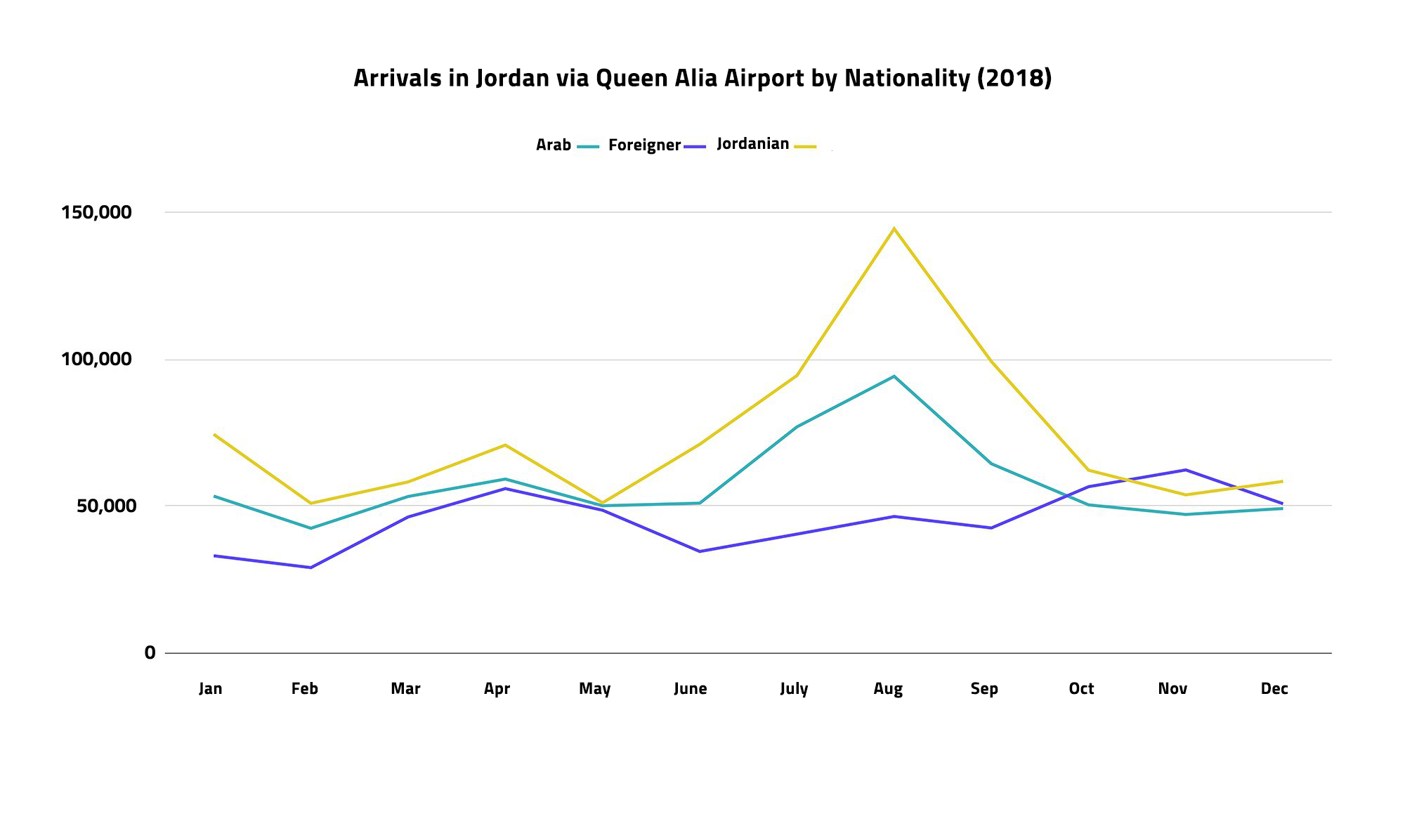 These agreements did not include lowering the exit and entry tax at Queen Alia Airport, so that still adds to the final price of the ticket. The tax is split between the Jordanian government and the company employed by the airport.
But Aqaba airport and Marka airport are not subject to the exit tax: "we worked with the government to exempt them from this tax so that they can lower their ticket prices," according to Al-Hindi.
The Transportation Ministry is researching ways to develop Marka airport flight paths in order to enable the airport to receive regular civilian flights, especially after it removed Queen Alia Airport's exclusive right to operate regular flights. The agreement between the Airport International Group and the government imposed conditions on Queen Alia Airport.
These conditions entailed that no other airport could work regularly within a distance of 200 kilometers except in case Queen Alia Airport's annual volume reached eight million travellers.
These conditions were realized in 2018 when the number of passengers in Queen Alia Airport reached 8.5 million travellers.
The effect of low-cost airlines on tourism
There are many studies worldwide that try to evaluate the impact of low-cost airlines on economic growth in the cities in which they operate.
Some of these studies indicate that low-cost airlines affect tourism development in the few touristically-renowned cities and their neighboring cities.
Thus, for example, the Lithuanian city of Vilnius and the Maltese city of Malta benefited after Ryanair began operating flights in each.
At the same time, some of these studies criticize the standards used to evaluate their impact, such as tourism spending or the number of nights that tourists arriving with low-cost airlines spend in the destination country, considering that these standards don't take into account the concentration of spending and its influence on other sectors of society.
In Jordan, the numbers of the Tourism Ministry's statistical report show an increase in foreign spending in 2018 of 26% compared to 2017, which saw a noticeable reduction in the rate of expenditure.
The Tourism Ministry indicates that the spending numbers include aims such as tourism, treatment, and education.
But despite the impossibility of deducing the effect of private spending on tourism exclusively, we note an increase in foreign spending in Jordan between 2017 and 2018, when compared to Arab spending, which includes visitors from Arab Gulf countries and Jordanians living abroad, as the Ministry classifies them.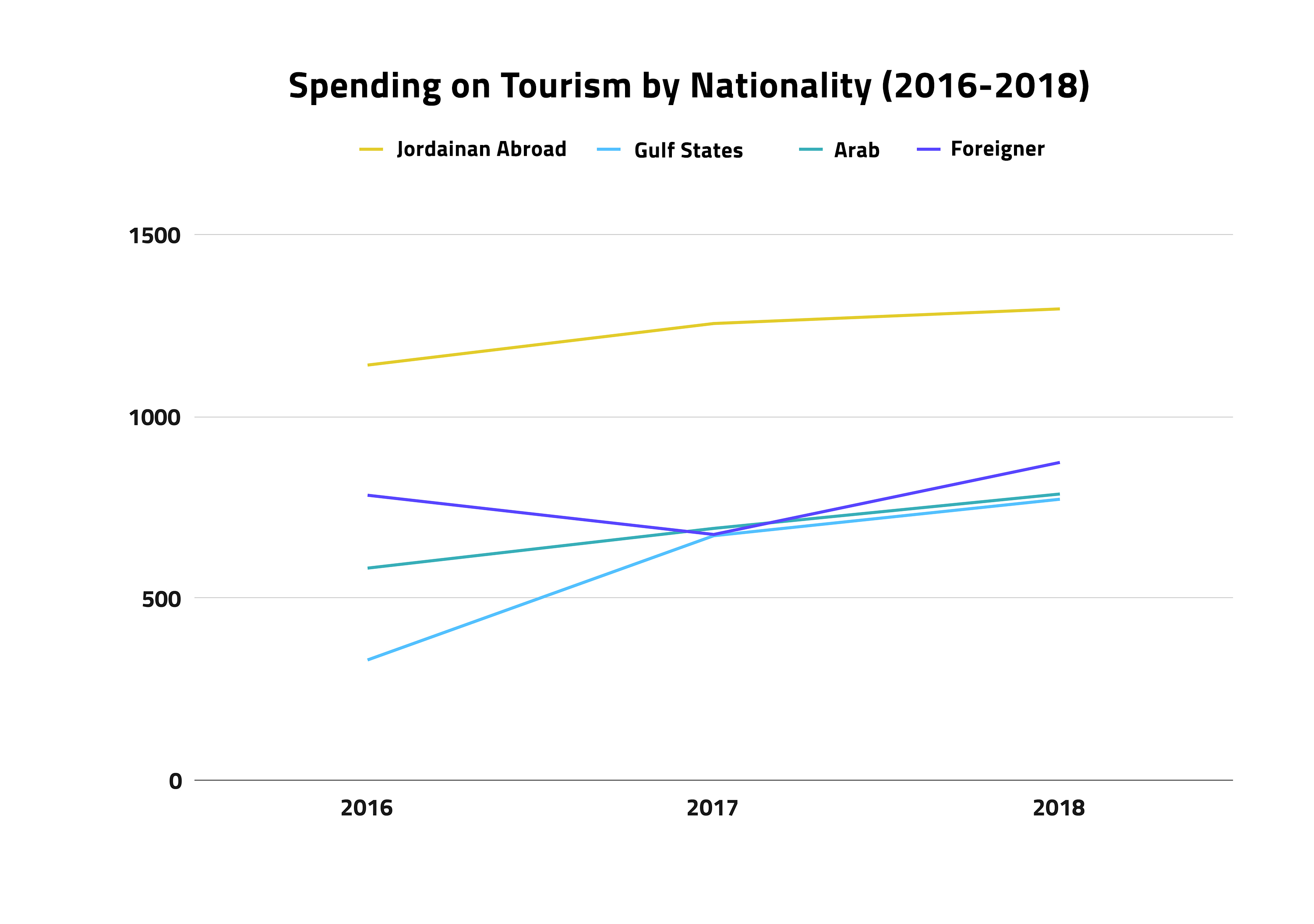 Casting a glance on foreigners' monthly tourism expenditure in the last quarter (from October to January) points to the impact of low-cost flights on tourism spending generally.
Thus, we see an unprecedented rise in the rate of foreign spending in the last quarter of 2018 compared to that same quarter in 2016 and 2017.
It is likely that tourism aims are the most common reasons for which foreigners come to Jordan, especially after the launch of the Jordan Trail itinerary in 2017, which put Jordan on the National Geographic magazine's list of best destinations in 2018.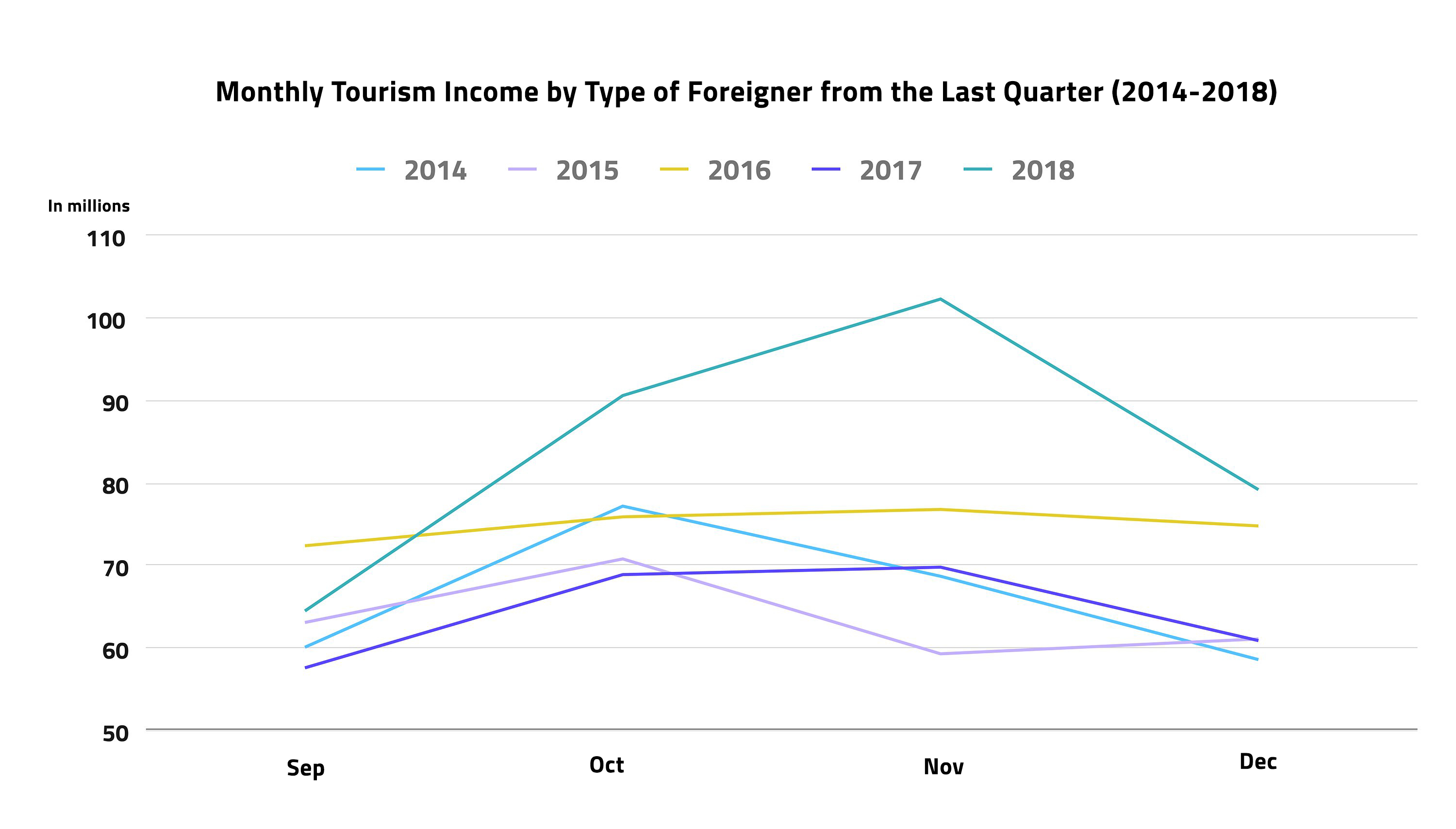 The increase in foreign spending on tourism concurs with the observations of Adel Al-Mahadin, the Romanian-speaking tourism guide.
According to Al-Mahadin, since the first direct flight was run between Amman and Bucharest in October 2018, Romanian tourists started to spend at least six nights in Jordan, compared to two nights before.
Romanian tourists came to Jordan from Tel Aviv via Aqaba due to very low ticket prices between Bucharest and Tel Aviv:
"They spent all their money in Tel Aviv and then reserved two nights in Jordan: one in Amman and one in Aqaba and [then] they returned to Tel Aviv."
In 2015, the Tourism Ministry launched a unified ticket system, "Jordan Pass," which offered, to a tourist staying longer than three nights, entry to thirty-nine historical sites and exemption from Jordan visa fees — for seventy dinars.
The increase in Jordan Pass sales in the last four months contributes to demonstrating the impact of low-cost airlines on tourism spending.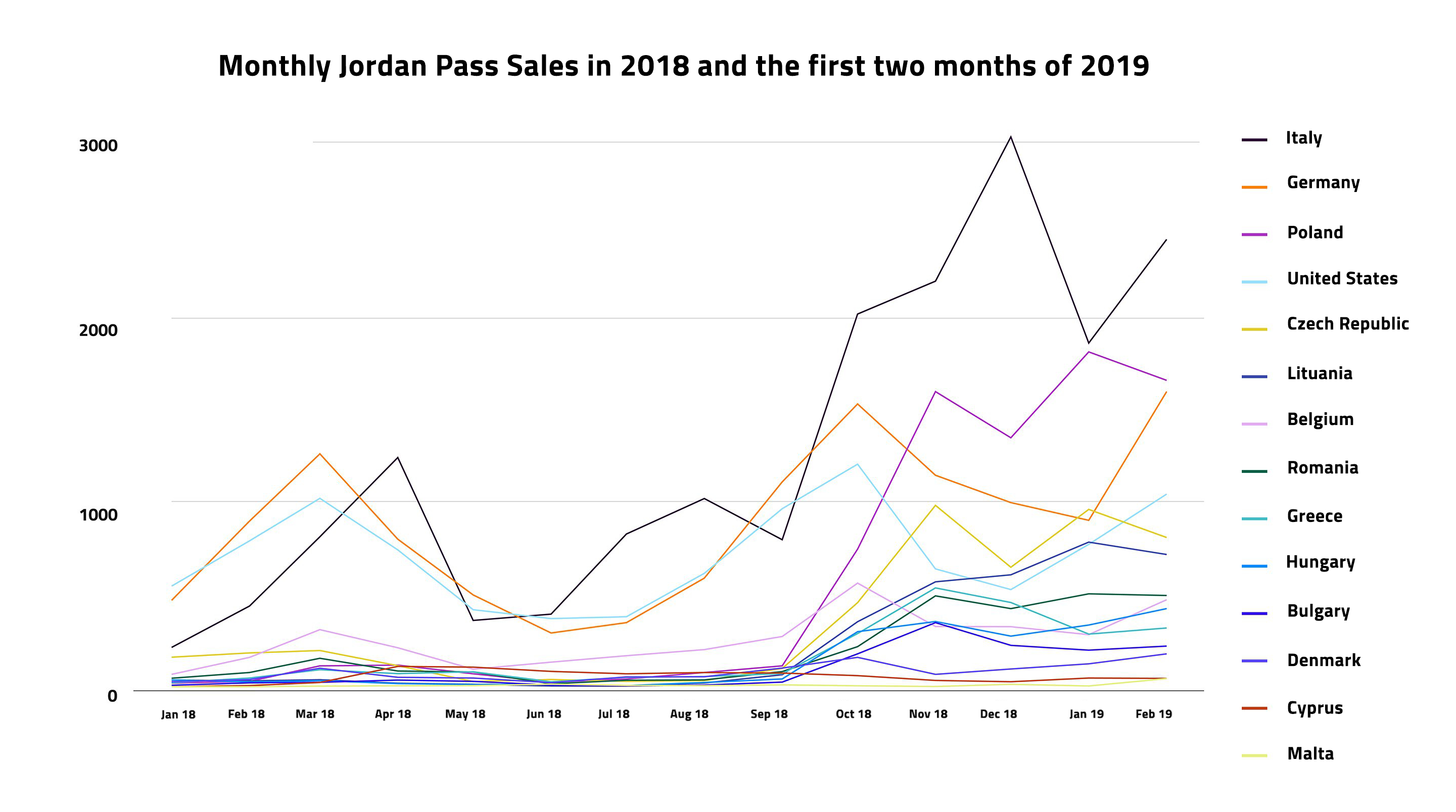 What do we require to spread the economic benefit of tourism?
The graph shows a big jump in the number of arrivals from European countries to visit Petra, Wadi Rum, and Al-Maghtas between 2017 and 2018. But this jump does not affect the other historical sites in Jerash or Ajloun or Al-Karak, whether for the foreign tourist or even for the Jordanian.
Despite the fact that the Jordan Pass outlines a trip itinerary for tourists from the moment of their arrival in order to acquaint them with forty tourism sites in Jordan other than Petra, "the problem comes when the tourist wants to go to Iraq Al-Amir. How can he get there? (…) a taxi to Iraq Al-Amir costs 200 dinars," says Al-Hindi.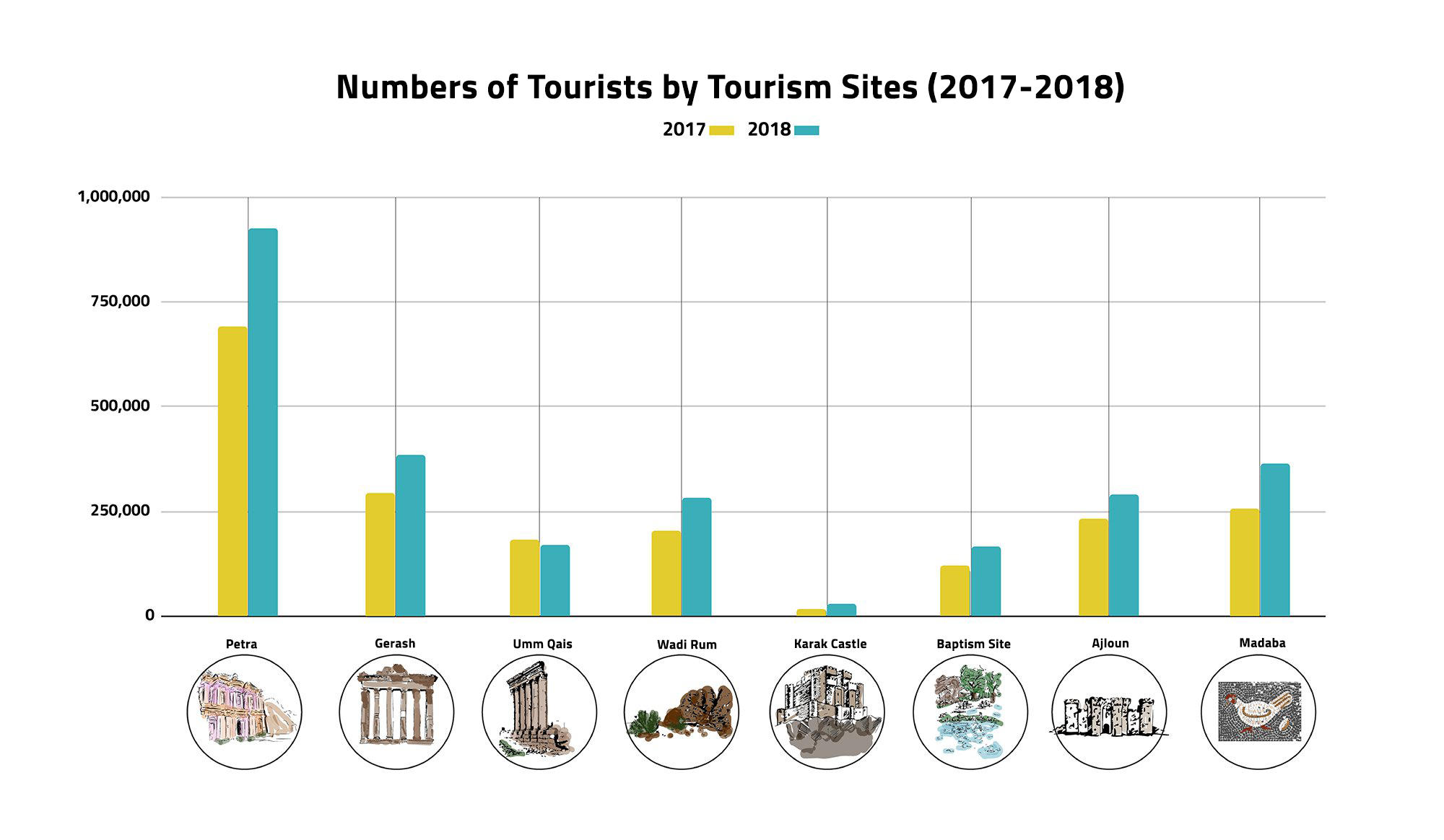 The Jordan Pass website provides suggested itineraries for tourists according to their religious or historical interests, but it does not give tourists directions to arrive at these places.
The Jordan Tourism Board is currently consulting with private sector transportation companies like Uber in order to bring tourists that have obtained Jordan Pass to some tourism sites at competitive prices, according to Al-Hindi.
But improving transportation infrastructure between cities through the private sector is not enough, according to the guide Bassam Al-Taji, who communicates with many Hungarian tourists about travel directions between Jordanian cities.
"Many of them love travelling the kingdom by public transport, but the country is not currently interested in transportation between the capital and tourism sites. For example, I currently don't know how someone can go down to Wadi Rum from Amman."
Distributing tourists to other places is not typical in Jordan, and has a development-related aspect, according to the CEO of the Adventure Travel Trade Association, Shannon Stowell. This is especially because these sites are classified under adventure tourism, which includes climbing and hiking.
"If you could spread people among different Jordanian sites, it would ensure the distribution of future revenues from these flights, and not overwhelm the most famous places like Wadi Rum and Petra."
The outpouring of tourists to Petra city generated intense pressure on accommodation reservations until the situation reached a point at which "there [were] tourist groups that rented hotel event spaces and prepared them with tents to host tourism groups," according to the guide Adel Al-Mahadin.
Stowell calls this phenomenon an "excess of tourism," an occurrence that numerous world tourism destinations were exposed to after low-cost flights came to them.
This phenomenon was not itself the product of low-cost flights, but the result of an absent national management strategy to preserve the infrastructure of tourism sites and their natural resources.
In general, signs of an increase in spending and in passenger numbers in Jordan during the first four months after the launch of low-cost airline companies could be positive.
According to Al-Hindi, the agreements with these companies are a small part of the equation that makes Jordan a country easy to reach, and attractive to tourists. This ensures the distribution of future revenues from the tourism sector to a wider slice of society.
"People arrived in Jordan and now we should look to the services that we provide," says Al-Hindi. These services include restoring modes of transportation and passing laws to encourage the hospitality tourism market in houses and apartments via websites in the sharing economy (like Airbnb), and also offering clean public facilities.
"For example, you tell the tourist to pay 50 dinars for Petra. [The tourist] tells you: fine, I'll pay, but I want clean bathrooms and I want stores I can drink clean water in."
The direct routes Ryanair launched included Austria (Vienna), Belgium (Brussels), Cyprus (Paphos), the Czech Republic (Prague), Italy (Bologna and Milan), Lithuania (Vilnius), and Poland (Warsaw and Krakow). These flights reach Amman, and eight flights reach Aqaba Airport: two each from Bulgaria, Italy, Germany and Greece.